It's the post you've all been waiting for…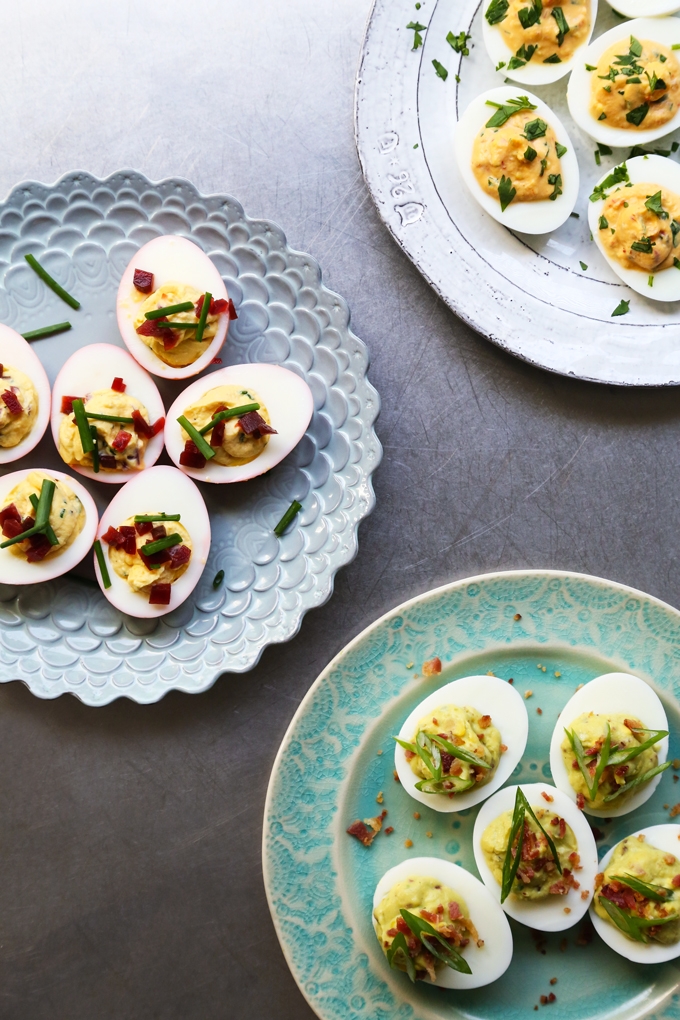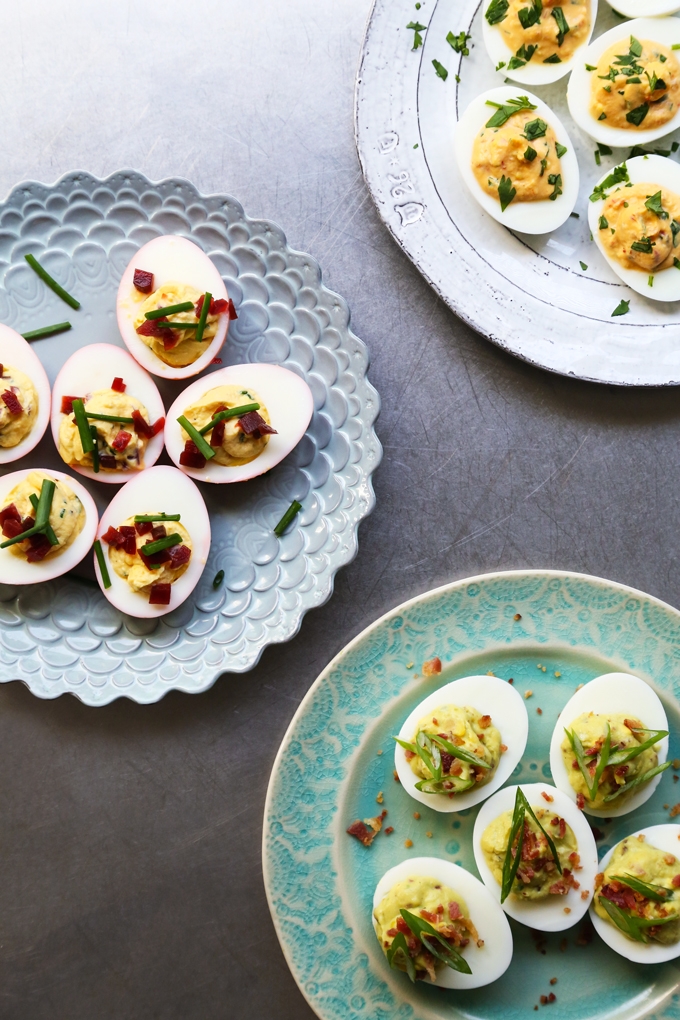 Not one.  Not two.  But three deviled egg recipes.  With Easter just around the corner, I've come up with a game plan in advance to use up all of those leftover hard-boiled, dyed eggs.  Step 1:  Make deviled eggs.  Step 2:  Throw a Deviled Egg Party.
Let's dive right into Step 1.  Below, I've provided recipes for a variety of deviled eggs: Chile Garlic, Avocado Bacon and Pickled Beet.  My Chile Garlic Deviled Eggs are made with fiery Sambal Oelek, chopped cilantro, and plenty of fresh lime juice.  These flavors are big and bold.  Next, my Bacon Avocado Deviled Eggs are prepared with crispy bacon bits, rich avocado, chopped green onion, hot sauce and lime juice.  Guacamole in deviled egg form, this variation is highly addictive.  Finally, Pickled Beet Deviled Eggs are made by pickling whole hard-boiled eggs with sliced red beet in a liquid flavored with red wine vinegar, black pepper and bay leaf.  The egg whites soak up both the flavor and the color of the pickling liquid.  The yolks are then mashed with mayo, chopped pickled beet, pickling liquid, prepared horseradish, and chopped fresh chive.  All three eggs are so. yum.
Use these three recipes as a guide to make your own variations.  You'll need three tablespoons of mayo for every six eggs.  Then, add spicy (kimchi, pickled jalapeños, Sriracha) and fresh (cilantro, parsley, chive, mint) elements to cut through the richness of the yolk and mayo.  Salt is a must.  If you find that the yolk mixture needs a little lift, add acid (lemon, lime, vinegar).  Continue reading for Step 2, plus my three recipes for deviled eggs.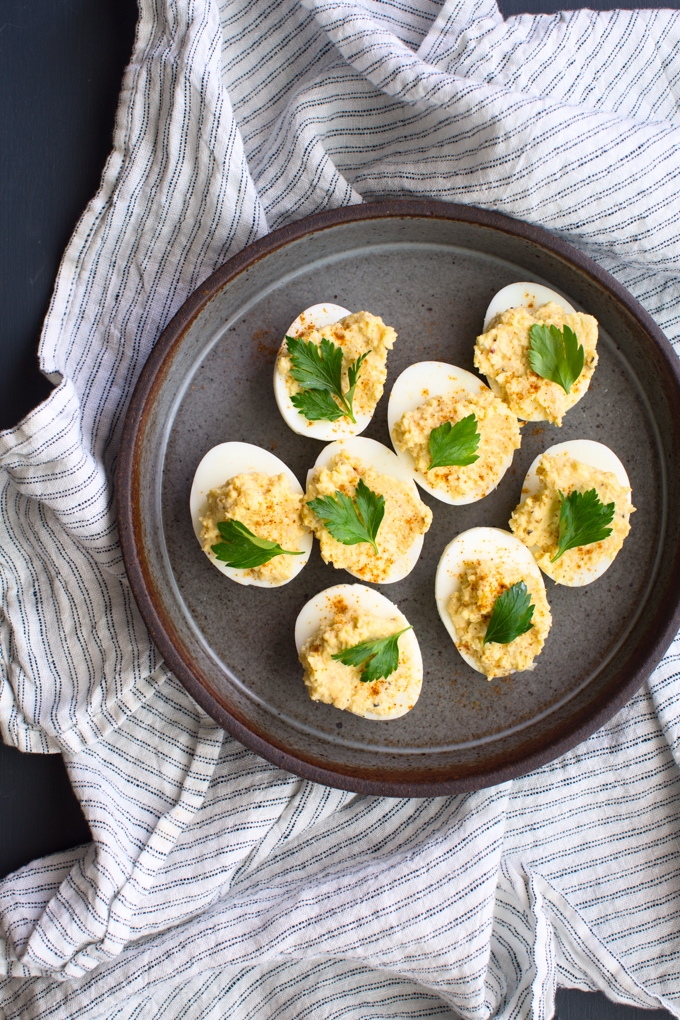 Step 2.  Invite friends and family over to your Deviled Egg Party, preferably using some sort of egg pun like, "It would be eggceptional to see you at my Deviled Egg Party this Sunday."  Display your deviled eggs on a variety of plates and platters, and be sure to garnish with ingredients used in each recipe.  For example, you could decorate a plate of Chile Garlic Deviled Eggs with lime wedges or sprigs of cilantro.  A glob of mayo garnish would not be recommended though.  Round out your party by serving a light salad, and brunch-style cocktails (a bloody mary or michelada would be good options).  And that's it!
Now, on to the recipes.  These three variations start with hard-boiled eggs.  If you are a little shaky on that process, check out my recipe for Foolproof Hard-Boiled Eggs.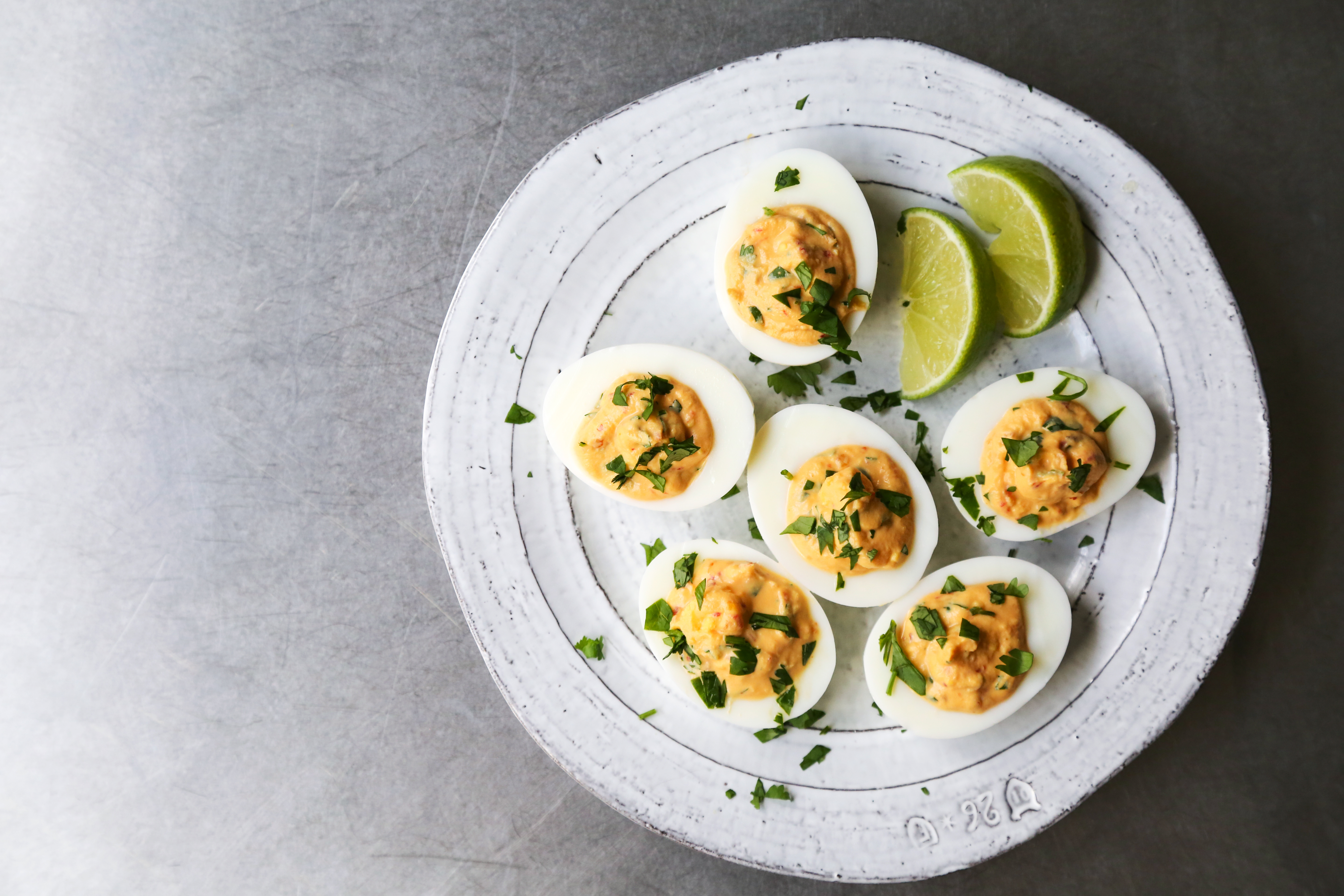 Check out the original article in Pacific Magazine.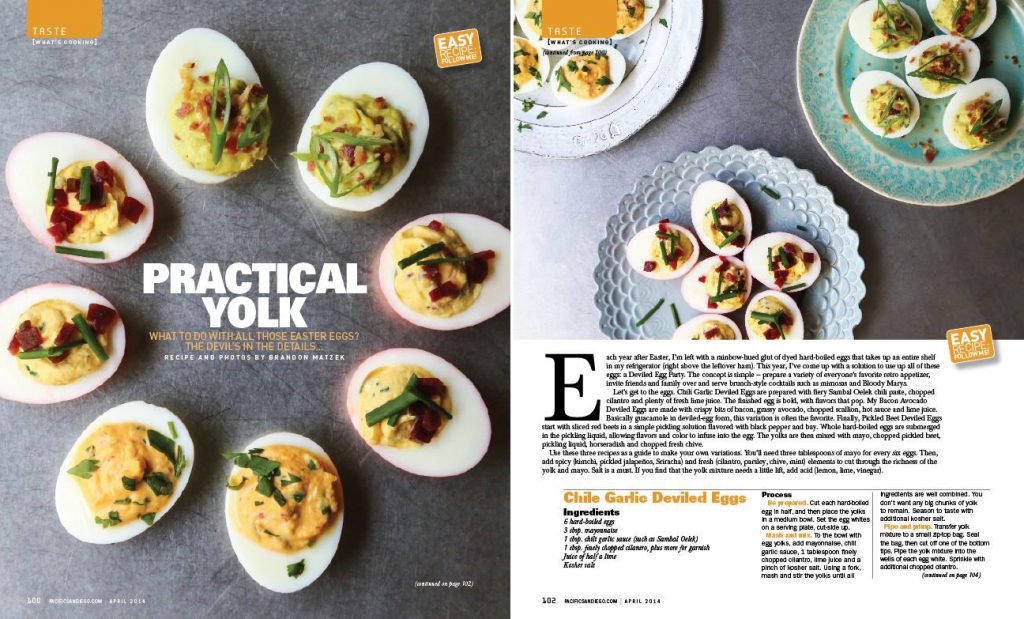 1