National Doughtnut Day is coming up on June 5th.  Let's celebrate.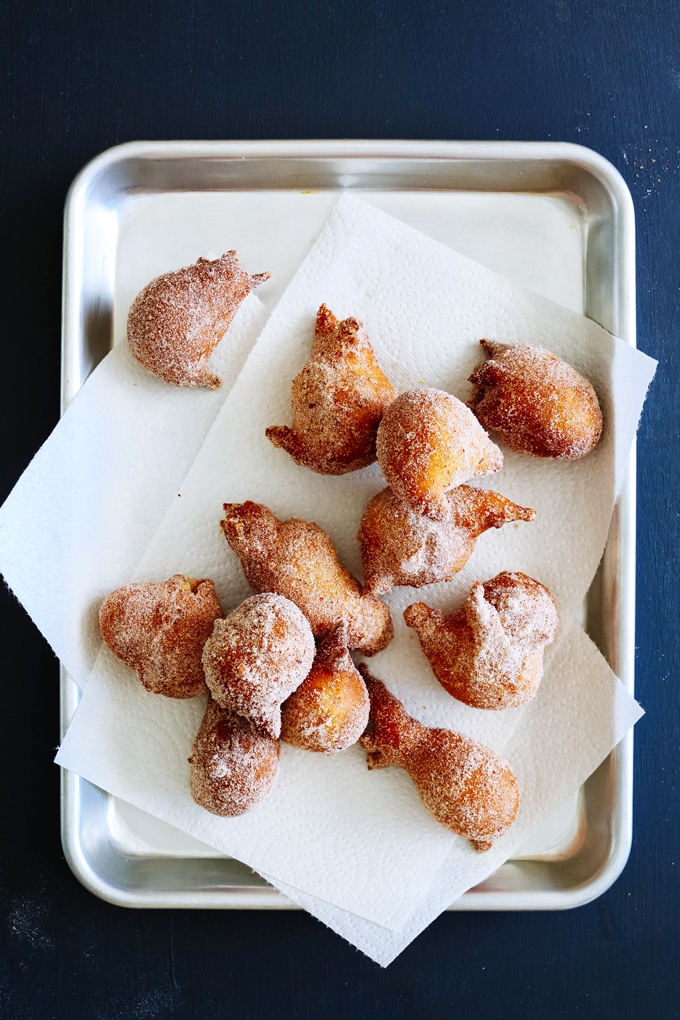 These Cinnamon Chile de Arbol Donut Holes are inspired by my latest donut obsession in San Diego, Nomad Donuts.  If you follow me on Instagram, I'm sure you've seen plenty of donut photos that feature their tasty creations.  Nomad regularly serves flavored donut holes, and my favorite is their cinnamon chile de arbol variety.  So much so, that I decided to recreate them at home.  After several wonderful rounds of recipe testing, I finally landed on a method that may just be tastier than the original 🙂
This recipe starts with a simple mix of freshly ground, toasted chiles de arbol, ground cinnamon and sugar.  A topping for the fried donut holes that's got the recognizable warmth of cinnamon sugar paired with the exciting spark of dried chile.  Toasting the chiles before grinding provides another layer of flavor that works well with the cinnamon.  This spice-flecked topping is tossed with the freshly fried donut holes, creating a lip-tingling treat perfect for breakfast or dessert.  Continue reading for the recipe plus ideas for a National Doughnut Day party!
Making donuts holes at home is a simple task that requires some pantry staples, a heavy pot, neutral oil and a candy or deep-fry thermometer.   The batter is made with flour, sugar, baking powder, salt, milk, an egg and butter, similar ingredients to a pancake batter.  The use of baking powder (instead of yeast) here, classifies these donuts as the "cake" variety, and also makes the process much easier.  Once you've mastered the basic donut recipe, try switching up the toppings:
Cinnamon Sugar: 1 teaspoon cinnamon + 1/2 cup sugar
Vanilla Glaze: 1 1/2 cups confectioner's sugar + 3 tablespoons milk + 2 teaspoons vanilla extract
Lemon Glaze: 1 1/2 cups confectioner's sugar + 3 tablespoons lemon juice
Chocolate Glaze: 1 1/2 cups confectioner's sugar + 4 tablespoons unsweetened cocoa powder + 3 tablespoons milk + 2 teaspoons vanilla extract
Lavender Sugar: 1/2 cup sugar + 2 teaspoons edible lavender flowers (pulsed in a food processor)
To take your National Doughnut Day celebration to the next level, make several of the varieties above, and invite all your friends and family over. Serve with plenty of hot coffee.



It's nearly impossible to resist eating these donuts warm, right after tossing in the cinnamon chile sugar. Go ahead and indulge, but save some for your party guests :)!
Cinnamon Chile de Arbol Donut Holes
Recipe type:
Breakfast, Dessert
Ingredients
2 whole dried chiles de arbol
3/4 teaspoon ground cinnamon
1/2 cup sugar
2 cups all purpose flour
3 tablespoons sugar
4 1/2 teaspoons baking powder
1/2 teaspoon fine grain sea salt
1 cup milk
1 egg
1/4 unsalted butter, melted and cooled
Vegetable oil, for frying
Instructions
Toast chiles in a small skillet over medium-low heat until dark and fragrant (1 – 2 minutes). Let cool, then remove and discard the stems. Coarsely chop toasted chiles de arbol, then transfer (seeds and all) to a spice grinder or mortar and pestle. Grind into a fine powder. Place chile powder in a small bowl with cinnamon and sugar, stirring to combine.
In a large bowl, whisk together flour, sugar, baking powder and sea salt. In a medium bowl, whisk together the milk and egg until combined. Whisk in the butter, then pour the wet ingredients in the bowl with the dry ingredients. Using a spatula, mix until combined. Don't overwork the batter here. A few visible lumps are fine. Let the batter rest for 30 minutes.
Meanwhile, fill a large cast-iron pot halfway with oil (about 4 cups), and heat to 350°F. Also, spread the cinnamon-chile sugar out on a large plate and set aside. Working in batches, carefully drop heaping tablespoons of batter, five or six at a time, into the hot oil, and fry until golden brown (2 – 3 minutes). Using a slotted spoon, transfer donut holes to a paper towel-lined plate. Let cool for just a moment, and then roll the warm donut holes in the cinnamon-chile sugar. These donut holes are best enjoyed immediately, but will last for up to 1 day stored covered at room temperature.
Here are some other coffee and donut-inspired treats found on Kitchen Konfidence: