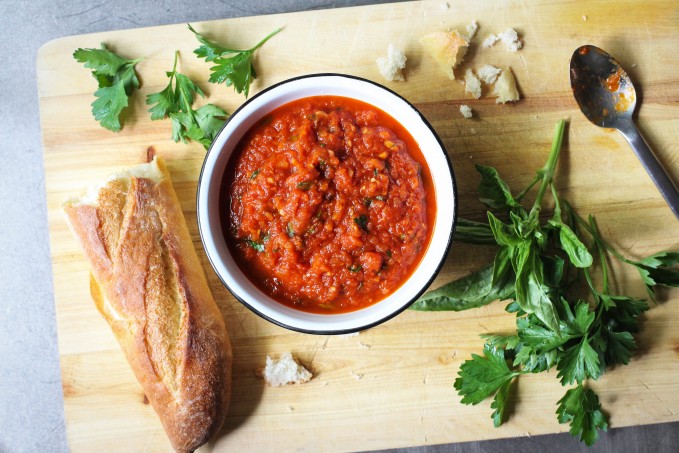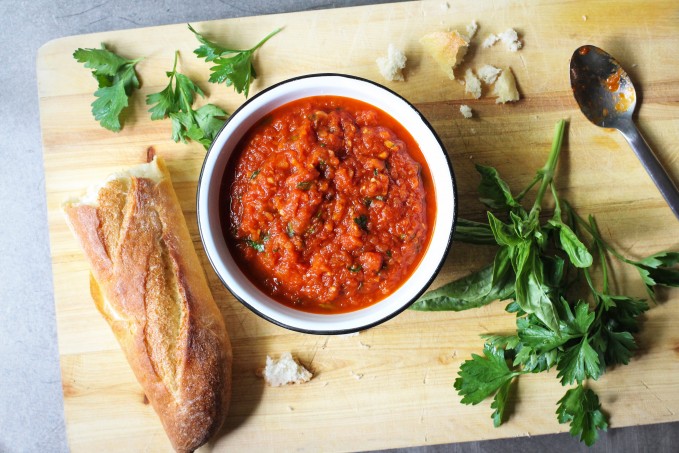 This post may contain affiliate links.
Sharing a recipe for tomato sauce other than my mother's is risky business.  Blasphemy really.  But when I saw this Pressure Cooker Tomato Sauce in Modernist Cuisine at Home, I was intrigued.  In this recipe, onion, carrot, garlic and tomato are cooked under pressure until the flavors melt together, forming a vibrant marinara sauce.  Finished with a drizzle of rich extra virgin olive oil and a handful of fresh herbs, this sauce is bright, well-balanced and full of flavor.  You can use this pressure cooked sauce in any way you would use a regular tomato sauce: chicken, pizza and pasta to name just a few.  Personally, I love to tear off chunks of crusty bread, and dip into a bowl of hot tomato sauce.  Now you may be wondering, which sauce is better?  This sauce or my other Homemade Tomato Sauce?  My answer:  neither!  Each sauce has a unique, delicious flavor.  I would be more inclined to make this Pressure Cooker Tomato Sauce during the week (because of the shorter cooking time), and my Homemade Tomato Sauce on Sunday afternoon.  Well that's it!  I'm just hoping the Italian side of my family will forgive me 😉  Continue reading for the recipe.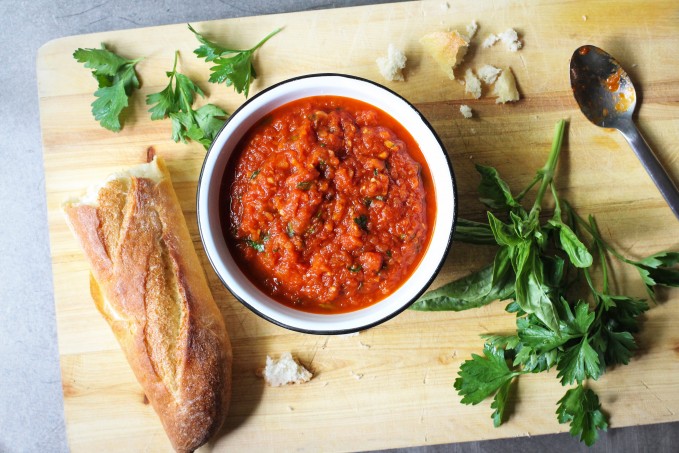 Pressure Cooker Tomato Sauce
Ingredients
2

cups

large dice yellow onion

1

cups

large dice carrot

5

garlic cloves, peeled

Kosher salt

1 1/2

tablespoons

olive oil

1 28

oz.

cans crushed tomato, preferably organic or San Marzano

Extra virgin olive oil

Freshly chopped basil and Italian flat-leaf parsley
Instructions
Add onion, carrot and garlic to a food processor, and pulse until minced. Don't go overboard here. You don't want to process it into a watery puree.

Warm olive oil in the base of a pressure cooker over medium heat, then add the minced onion mixture and a pinch of kosher salt. Cook, stirring occasionally, until the onions turn translucent (about 5 minutes). Add the crushed tomatoes, stirring to combine. Secure the lid on the pressure cooker, then cook the vegetables at a gauge of pressure of 1 bar / 15 psi for 45 minutes.

When using a pressure cooker, you want to start timing when full pressure has been reached. After you put the lid on, continue cooking the mixture over medium heat. Once the indicator pops up, start timing the 45 minutes, and continue cooking over medium flame for 5 minutes. Drop the heat to medium-low and finish cooking at the lower temp. If the indicator goes down at any time during the 45 minutes (meaning the cooker is no longer at full pressure), you'll need to increase the heat until the indicator pops up again. You'll really have to pay attention the first time you do this to get a good feel for what heat level will maintain steady pressure. It will vary based on your range. But once you figure it out, you can easily walk away while the sauce cooks.

Depressurize the cooker by letting it cool (slow method) or running lukewarm water over the rim (fast method), and remove the lid. Add a drizzle of extra virgin olive oil and a handful of chopped basil and parsley, stirring to combine.
Tried this recipe?
Tag @brandiego on Instagram so I can check it out!
Related recipes and articles:
What to Look for in a Pressure Cooker
Deconstructed Eggplant Parmesan
Why Pressure Cookers Are Awesome
18