Aside from flavor, my favorite part of this dessert is it's color.  Will you just look at that:
This post may contain affiliate links.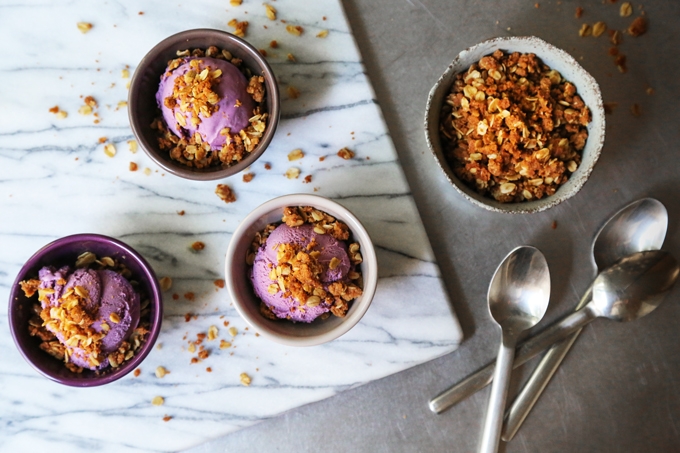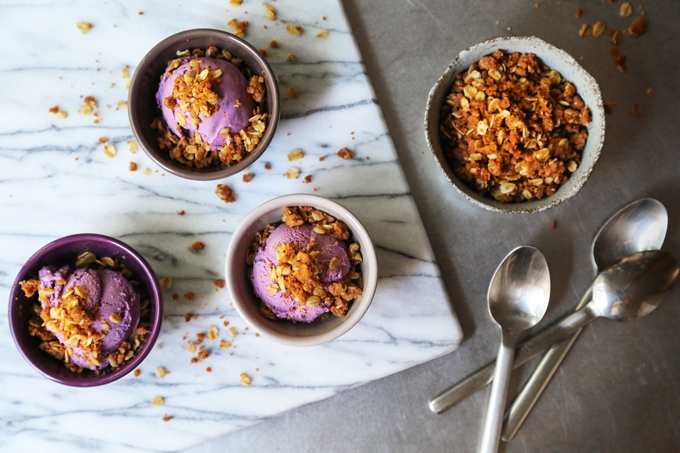 Blueberry Ice Cream with Oat Crumble Topping is summer in dessert-form.  It's like that piping-hot, all-American blueberry crumble, but… cold.  This recipe starts with a base of simmered fresh blueberries flavored with lemon juice and sugar.  The cooking process draws out some of the moisture while concentrating the blueberry flavor.  After a quick strain, the resulting liquid, stained a deep shade of blue-purple, captures the pure essence of blueberry.  This flavor bomb is mixed into a French custard base (see gif below), then churned into a cold, creamy confection.  A final sprinkling of crunchy oat crumbles provides a satisfying contrast in both flavor and texture.
I'm not going to lie, I love making ice cream (and sorbet) at home.  It's one of my favorite things to do during the summer months.  Here are some of my past favorites:
What about you?  Do you love to make ice cream at home?  If so, please share some of your favorite creations below in the comments!  Continue reading for the recipe.
Blueberry puree swirled into a creamy ice cream base.  I find this quite mesmerizing: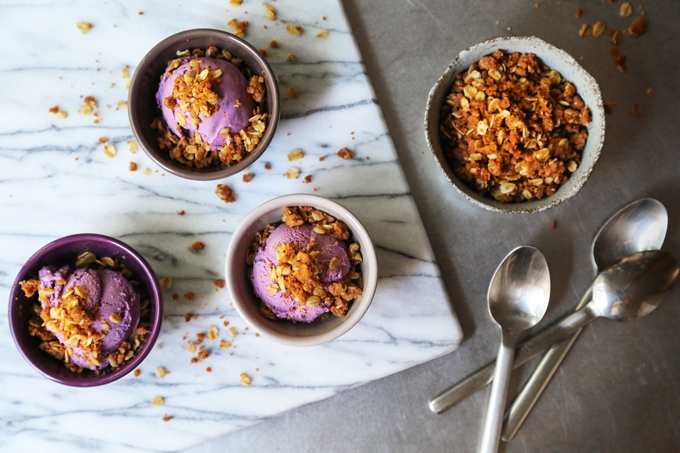 Blueberry Ice Cream with Oat Crumble Topping
Ingredients
For the ice cream:
4

cups

fresh blueberries

1/4

cup

plus 1 cup sugar

Juice of 1/2 lemon

1 1/2

cups

heavy cream

1 1/2

cups

half and half

5

large egg yolks
For the oat crumble topping:
3/4

cup

flour

1/4

cup

plus 1 1/2 tablespoons packed light brown sugar

1/2

teaspoon

kosher salt

1/8

teaspoon

ground cinnamon

1/4

pound

(1 stick) unsalted butter, cut into 1/2-inch cubes and chilled

3/4

cup

old-fashioned oats (not quick cooking)
Instructions
Place blueberries, 1/4 cup sugar and lemon juice in a medium saucepan. Cook over low heat, stirring occasionally, until the blueberries release their juices and begin to cook down (about 20 minutes). You can help this process along a bit by gently mashing the berries each time you stir. Drain blueberry juice into a clean bowl using a fine mesh basket strainer, pressing berries to squeeze out as much liquid as possible. Set aside.

Prepare an ice bath in a large bowl and have another strainer ready. Add heavy cream to a medium sized bowl and set aside.

Heat half and half and 1 cup sugar in a different saucepan over low heat, stirring to dissolve the sugar. Remove from heat once you see steam rising from the surface and the mixture is completely heated through. Meanwhile, whisk 5 egg yolks in a bowl until slightly thickened. Slowly, while whisking, add 1/2 cup of the warm half and half mixture to the yolks. Once the 1/2 cup is incorporated, whisk in the remaining half and half mixture. Return the half and half-yolk mixture to the saucepan, and cook over medium heat, stirring constantly with a wooden spoon. You will know the custard is thick enough when you see steam rise from the surface and the custard coats the spoon. Strain the custard into the bowl with the heavy cream. Stir to combine.

Add the blueberry juice to the custard mixture and stir. Place the bowl in the ice bath and stir occasionally to cool (be sure not to get any water in your custard mixture). Refrigerate until cold (at least 4 hours, but better overnight). Freeze custard in an ice cream maker according to the manufacturer's instructions. Transfer to an airtight container and chill in the freezer for 2 to 3 hours before serving.

Preheat an oven to 350°F and place a rack in the center of the oven. Add flour, brown sugar, cinnamon and salt to a medium bowl, stirring to combine. Using your hands, quickly work the butter into the flour-sugar mixture. Keep pressing the butter into the dry ingredients until the mixture resembles wet sand. Stir in the oats, then transfer the entire mixture to a rimmed baking sheet. Break up any clumps that are larger than 1/2-inch. Bake until the mixture turns golden brown and crisp (30 – 35 minutes), stirring every 10 minutes to ensure even cooking. Let cool before sprinkling over the blueberry ice cream.
Tried this recipe?
Tag @brandiego on Instagram so I can check it out!
13