I have been dying to share this recipe for Porchetta Pork Tenderloin with you guys.
This post may contain affiliate links.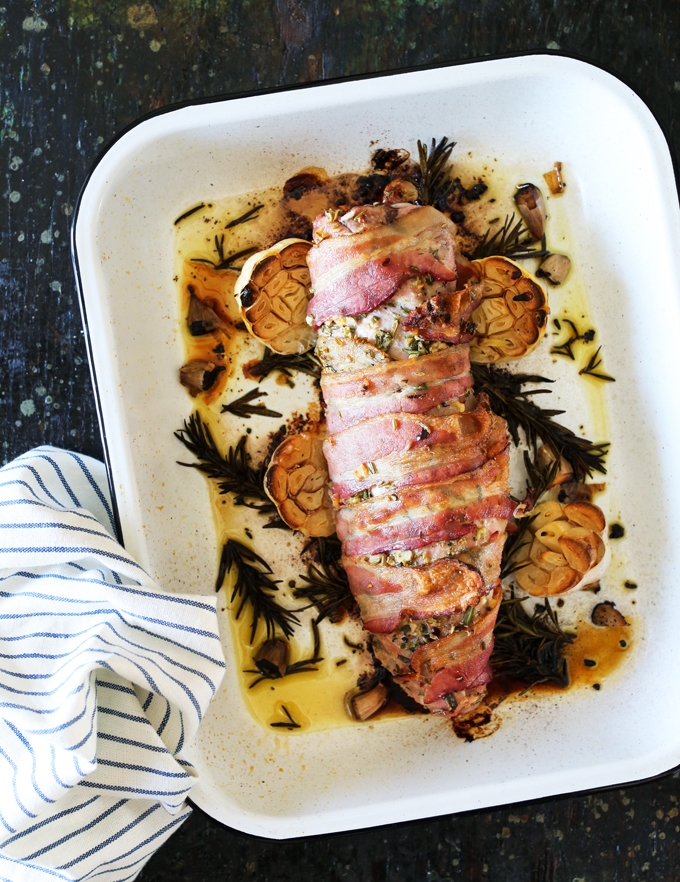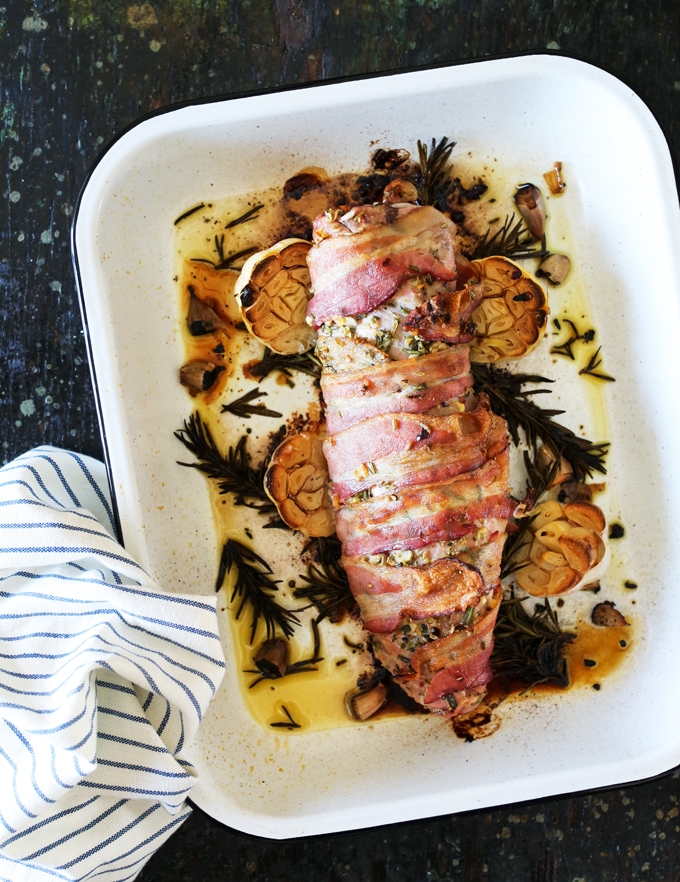 Why? Because it's quickly become my new favorite weeknight meal. With just 10 minutes of prep work and 30 – 40 minutes cook time, this show-stopper entree can turn a boring weeknight dinner into a dazzling pork on pork extravaganza. And I mean, how bad could that be?
Before we get to this pork-tastic recipe, let's talk about porchetta in general. Porchetta, Italian in origin, is traditionally made by stuffing an entire de-boned pig with ground pork (usually offal), and seasonings. Garlic, rosemary, fennel, salt and pepper are most common. The pig gets tied up around a spit, and then roasted until the skin is crispy and crackly and the insides are moist and tender. This Italian specialty has been all the rage here in America over the past several years. Here's the porchetta sandwich I had from the People's Pig in Portland. And last year, I made a whole porchetta roast for Valentine's Day (here's a slice photo)! Both were seriously tasty.
Traditional porchetta is super labor-intensive, and even the roast I linked to above took some time to prepare. This Porchetta Pork Tenderloin recipe captures the flavors and textures of it's traditional counterpart without the hours and hours of prep and cooking. Continue reading for the recipe.
Flavorings here include fresh rosemary (picked from our backyard), garlic, crushed fennel seeds, red pepper flake, salt and pepper.  This bold blend really packs a big flavor punch.  If you've got some spare time, rub the pork tenderloin several hours in advance, and let rest in the fridge.  Don't have the extra time?  Don't worry about it.  The finished roast will still be incredibly delicious.
The rubbed tenderloin is wrapped in bacon to provide the additional layer of flavor and texture.  As the roast cooks in the oven, the bacon will get all nice and crispy while basting the tenderloin in glorious pork fat.  Pork tenderloin can easily dry out, so the additional pork fat is crucial to keep things juicy.
Another way to ensure that the pork tenderloin stays juicy is to gauge doneness by temperature. If an instant read thermometer inserted into the thickest part of the pork reads 140°F, then the pork is done!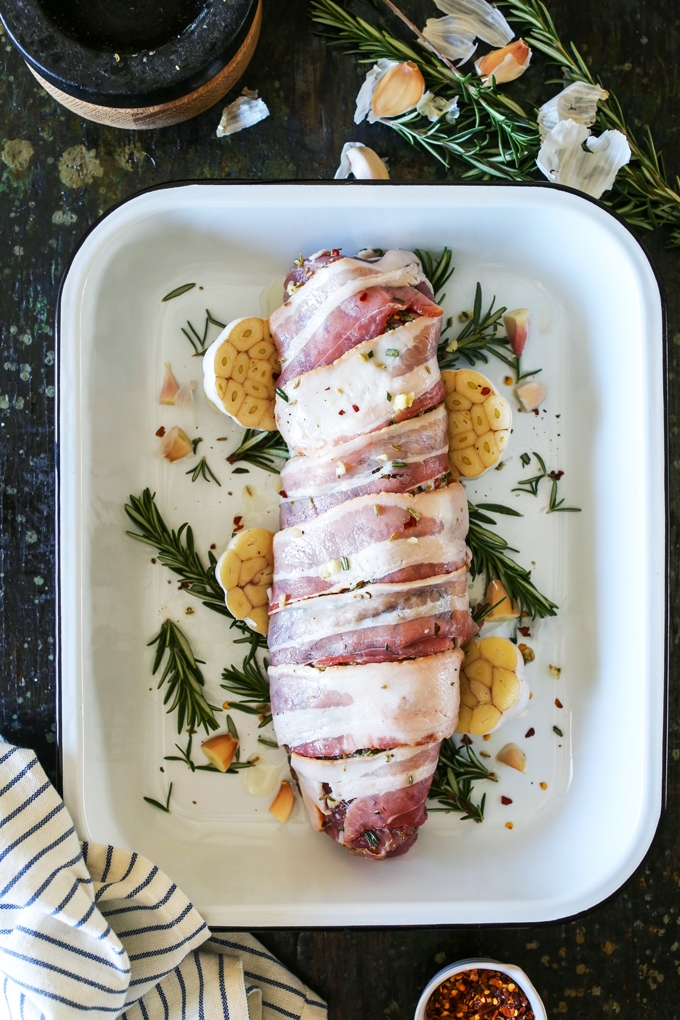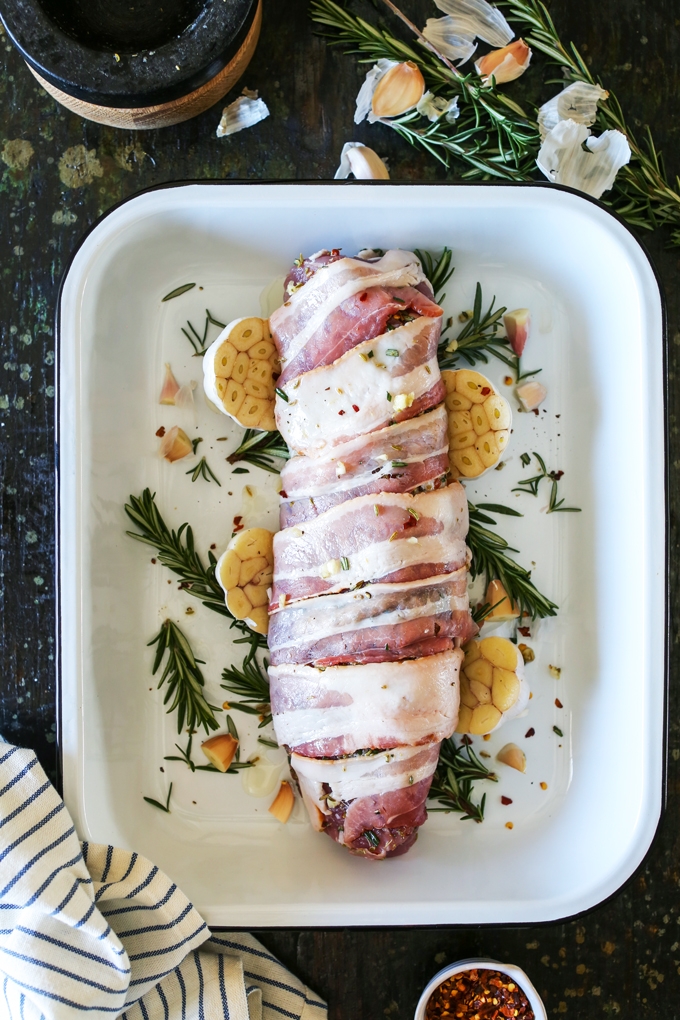 What do you serve with porchetta?
I would recommend serving this dish with a bitter green like broccoli, broccolini, broccoli rabe or kale. It would also be delicious with a starchy side like mashed potatoes or roasted fingerling potatoes.
What kind of wine goes with porchetta?
When pairing wine with porchetta, I've found you either want a dry white wine or a fruity red wine. Examples of a dry white wine are Sauvignon Blanc or Vermentino. The acidity in the wine helps cut through the fattiness of the pork.
As for red, I love Pinot Noir with pork. Pinot Noir has a medium acidity and jammy, fruity notes that really complement the flavor of pork.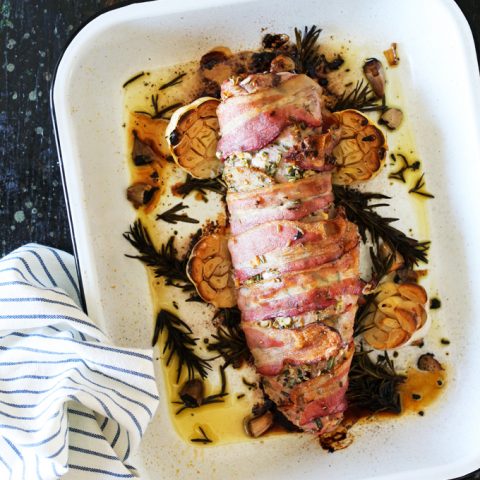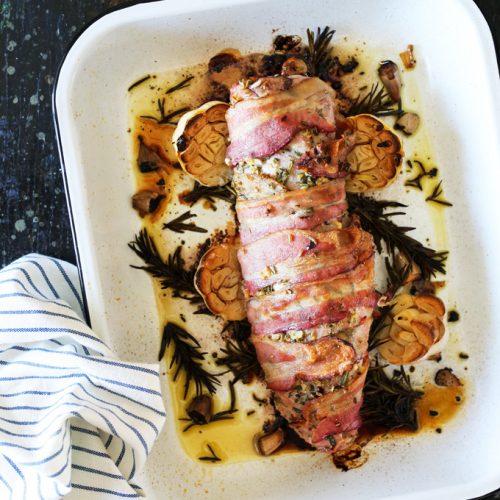 Porchetta Pork Tenderloin
Adapted from Bon Appetit Magazine January 2015.
Ingredients
4

garlic cloves, finely chopped; plus 2 heads, halved crosswise

1

tablespoon

coarsely chopped fresh rosemary, plus 5 sprigs

1

tablespoon

fennel seeds, lightly crushed

1/2

teaspoon

red pepper flakes

1 1/2

teaspoons

kosher salt

2

tablespoons

olive oil, divided (1 for the rub, 1 for drizzling)

1 (1 – 1 1/2)

pound

pork tenderloin

Freshly ground black pepper

5

slices

of bacon
Instructions
Preheat an oven to 425°F.

Add garlic, rosemary, fennel seeds, red pepper and kosher salt to a small bowl with 1 tablespoon olive oil, tossing to combine. Rub tenderloin all over with the garlic-rosemary mixture. Season the tenderloin with several turns of black pepper. If you've got time, let rest in the fridge for a few hours.

Place rosemary sprigs down the center of a baking dish. Wrap the bacon around the pork tenderloin, then lay the whole thing lengthwise on top of the rosemary sprigs. Tuck halved garlic cloves around the tenderloin. Drizzle everything with remaining 1 tablespoon of olive oil.

Roast until a thermometer inserted into the thickest part of the tenderloin registers 140°F. For a 1 pound roast, this takes about 30 minutes. For a 1 1/2 pound roast, this takes about 40 minutes. Transfer meat to a cutting board, and let rest for 10 minutes before serving.
Tried this recipe?
Tag @brandiego on Instagram so I can check it out!
Here are some other pork-tastic recipes on Kitchen Konfidence: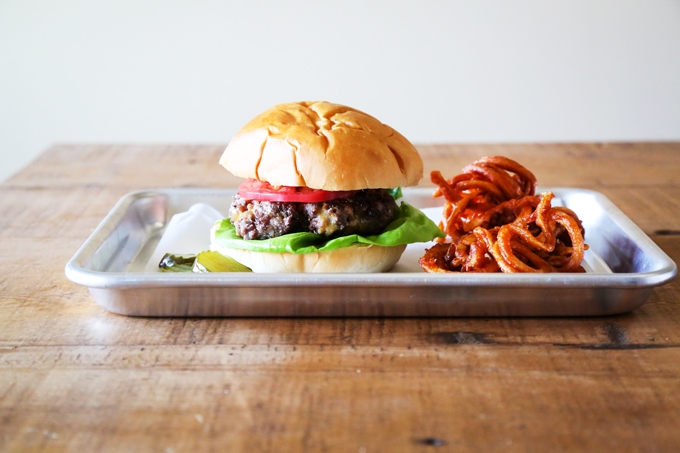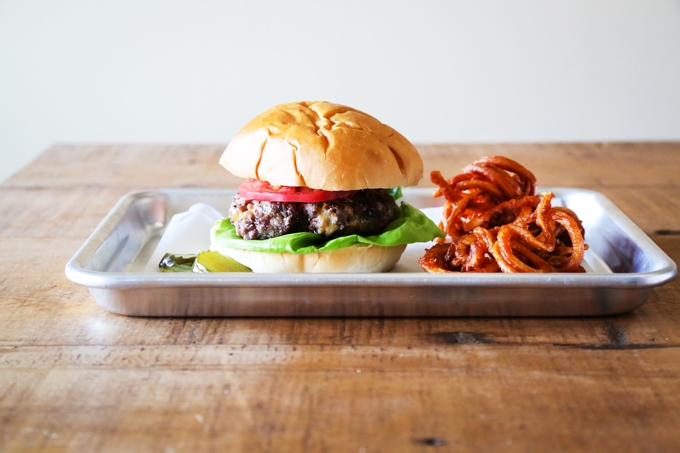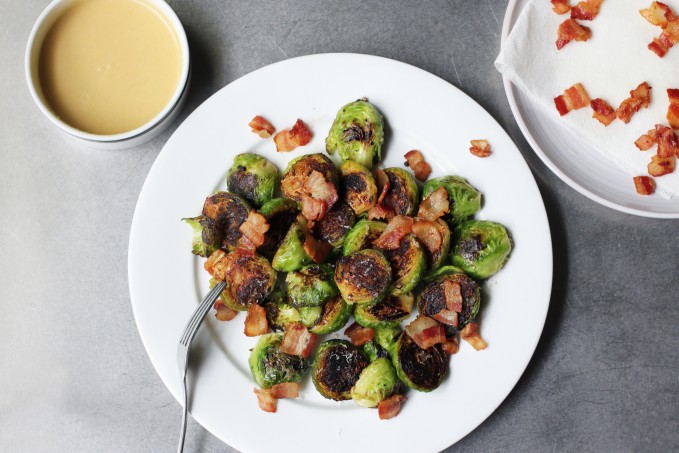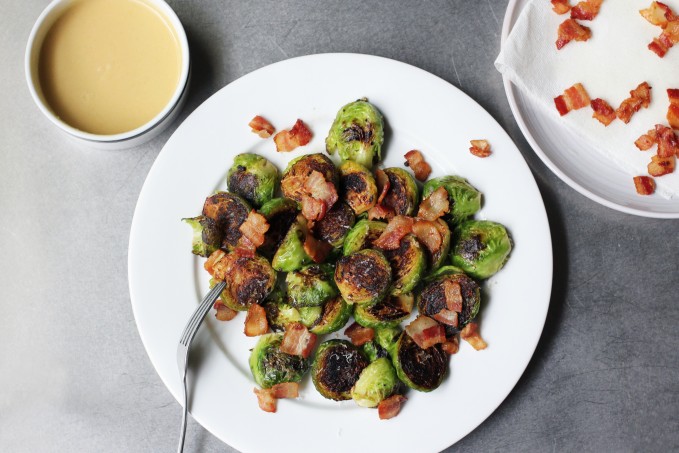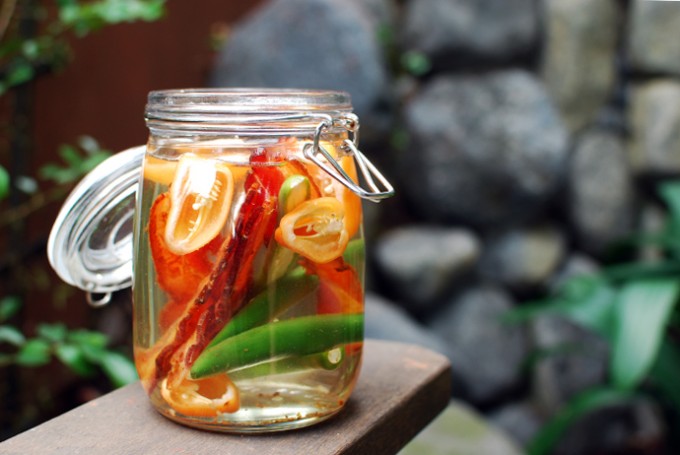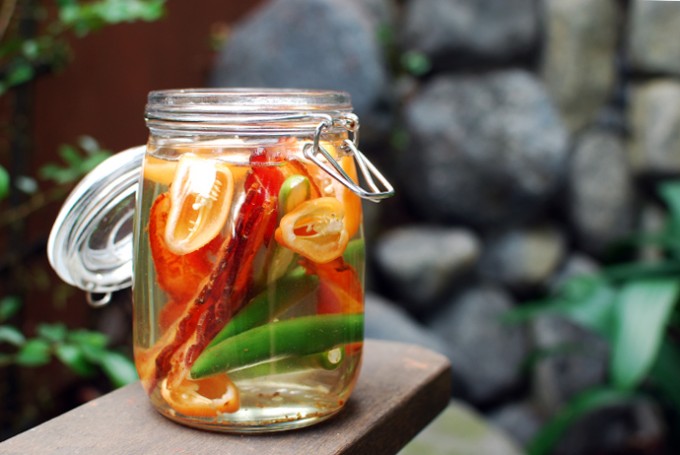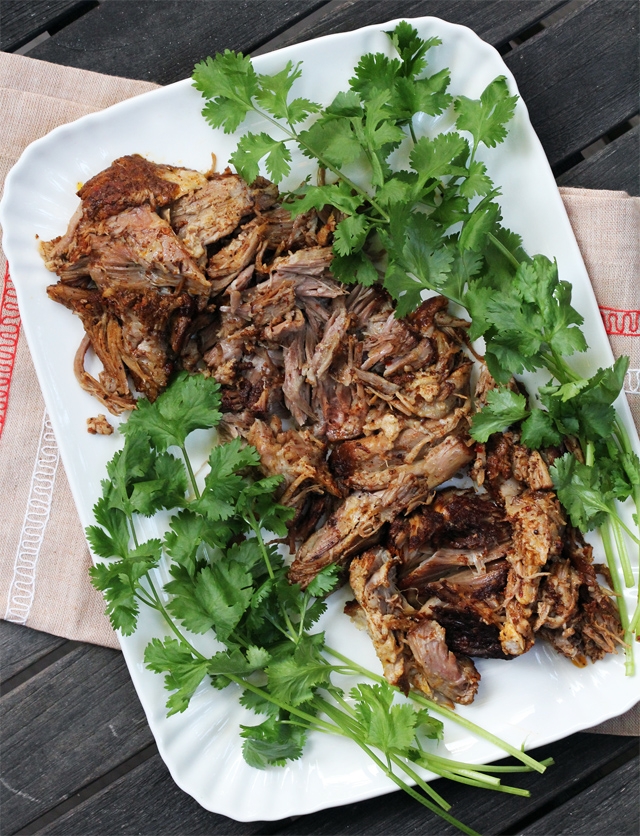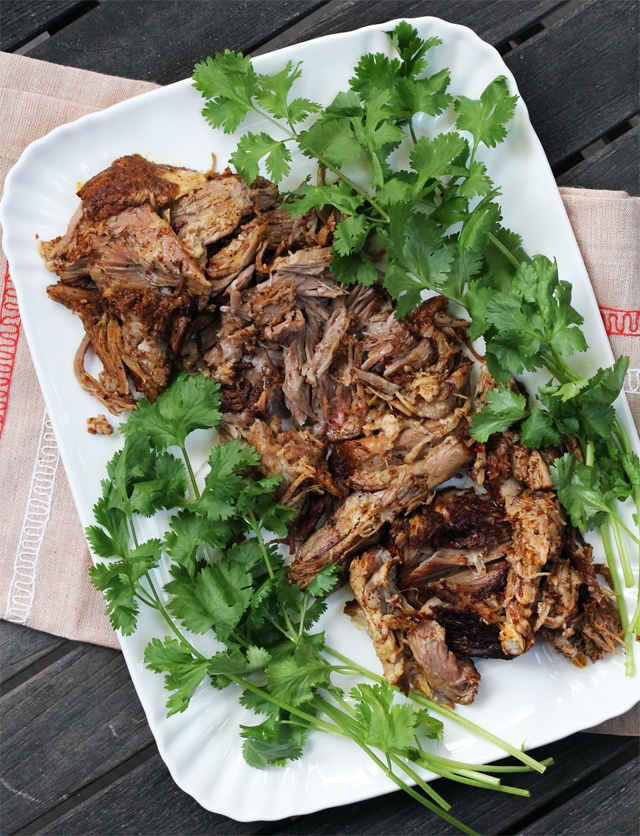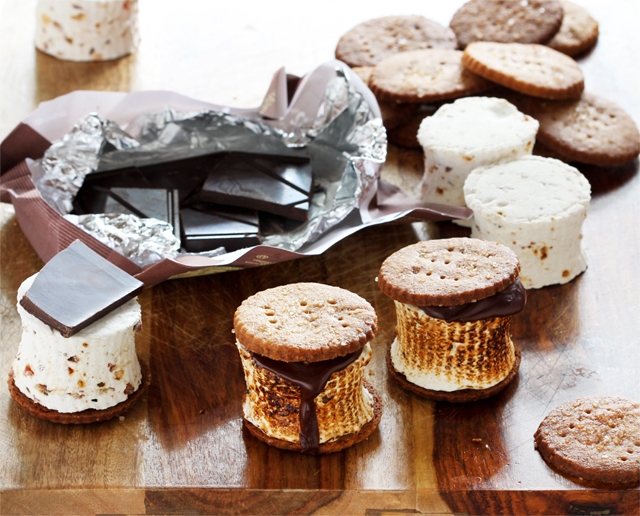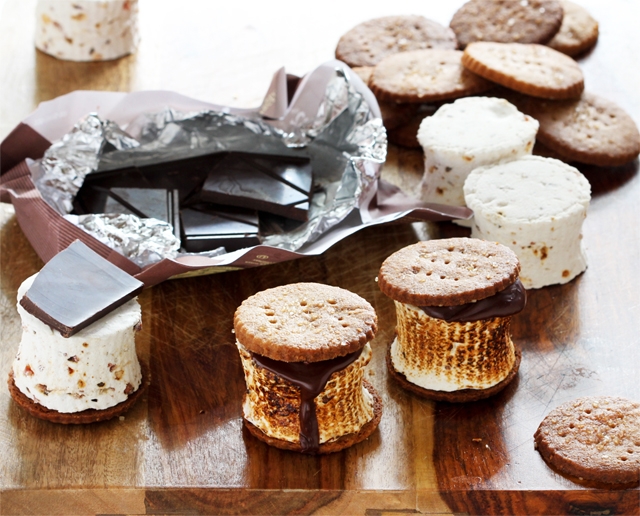 45