Good afternoon friends!!  Today, I'm sharing a colorful salad recipe that I developed in collaboration with Urban Outfitters.  Exciting side note, UO shared a photo of this recipe on their Instagram page and it got 104K likes!!!  WOOOOO!!!
This post may contain affiliate links.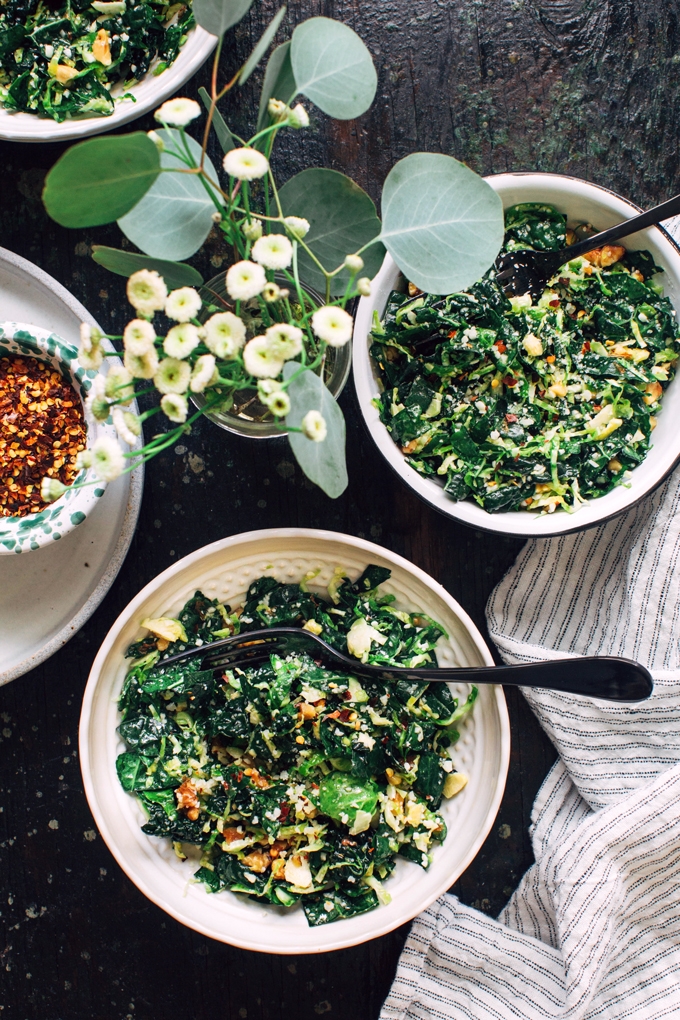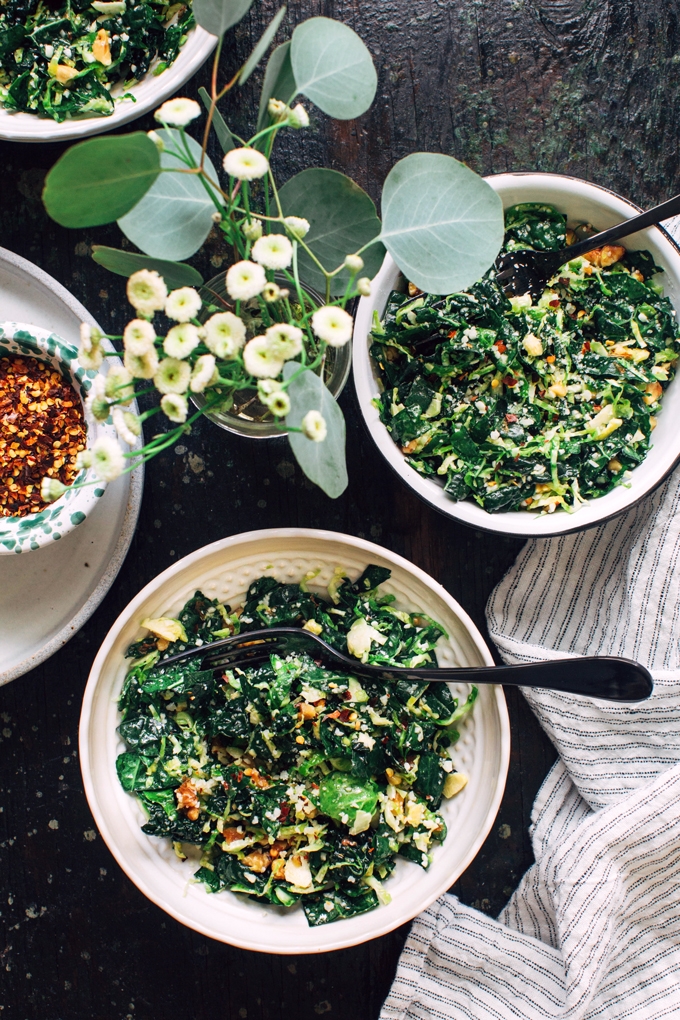 This Shaved Kale and Brussels Sprout Salad is the perfect way to start the new year off happy, healthy, and well-fed.  Long-time Kitchen Konfidence readers know that I'm pretty obsessed raw kale salads.  If you're not familiar, let me break it down.
Start with 1 pound of chopped kale, 1 pound of shredded Brussels sprouts and a vibrant dressing made with lemon, olive oil, anchovy, garlic and crushed red pepper flakes.  The acidic dressing then gets massaged into the greenery where it helps to break down the toughness of the raw vegetables.  After a brief waiting period, the kale and sprouts become wonderfully tender.  No cooking required!  The salad is finished with toasted walnuts, grated Pecorino and a dusting of freshly ground black pepper.  Each bite is bright, bold and just packed with flavor.  This is healthy eating that you can actually enjoy.  Continue reading for the recipe.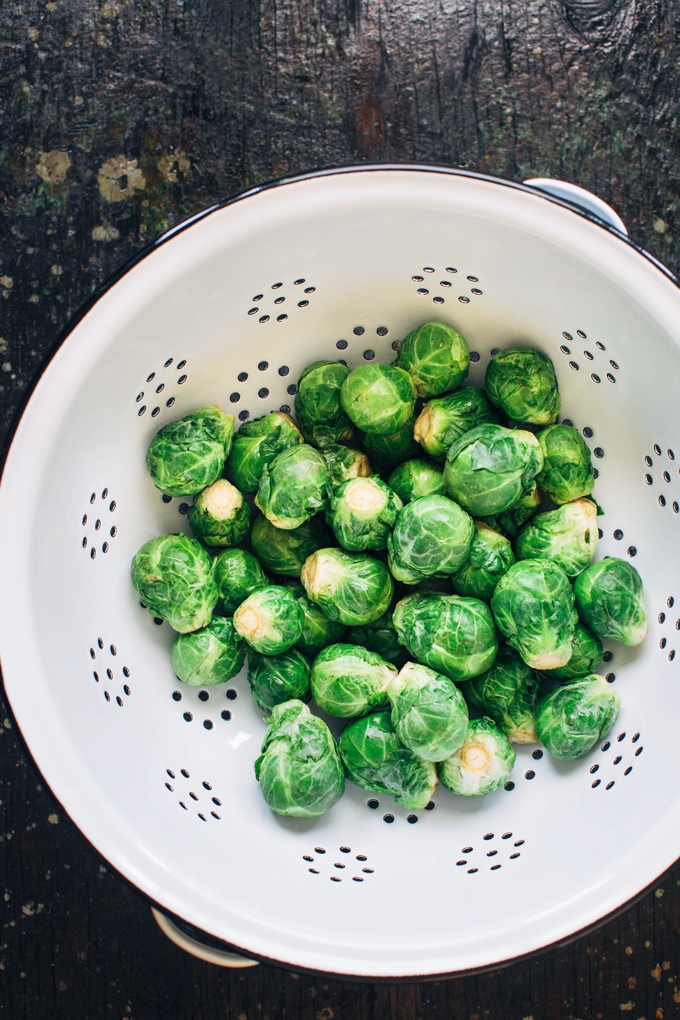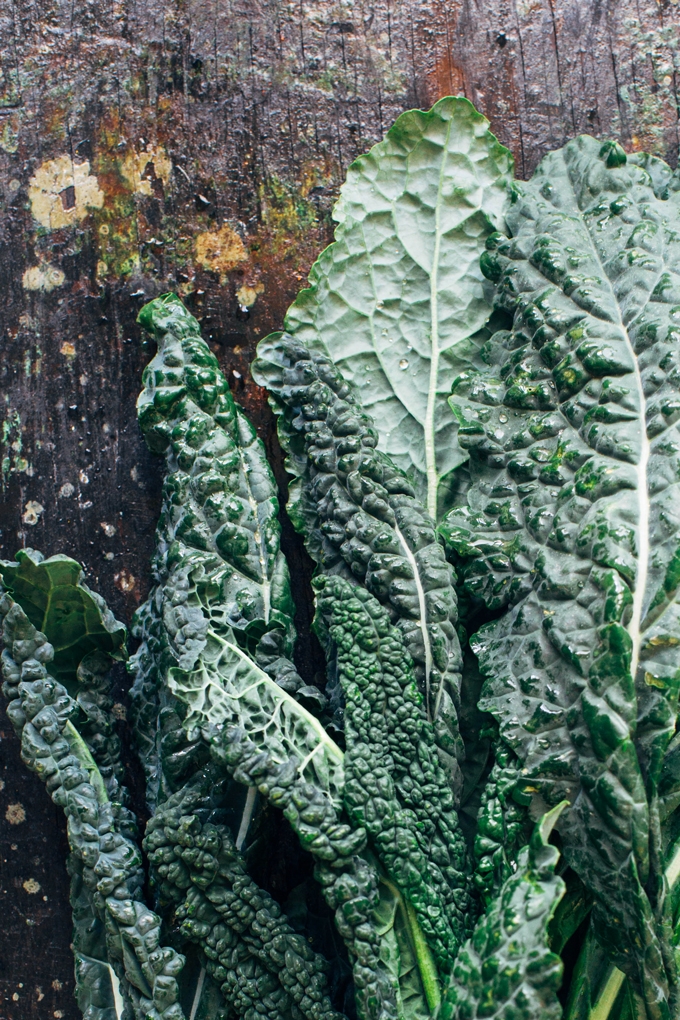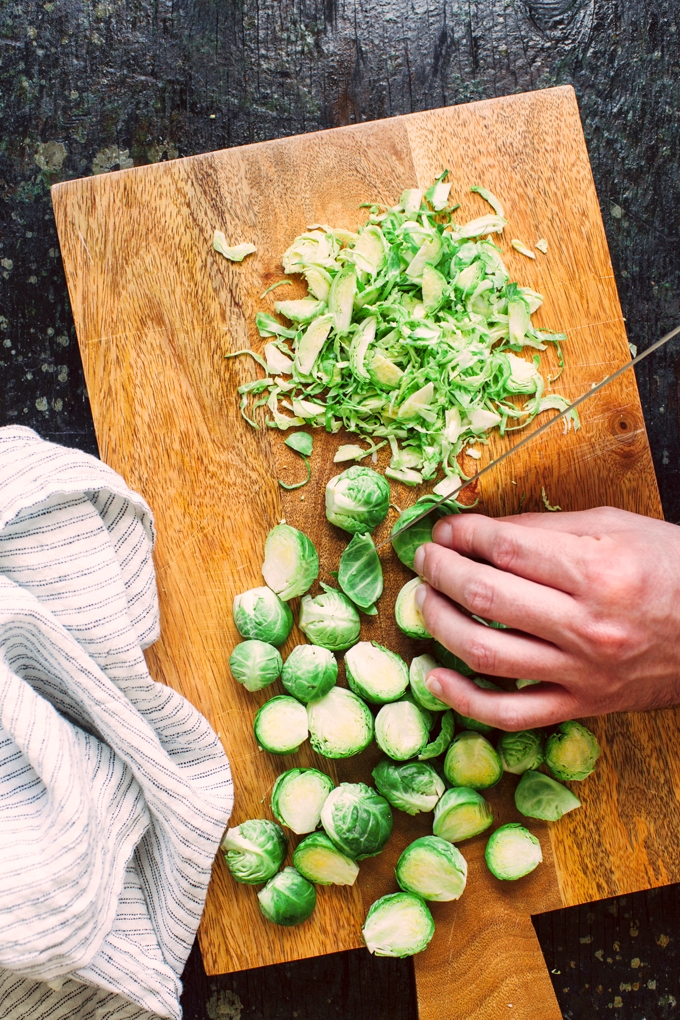 I've made this salad with many different types of kale.  All are fine, but I like lacinato kale the best (pictured above).  When making a raw salad, I also tend to buy organic vegetables, because they will usually taste the best in raw form.  Preparation of the kale and sprouts does require a lot of chopping.  If I've got the time, I will do this by hand.  If I'm in a hurry, I'll use my food processor to shred the sprouts.  The finish salad is quite large, so invite some friends or family over to share.  You can also keep leftovers in the fridge for up to 1 day!
I've mentioned before that anchovy is love-hate ingredient.  I used to hate anchovies, but now I love them.  Here, I'm using anchovy paste (for convenience) to add some salty depth of flavor to the dressing.  The finished salad doesn't taste fishy at all!  If you're totally against anchovies, you can leave this ingredient out.  But I urge you to get a small jar of anchovy paste, and start experimenting.  It really grows on you!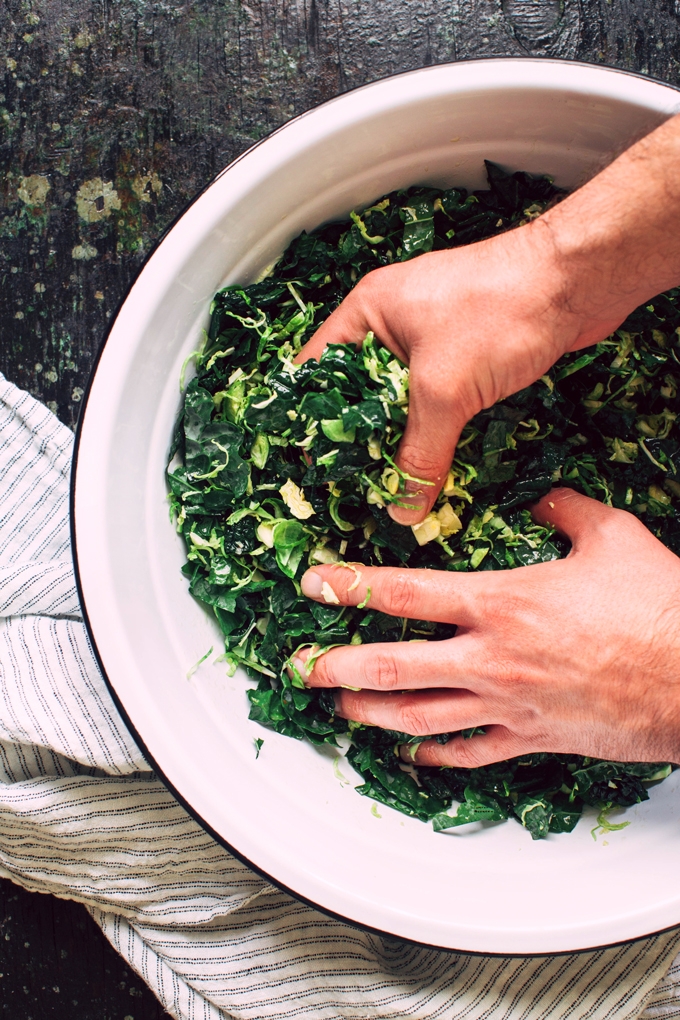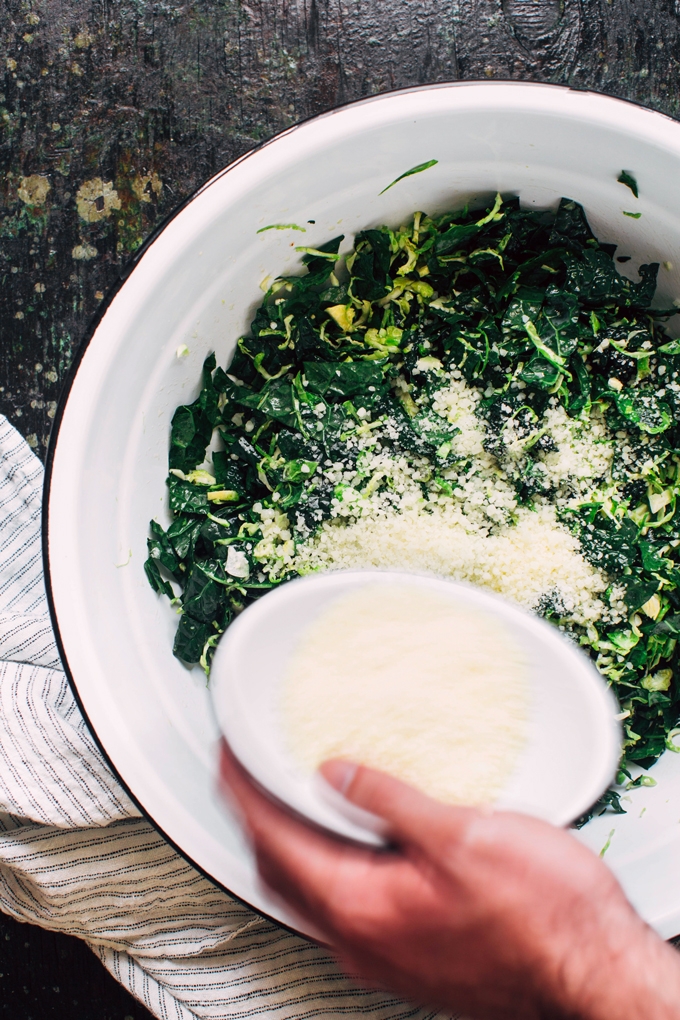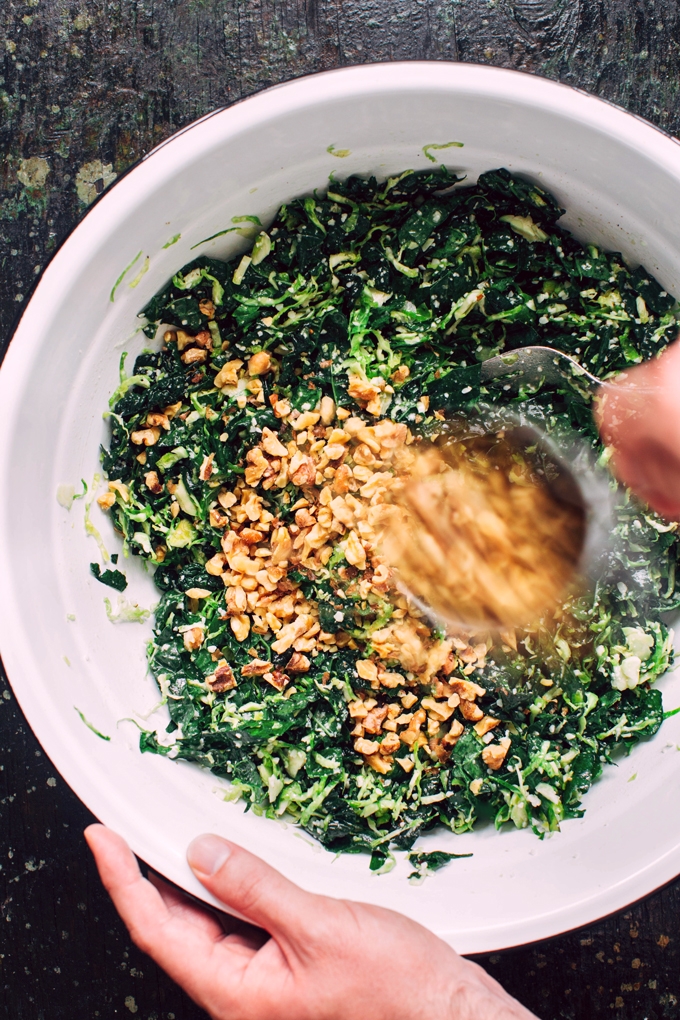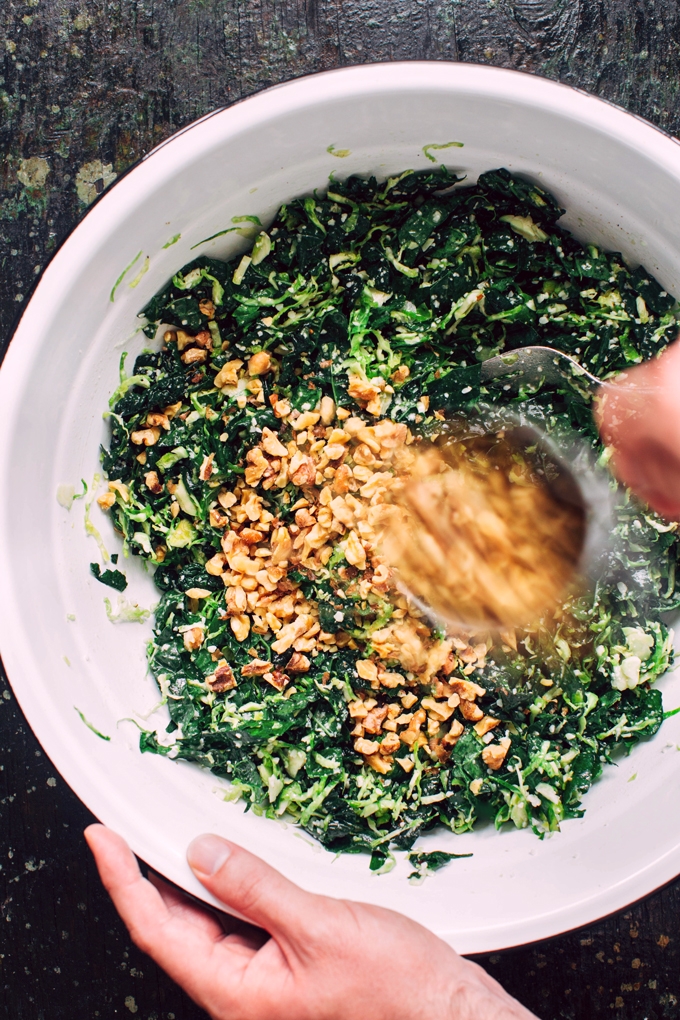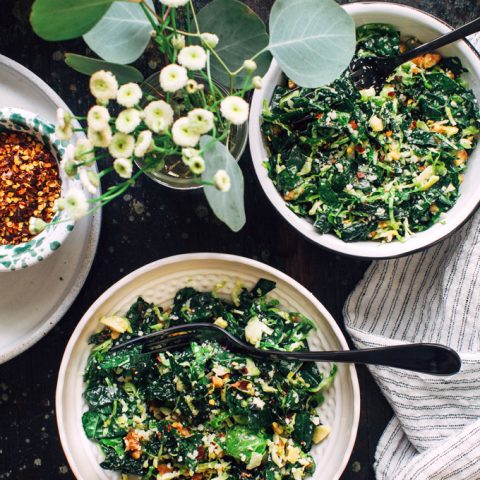 Shredded Kale and Brussels Sprout Salad Recipe
Ingredients
1

pound

brussels sprouts

1

pound

lacinato kale (also known as black, dinosaur or Tuscan kale)

1/4

cup

freshly squeezed lemon juice

1

teaspoon

anchovy paste (or 2 anchovy fillets mashed up)

1

garlic clove, grated or minced

Pinch

of crushed red pepper flakes

1/2

teaspoon

kosher salt, plus more to taste

1/2

cup

extra virgin olive oil

1

cup

grated pecorino*, plus more for sprinkling

1

cup

chopped toasted walnuts

Freshly ground black pepper
Instructions
Trim the stem end of the Brussels sprouts and remove any discolored or damaged outer leaves. Cut each sprout in half from top to bottom. Shred Brussels sprouts with a sharp knife or a food processor fitted with a slicing disc. Remove the ribs from the kale, and discard. Chop remaining leaves into bite-sized strips. Place sprouts and kale in a large bowl, and set aside.

Add lemon juice, anchovy paste, garlic, red pepper and kosher salt to a small bowl, whisking to combine. Whisk in olive oil until full incorporated. Drizzle over the prepared greens, and using your hands, massage the dressing into the shredded and chopped leaves. Toss in pecorino and toasted walnuts. Let the salad sit at room temperature for 20 - 25 minutes until the leaves are tender. Season to taste with additional kosher salt and black pepper.

To serve, spoon salad in a big bowl, and top with a sprinkling of pecorino cheese. Store any leftover salad covered in the refrigerator for up to 1 day.
Notes
* When grating a large amount of hard cheese, I like to use a food processor fitted with a steel blade. Simply chop pecorino up into large chunks, and toss into the food processor. Blitz until the texture is finely ground.
Tried this recipe?
Tag @brandiego on Instagram so I can check it out!
I created this recipe in partnership with Urban Outfitters.  All thoughts, opinions and recipes are my own.
Here are some other tasty salad recipes on Kitchen Konfidence: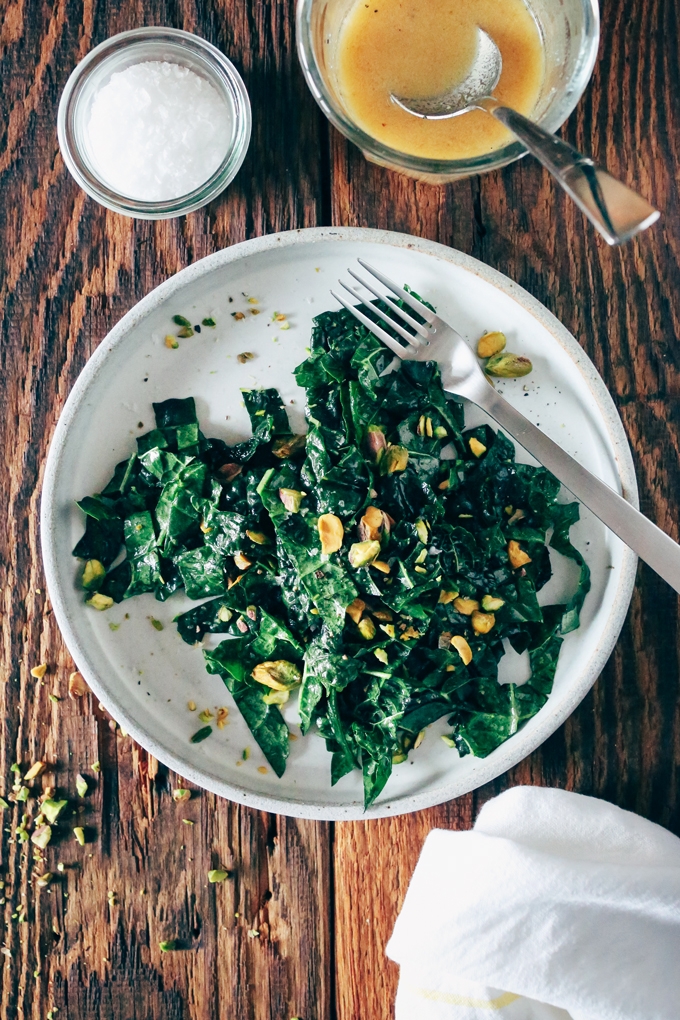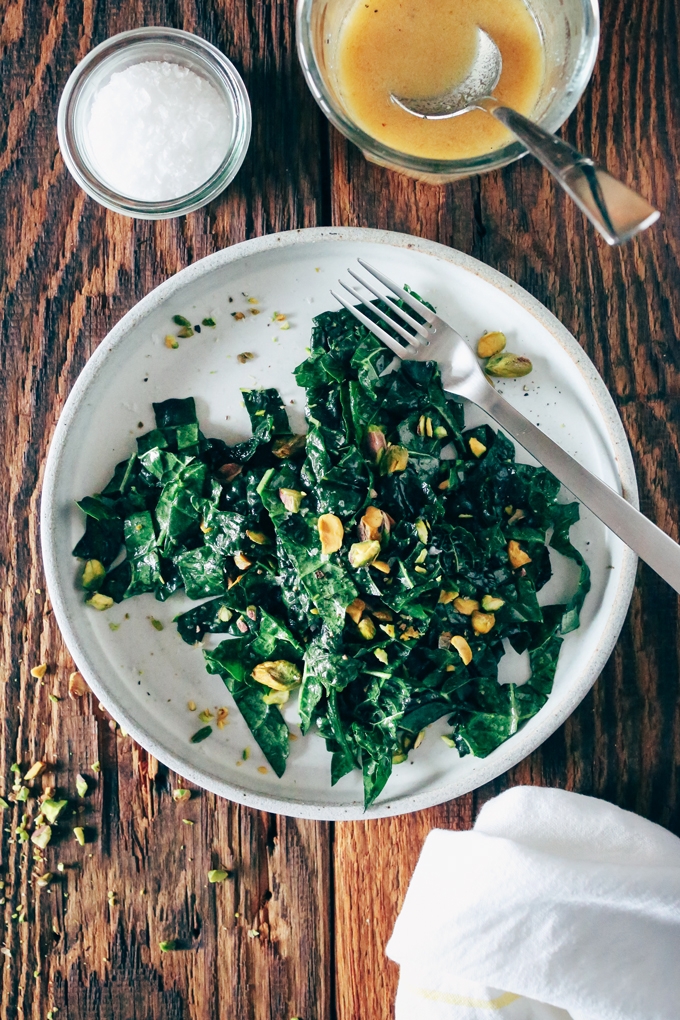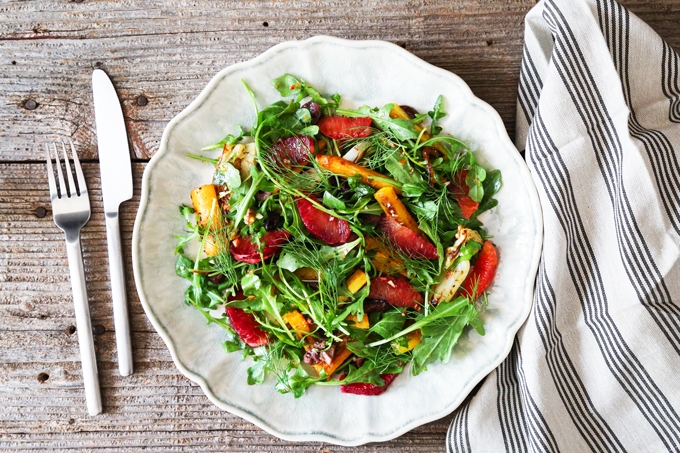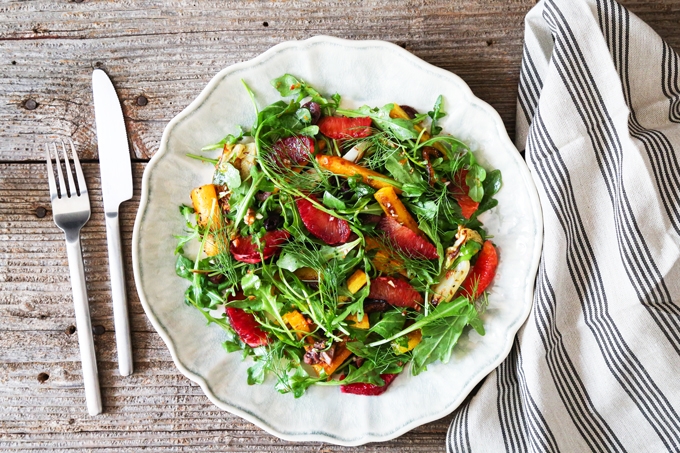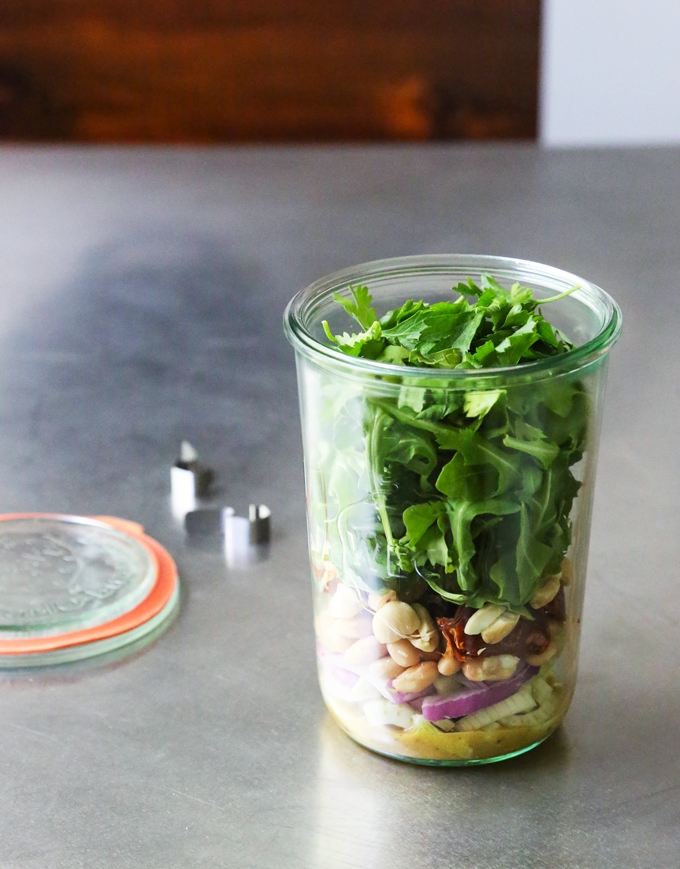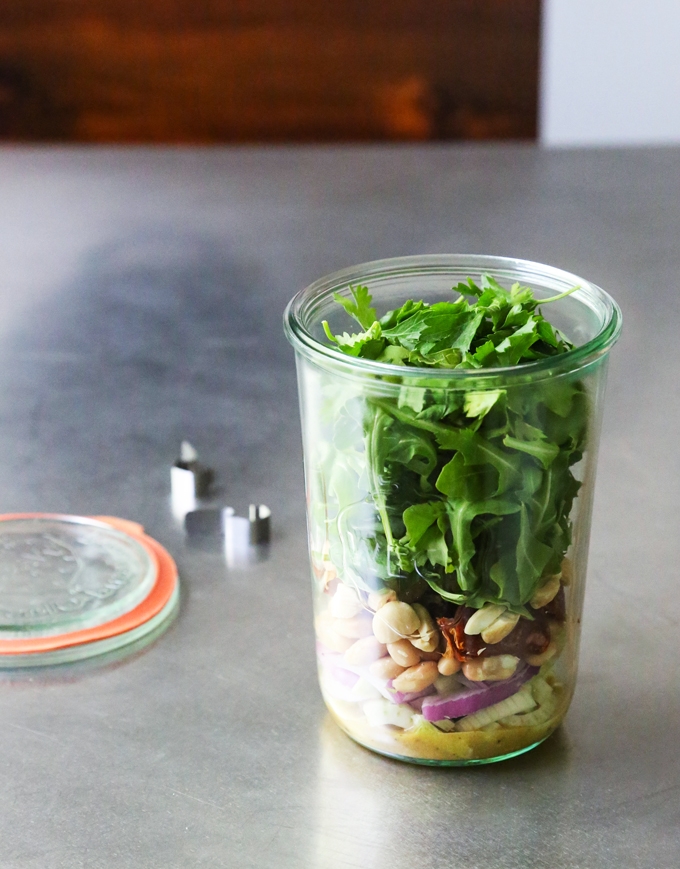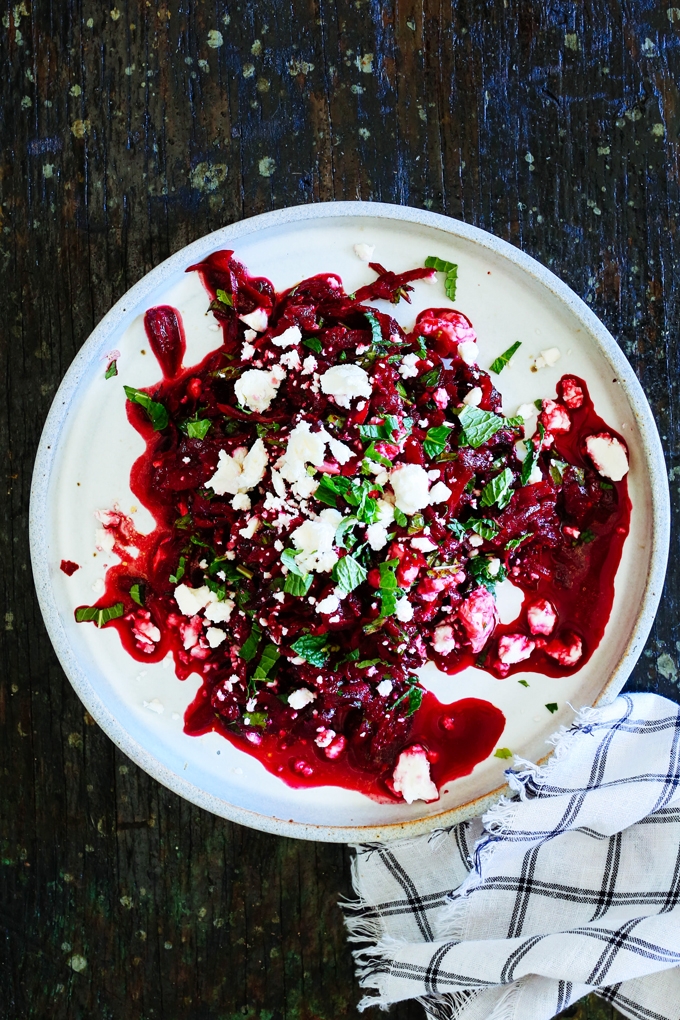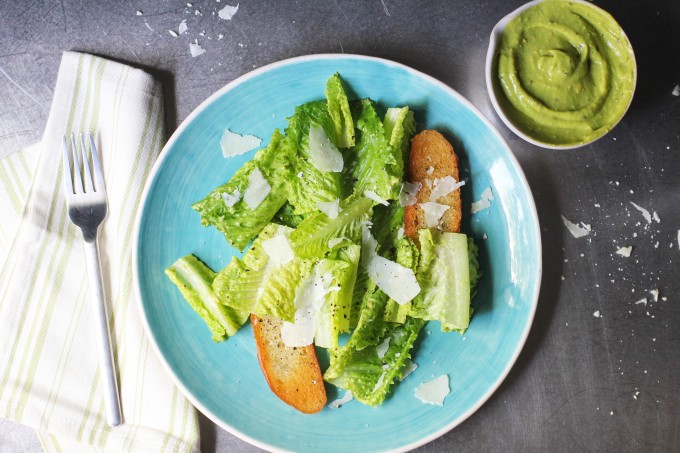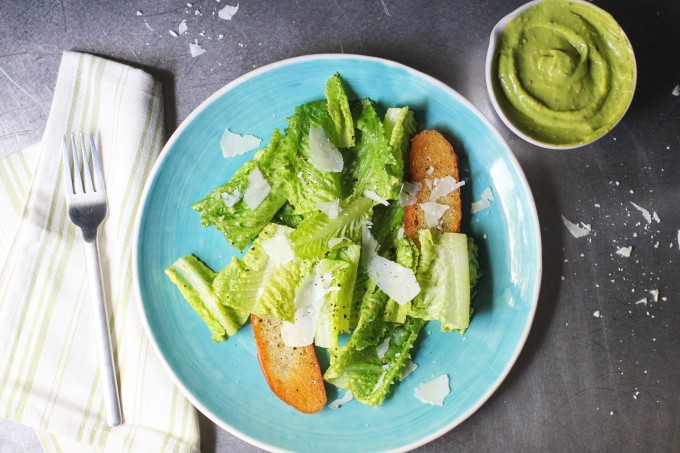 10