Hello friends!!  How's everyone doing right now?  I know last night's election news is unsettling for many (me included), but we have to move forward.  We have to move on.  So today I've got a new stuffing recipe to share along with just a few thoughts on America, politics and the future.
This post may contain affiliate links.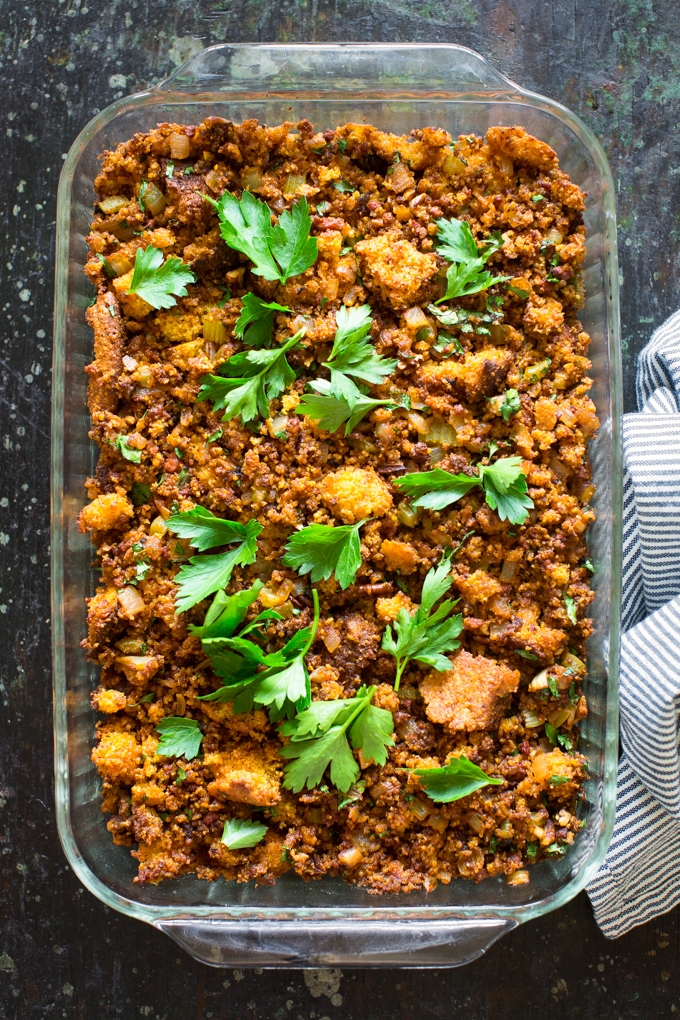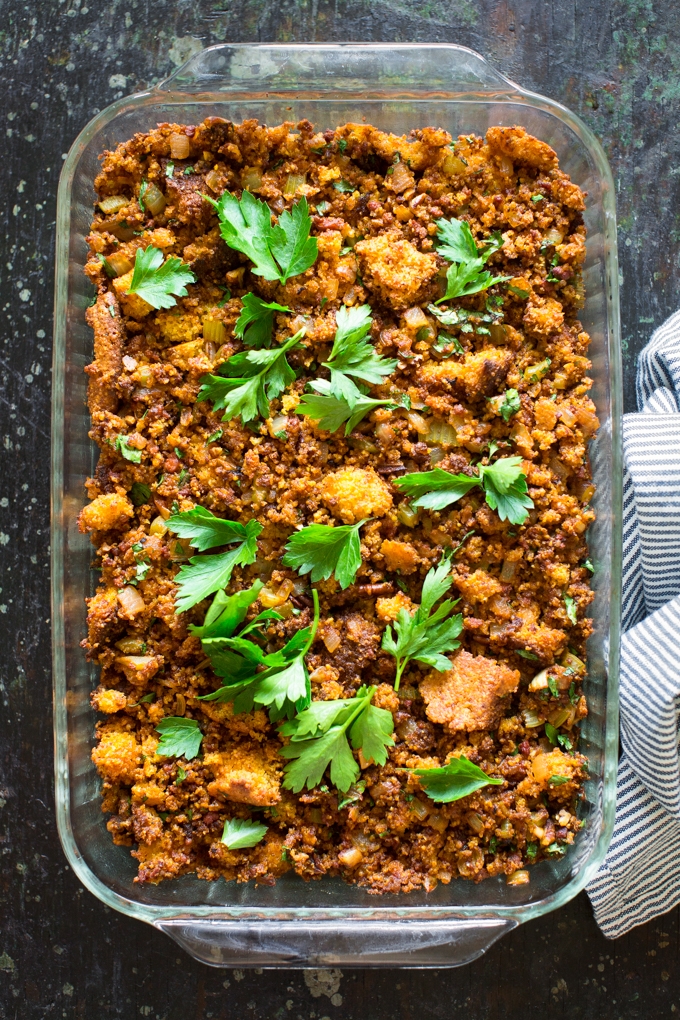 First, let's talk stuffing.  Normally for Thanksgiving, I like to make this Italian Kale and Sausage Stuffing.  It's SO delicious, but from time-to-time, I do like to switch things up.  Here, I've taken a golden batch of buttery cornbread, crumbed it and baked it up with onion, celery, garlic, pecans, parsley, butter, chicken stock and bold Mexican chorizo.  The flavor combination of corn and chorizo is sweet, savory and delicious while the parsley adds pops of green freshness.  This stuffing is definitely not traditional, but it can be a tasty and unexpected addition to any Thanksgiving dinner.  Also, the leftovers are incredible the next day topped with a fried egg!  Continue reading for the recipe plus some personal thoughts on the election.
For the past two weeks, I've been consumed with home renovations (painting and flooring) and family visits mixed with a little election anxiety.  Loving the home updates and I got to celebrate and early Thanksgiving with my family.  They live on the East Coast, and I don't travel back during the Holiday season, so this is the first Thanksgiving I've celebrated with them in 12 years!!  Unfortunately, there was also a dark cloud looming overhead in the form of the 2016 election.
As we approached Election Day, I couldn't help but feel like this was the 2008 Prop 8 thing happening all over again.  Back then, I remember thinking to myself, California couldn't possibly pass Prop 8.  We're so liberal and progressive!  But then Prop 8 passed.  I felt so disappointed in the majority of people that voted the prop in.  After several years of rallying and protesting, the prop was overturned and my faith was restored in the system.
Yesterday, Donald Trump was elected President of the United States and once again, I am experiencing that same feeling of disappointment in the people that voted him in.  But instead of turning that disappointment into anger or despair, I'm going to remain hopeful.  Trump is a wildcard, but I will not fear the unknown.  That's the tactic Trump used to rally so much support, but I won't let it get to me.  We're not sure what Trump will do, but there's no use in worrying over all the possible scenarios.
If personal rights are threatened, if hate and fear become more widespread, if unwanted policy is put in place, then we as Americans will fight (non-violently).  We will rally.  We will protest.  And we will right what is wrong.  We've done it in the past and we will do it again.  So if you are sitting at home worried for the future of the country right now, just keep in mind: 1. Don't fear the unknown. 2. Find comfort in the fact that we've overcome many big politic problems in the past, and we'll do it again if needed.
That's it for my political thoughts!  Let's get to the stuffing.  And on Thanksgiving in a couple of weeks, really take a moment to acknowledge all the things you are thankful for.  Welcome friends and family to the table no matter what their political stance is.  We need to heal.  We need to move forward.
Oh and one last thing.  I would recommend disconnecting from social media for a little bit.  I found myself getting extremely anxious as I scrolled through each feed.  Just rest, relax and regroup.
A Cornbread Chorizo Stuffing Recipe + Some Thoughts
Ingredients
3/4

pound

Mexican chorizo, casing removed

2

tablespoons

unsalted butter + 4 tablespoons melted unsalted butter

1

onion, chopped

2

celery stalks, chopped

2

garlic cloves, finely chopped

Kosher salt

1

batch (about 1.5 pounds) cornbread, preferably homemade

(I used this recipe)

1/3

cup

chopped pecans, toasted

1

egg

1/2

cup chicken stock, plus more as needed

(homemade if you've got it!)

1/2

cup

finely chopped parsley, plus more for topping

Freshly ground black pepper
Instructions
Lightly grease a 9 x 13 baking dish with butter or non-stick spray.

Warm a large skillet over medium heat, then add the chorizo. Using a wooden spoon, break up the chorizo, and cook, stirring occasionally for 5 minutes. Add 2 tablespoons of butter along with the onion, celery, garlic and a pinch of salt, and cook until the veggies soften and the mixture starts to caramelize (about 10 minutes), stirring occasionally. Add a splash of chicken stock to the pot to deglaze the skillet, then take it off the heat.

Crumble cornbread into a large bowl, leaving some pieces on the larger side. Gently stir in the pecans, warm chorizo mixture and parsley. In a medium bowl, whisk together the egg, chicken stock and 4 tablespoons melted butter. Drizzle liquids over the stuffing, and gently fold to combine. If the stuffing looks a little dry, add a splash more of chicken stock. The stuffing should look moist, but not wet. Season to taste with salt and pepper (I added about 1 1/2 teaspoons salt). Transfer stuffing to the prepared baking dish.

Preheat an oven to 350°F. Bake uncovered until hot (at least 150° in center) and lightly browned (about 25 minutes).Top with a sprinkling of parsley.
Notes
This stuffing can be prepared 1 day in advance up to step 3. Cover and store in the refrigerator. Bring casserole to room temp before continuing with step 4 or bake the chilled casserole for a longer time period (may take up to 45 minutes).
If you are preparing this dish on Thanksgiving with other sides in the oven, the stuffing can be baked at 325°F or 350°F, depending on temperatures needed bake other casseroles. If baking at 325°F, plan on cooking for 30 - 35 minutes.
Tried this recipe?
Tag @brandiego on Instagram so I can check it out!
Here are some other side dish recipes perfect for Thanksgiving: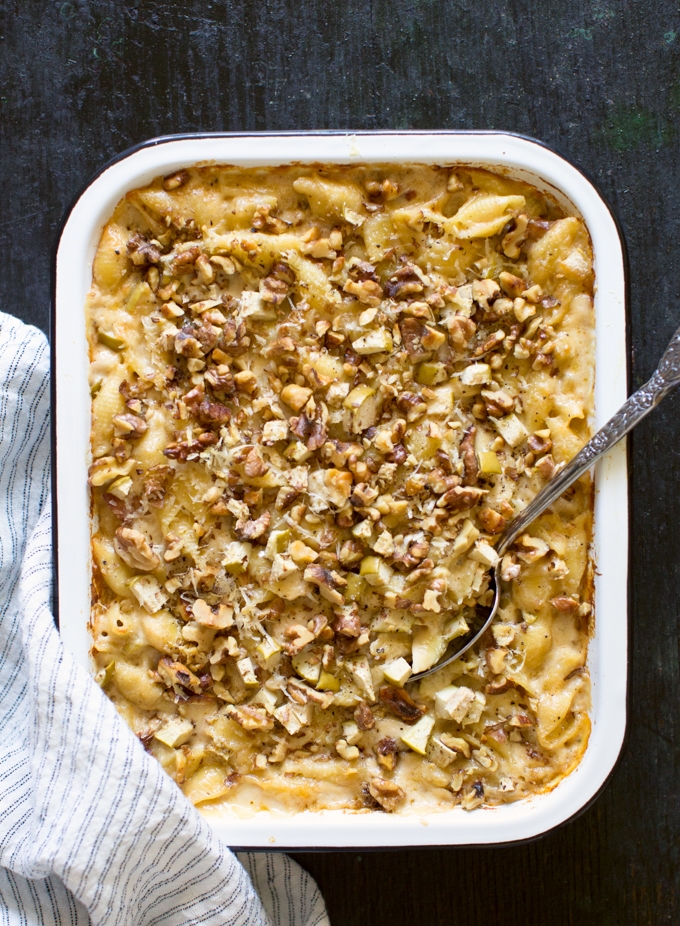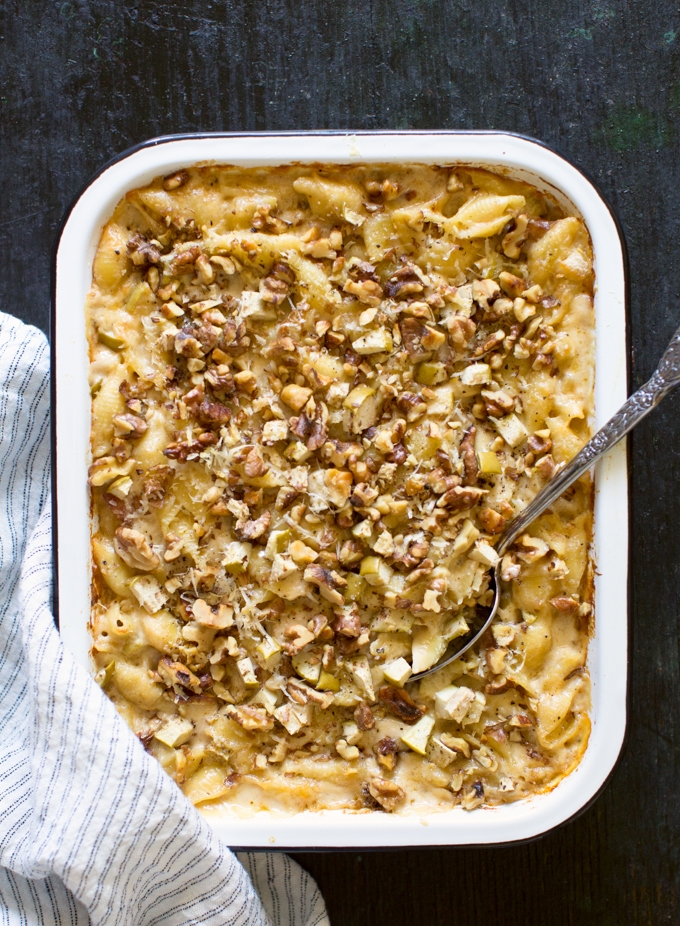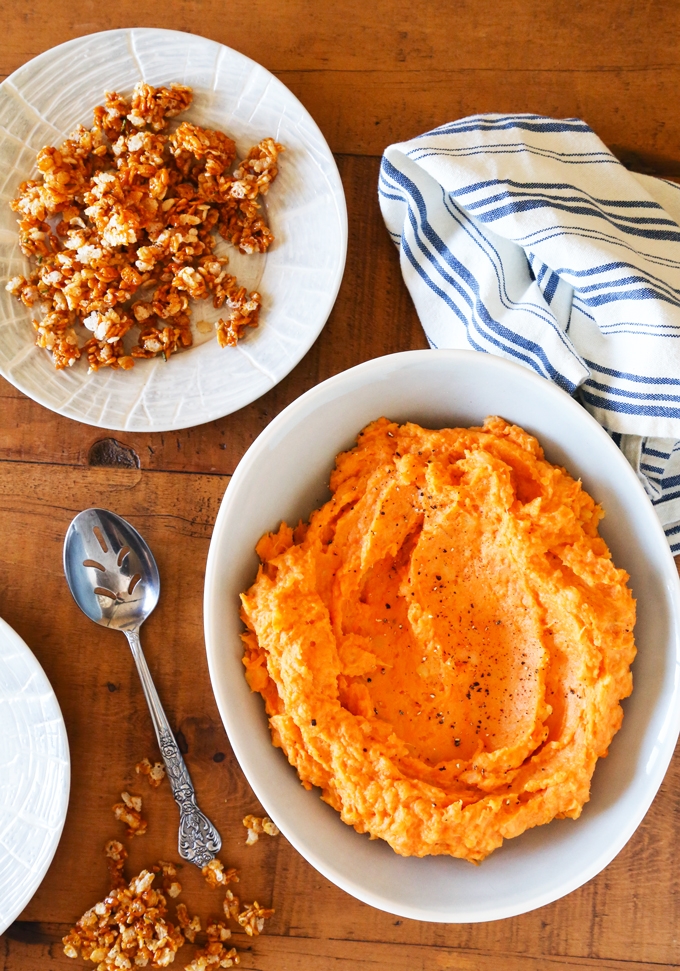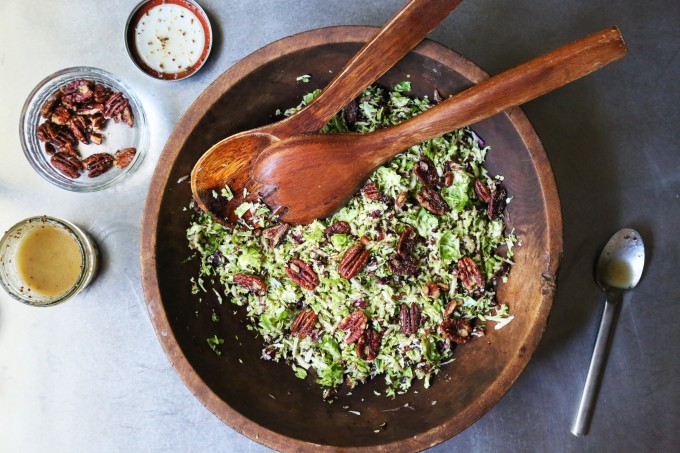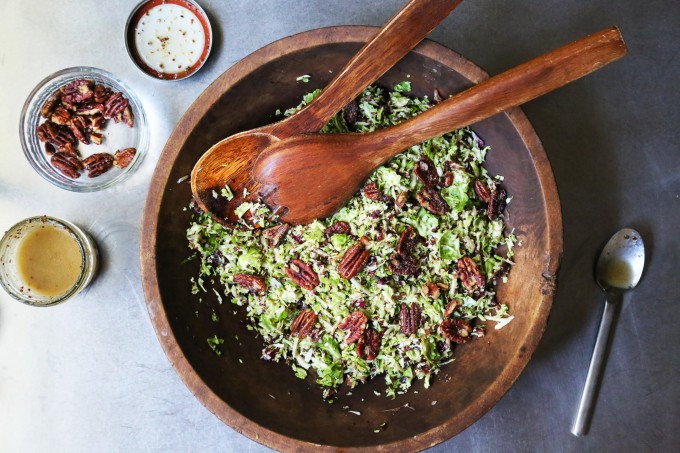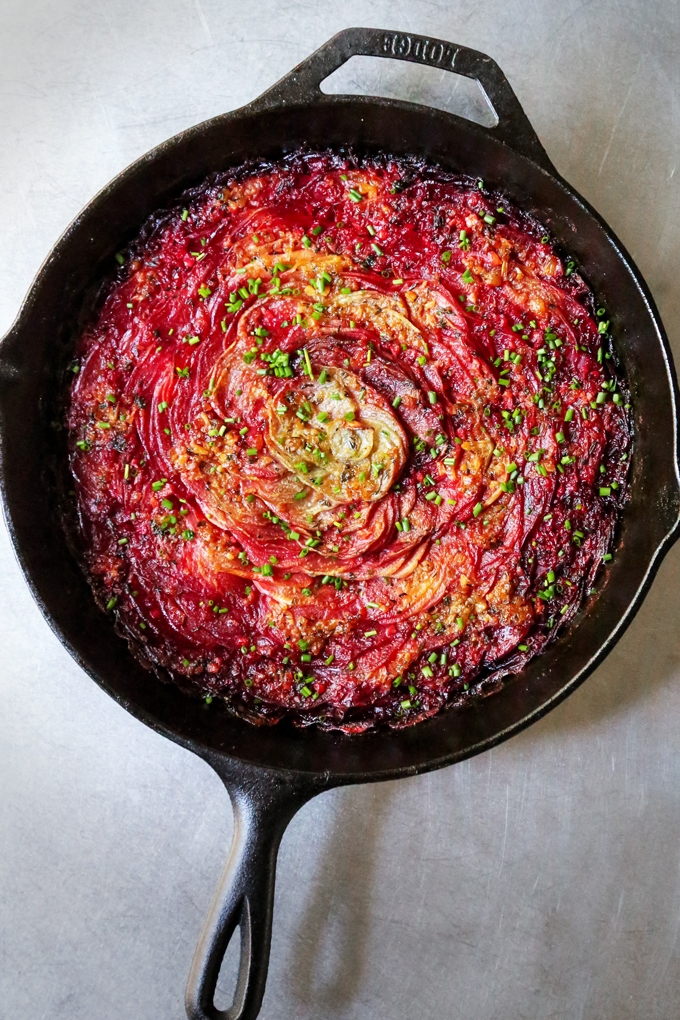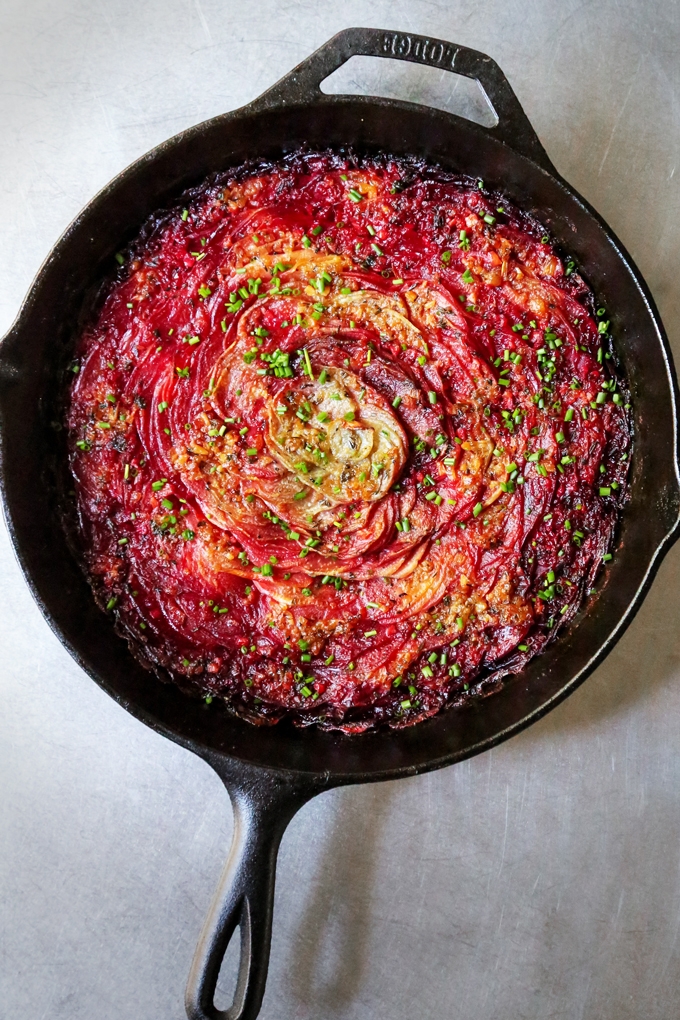 8