A simple soup that nourishes the body and soul.
This post may contain affiliate links.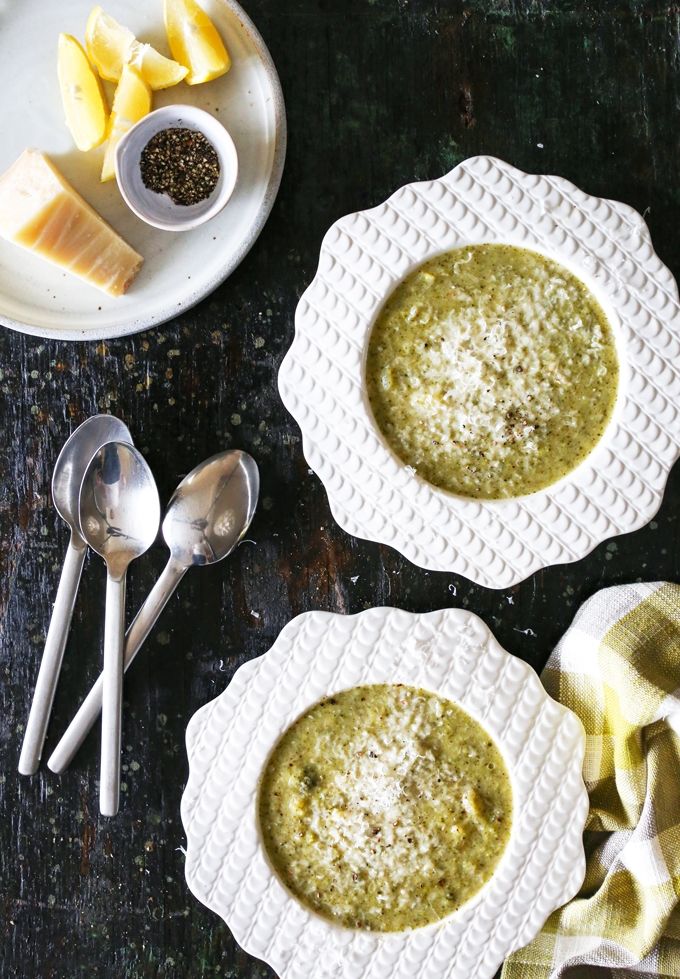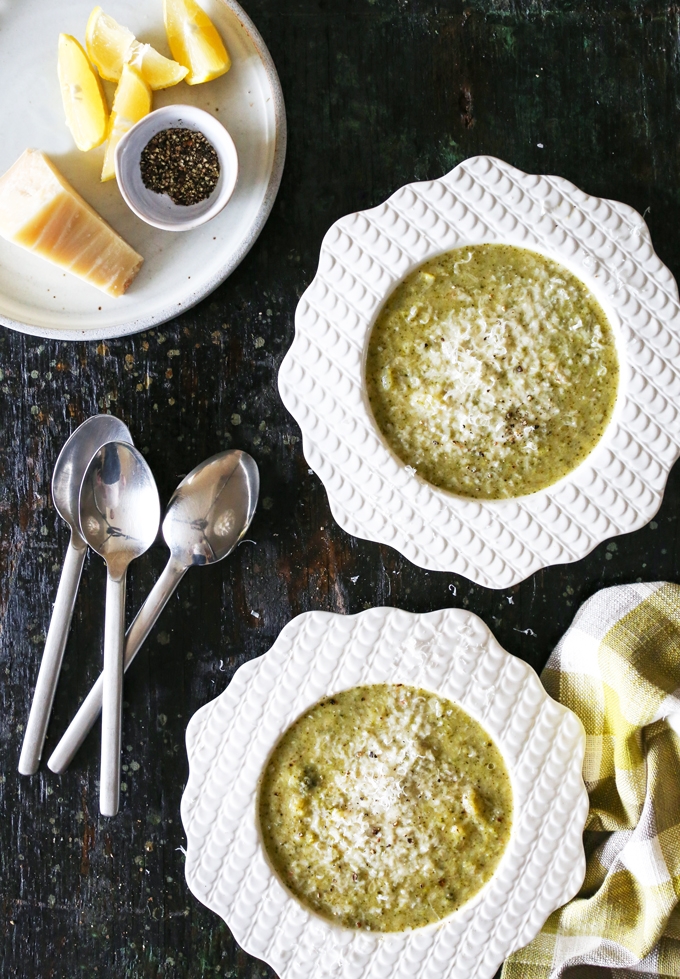 During the winter months in San Diego, when the weather at night can dip into the 40's (sometimes 30's!), I find myself craving soup time and time again.  In the past seven days, I seriously made three different types of soup and two batches of stock.  This Broccoli and Potato Soup was my favorite of the three, and surprisingly, the healthiest as well!
The recipe starts with crisp stalks of organic broccoli.  I am making the organic distinction here, because the main flavor of this soup comes from the broccoli, so it's got to be top notch.  That means organic and preferably local.  Two pounds of said broccoli get divided and cooked two different ways.  The first pound is tossed with olive oil and salt, then roasted until tender, caramelized and aromatic.  The second pound is simply added to the soup raw.  This split treatment results in the most wonderful depth of flavor (with minimal added effort!).  Deep savory notes from the roasted broccoli, and fresh, grassy notes from the raw broccoli.  Continue reading for the recipe.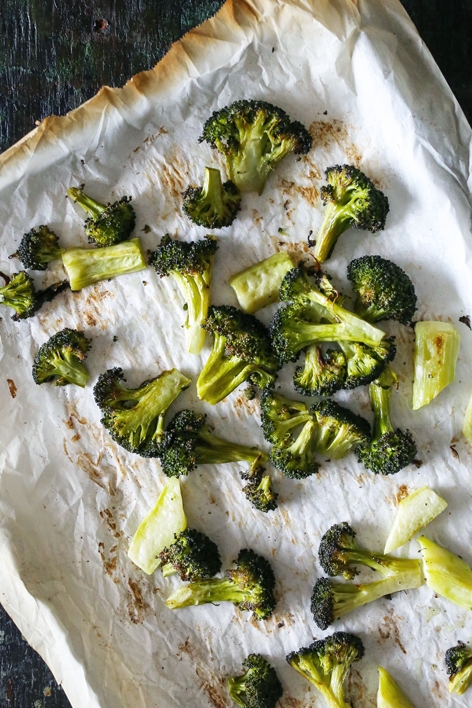 In addition to the broccoli mentioned above, this soup is made with a robust base of onion, garlic, black pepper and red pepper flakes.  Five cloves of garlic to be exact.  Broccoli and garlic are one of those culinary power couples (Brarlic? Garccoli?).  Such a tasty combination.  If you don't plan on making this soup, at least roast up some broccoli with olive, garlic, salt and pepper.  It's a side dish staple at my house.
Sliced potatoes are simmered and blended into the soup for body, and chicken stock provides a comforting, savory back note. Vegetable stock or water would be suitable substitutions if you want to make this vegetarian. Lemon juice and zest are added at the end of the cooking process to lift the soup up out of Murksville, and a final flurry of Parmesan cheese takes this soup over-the-top.  If you're doing the whole paleo thing (which I still do from time to time), you can certainly omit the Parmesan cheese.
Broccoli and Potato Soup
Recipe adapted from
here
.
Ingredients
5

tablespoons

olive oil, divided (3 for the broccoli, 2 for the aromatics)

2

pounds

organic broccoli (about 3 medium-sized heads)

Kosher salt

2

tablespoons

unsalted butter

1

large yellow onion, diced

5

cloves

garlic, chopped

1/2

teaspoon

black pepper

1/2

teaspoon

red pepper flakes

4

cups

chicken stock (vegetable stock or water would work here too)

1/2

pound

yukon gold potatoes, peeled and thinly sliced

1/4

teaspoon

finely grated lemon zest

Juice of 1/2 a lemon (a little over 1 1/2 tablespoons)
Freshly grated Parmesan cheese, to serve (optional)
Instructions
Preheat an oven to 425°F. Trim the broccoli florets from the large, thick stems. Chop florets into large pieces. Peel the tough outer layer from the thick stems, then discard the peels. Chop the peeled stems into large pieces. Divide broccoli into 2 even piles.

Add the first pile to a parchment-lined baking sheet, and toss with 3 tablespoons olive oil, and a few pinches of kosher salt. Roast until tender and caramelized (about 20 minutes), flipping the broccoli occasionally.

While the broccoli is roasting, start the soup. Warm 2 tablespoons of olive oil and 2 tablespoons of butter in a large, heavy-bottomed pot over medium heat. Add the onion, garlic, black pepper, red pepper and large pinch of salt, cooking until the onions are soft (about 5 minutes). Add the stock, potatoes, raw broccoli and 2 pinches of salt, stirring to combine. Bring the mixture to a simmer, cover the pot, and cook until the potatoes and broccoli are just tender (about 10 minutes). Add the roasted broccoli, cover again, and cook for 10 minutes to let the flavors marry.

Add the lemon zest, and roughly puree the soup using an immersion or regular blender. The soup should have some texture to it. Stir in lemon juice, then season to taste with additional kosher salt, black pepper and lemon juice.

To serve, divide soup between 4 bowls and top with freshly grated Parmesan cheese.
Tried this recipe?
Tag @brandiego on Instagram so I can check it out!
Here are some other comforting soup recipes you can find on Kitchen Konfidence: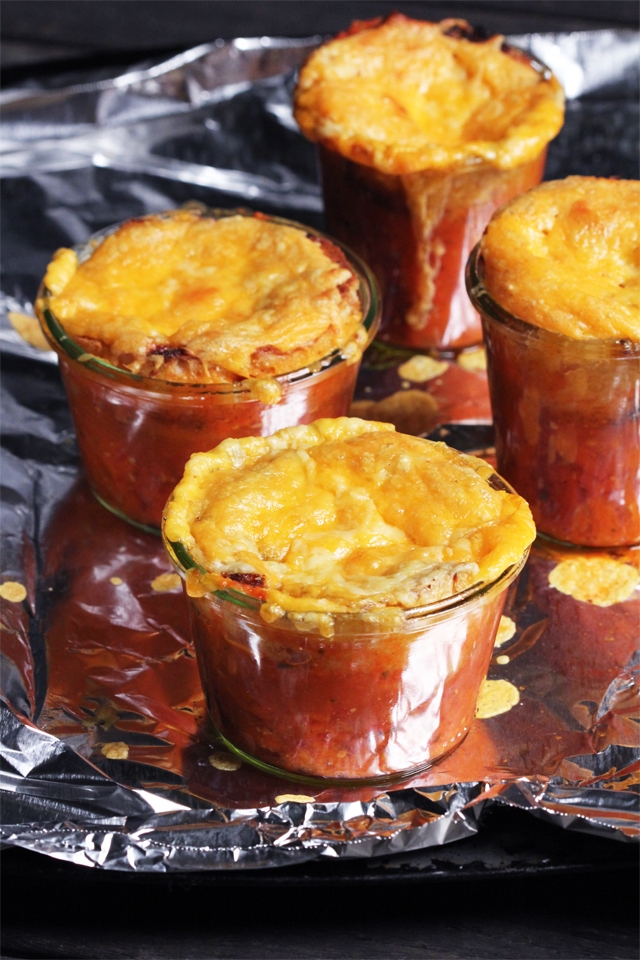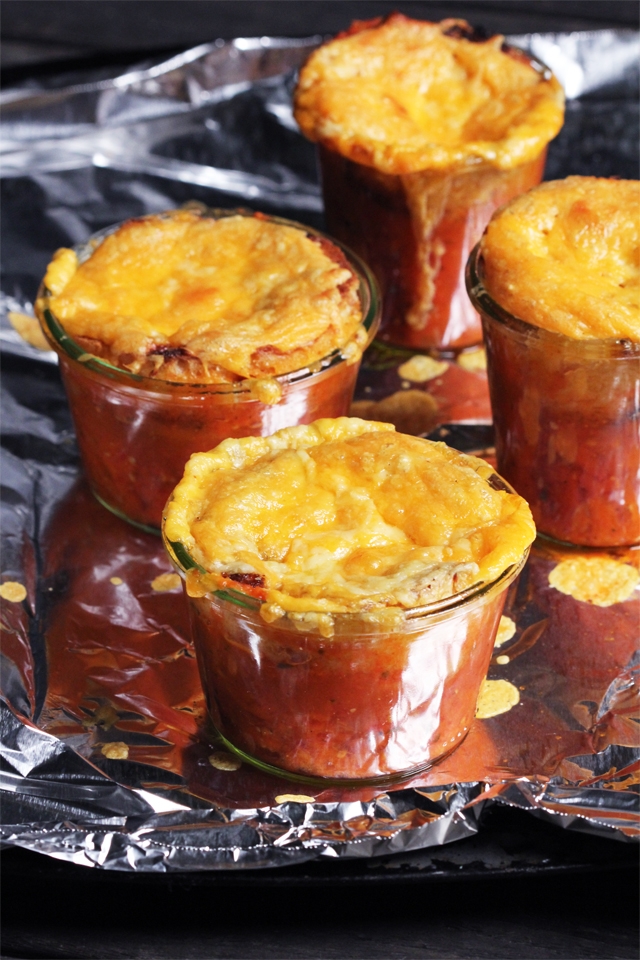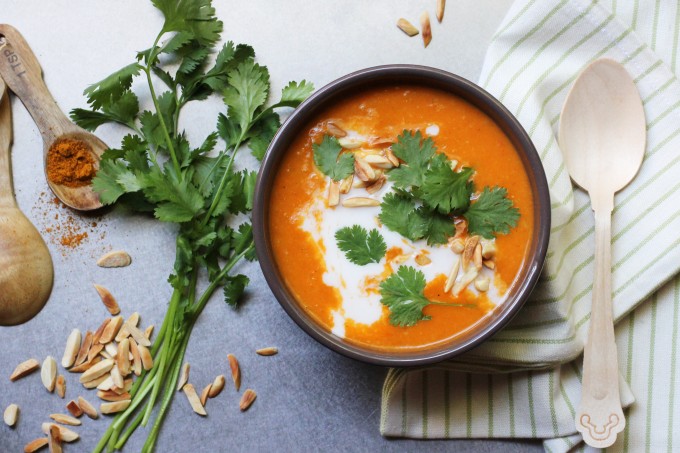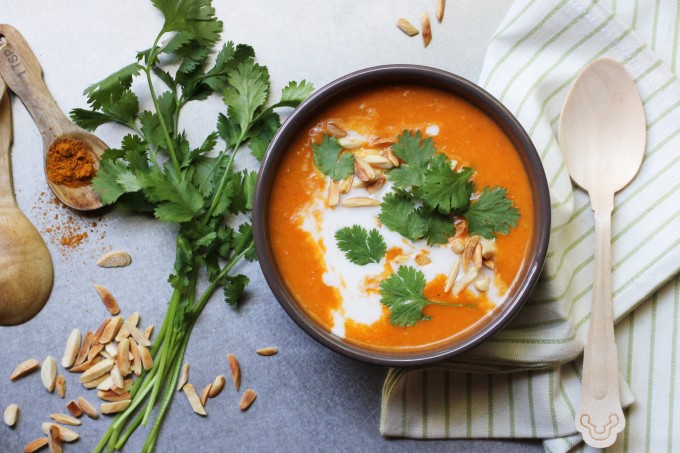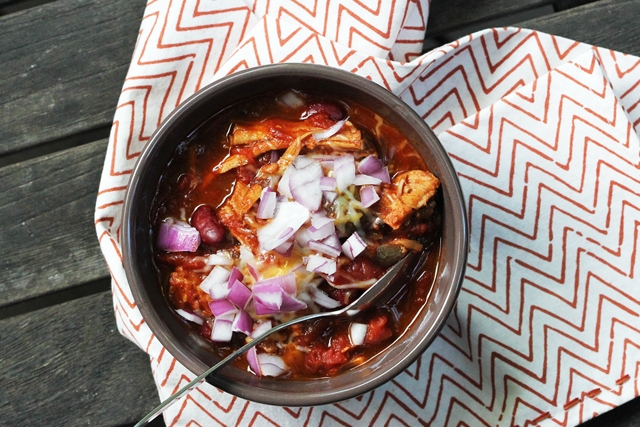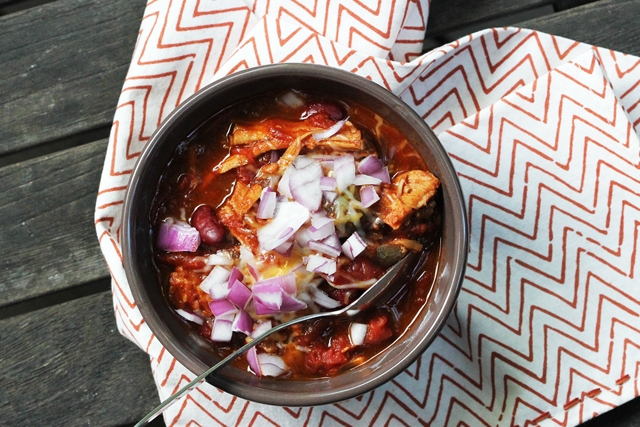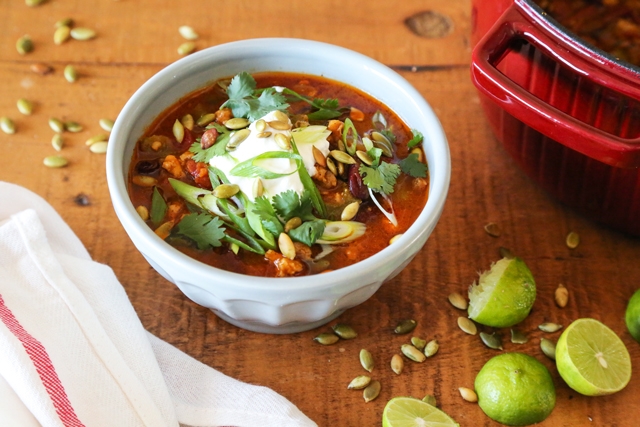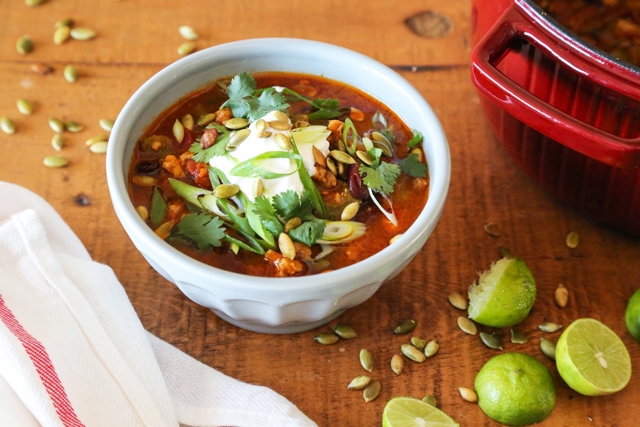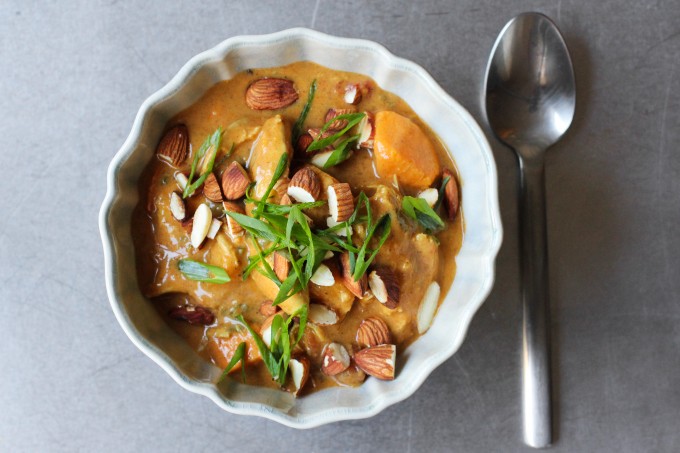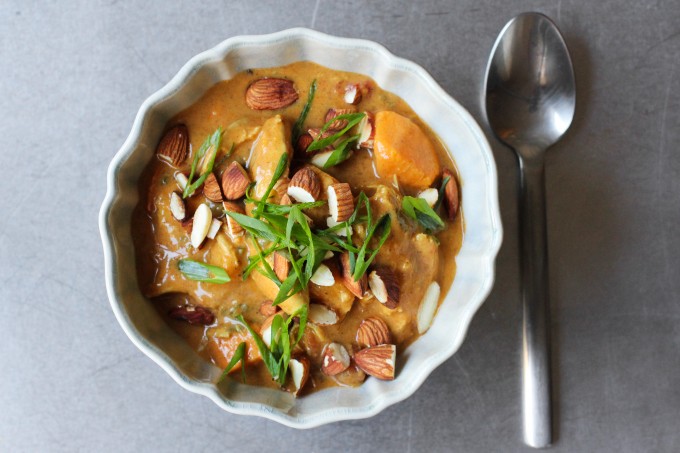 8