Queso Fundido, Spanish for "Melted Cheese", is truly a thing of beauty.
This post may contain affiliate links.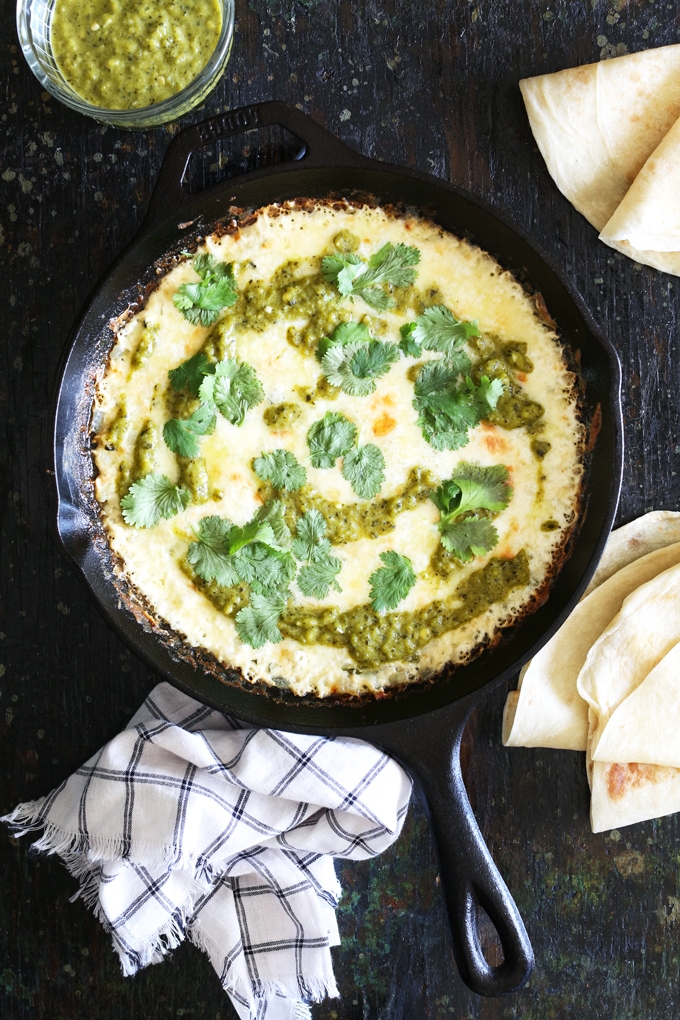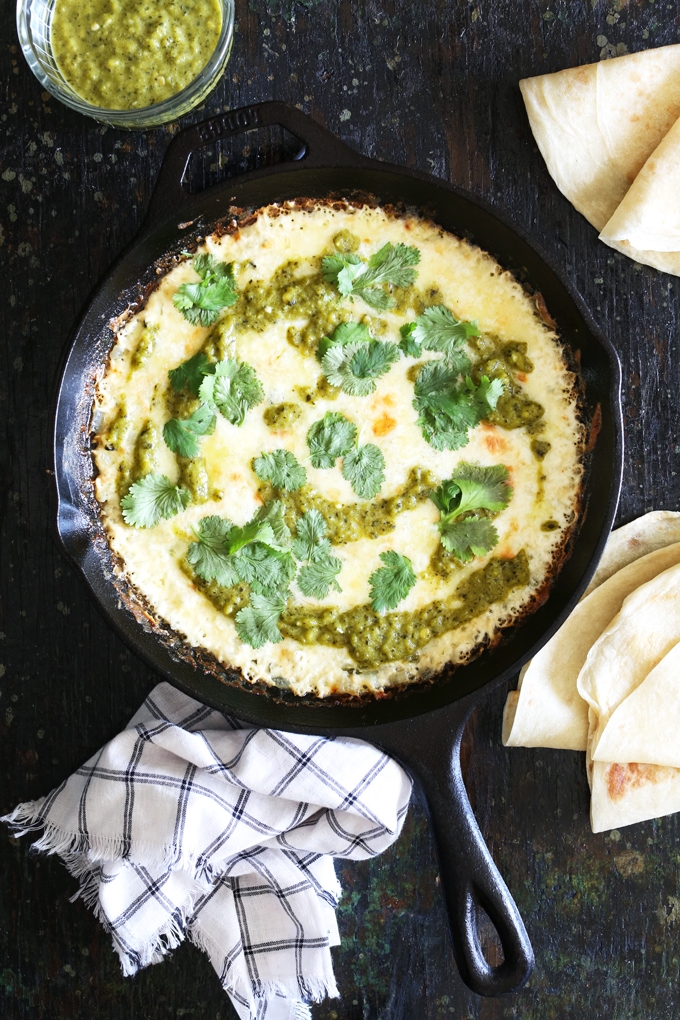 In it's most basic form, Queso Fundido is just melted stringy cheese flavored with onion and garlic, and it's often paired with roasted poblano peppers, spicy chorizo or sautéed mushrooms.  Here, I've taken the classic poblano pairing to the next level.  Three fat peppers get nice and charred under the broiler, and one gets chopped and mixed into the Queso Fundido while the other two transform into a vibrant green purée flavored with garlic and lime.  The contrast of the warm, rich cheese and the bright, smokey sauce is 100% addicting.  So much so that the boyfriend and I easily consumed the entire skillet (shown above) in one sitting!! Continue reading for the recipe.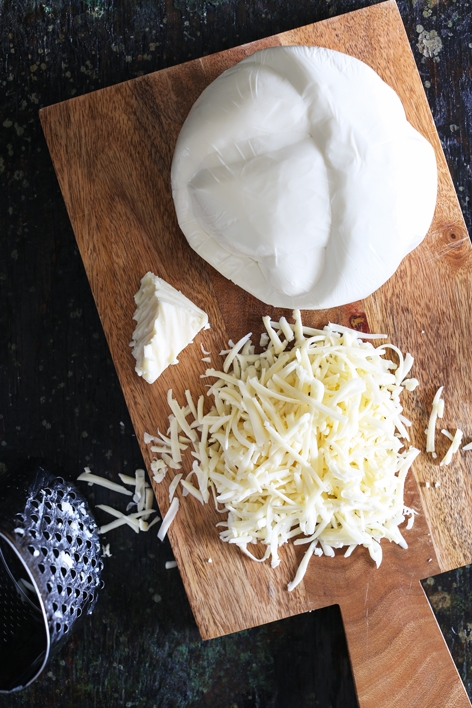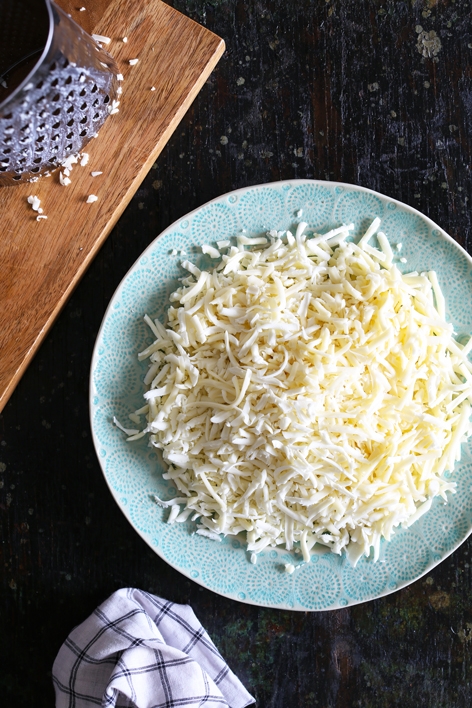 Cheeses used here include Oaxacan (traditional) and Monterey Jack (untraditional). If you can't find Oaxacan cheese, try mozzarella instead.  If you live in San Diego, you can find Oaxacan cheese at Specialty Produce or a number of Mexican markets around town.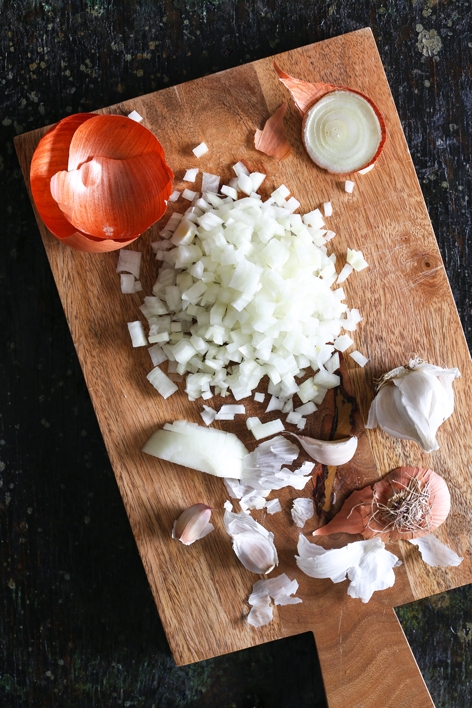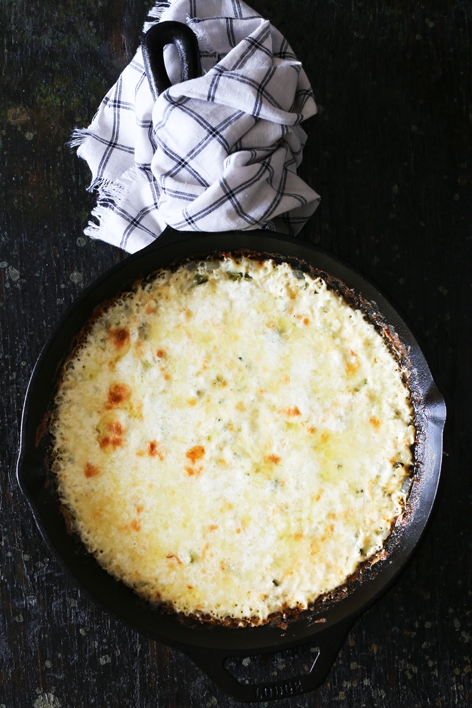 You'll want to eat the Queso Fundido shortly after it comes out of the oven.  As the Queso Fundido cools, the texture will suffer.  Either way, it will still be delicious!  The golden, crusty bits around the edges are my favorite part 🙂
To remelt the cheese, reheat in a low oven or over a low flame on the stove top.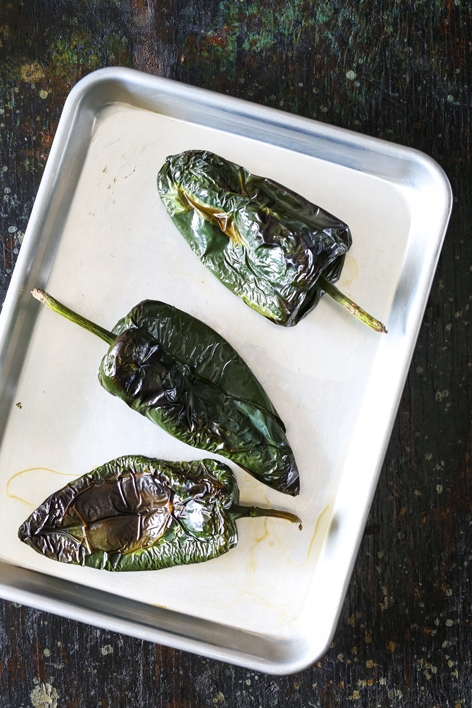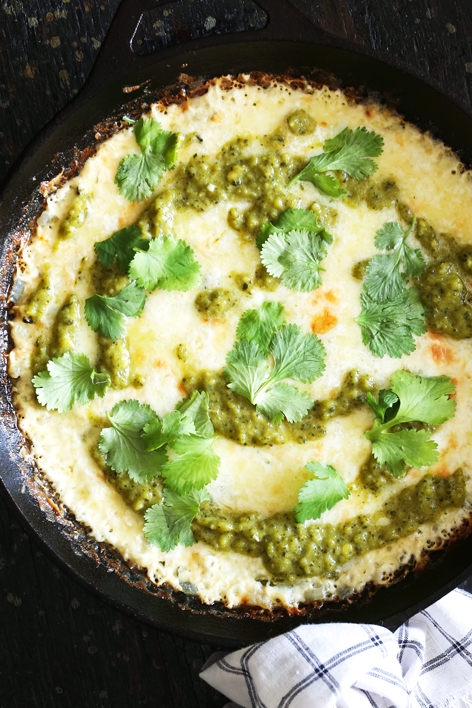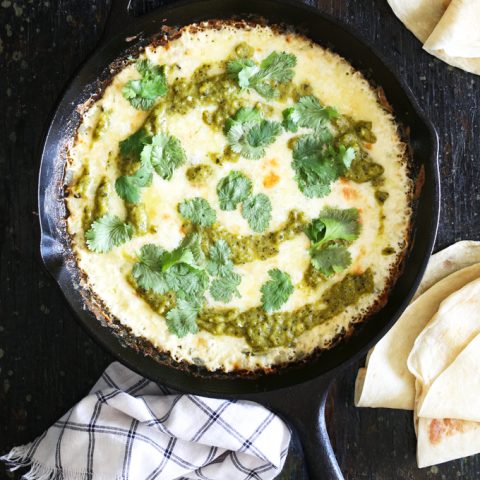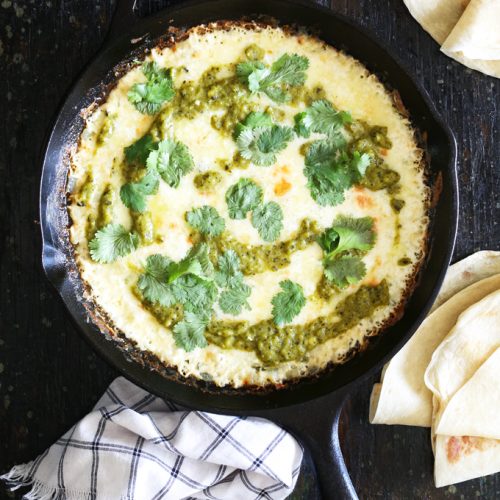 Roasted Poblano Queso Fundido
Ingredients
3

poblano peppers

1

small onion, finely diced

2

garlic cloves, minced and divided (1 for the cheese and 1 for the puree)

2

tablespoons

canola oil (or other neutral oil), divided (1 for the cheese and 1 for the puree)

1

cup

(8 oz.) grated Monterey Jack cheese

1

cup

(8 oz.) grated Oaxaca cheese (mozzarella works well here too)

Juice of 1 lime, plus more to taste

Kosher salt

Fresh flour or corn tortillas, for serving

Cilantro leaves, for serving
Instructions
Preheat a broiler to high heat, and set an oven rack as close as possible to the broiler. Place poblano peppers on a baking sheet and broil until blackened and blistered all over, turning several times to ensure even cooking. Transfer peppers to a small bowl, and cover with plastic wrap. Let the peppers steam for 10 minutes. This will make them easier to peel. Peel the blackened skins off each pepper, then remove and discard the stem. Open the peppers so they lay flat on a work surface, and remove all seeds. Dice all peppers, but keep them separated. 1 pepper will be used for the Queso Fundido, and 2 for the Roasted Poblano Puree.

Preheat an oven to 425°F. Add 1 tablespoon canola oil to an 8-inch cast-iron skillet over medium heat. Once the oil is hot, add onion with a pinch of salt, and cook until soft and just starting to brown (about 5 minutes). Stir in 1 minced garlic clove, 1 of the diced poblano peppers and another pinch of salt, cooking just until fragrant (about 1 minute). Stir in grated cheese, then transfer the skillet to the oven. Bake until the cheese gets all melty, and the surface develops golden brown spots (10 – 15 minutes).

While the Queso Fundido is cooking, make the Roasted Poblano Puree. Place 2 diced poblano peppers, 1 minced garlic clove, lime juice, 1 tablespoon canola oil and a pinch of salt in a small food processor or blender, pulsing to combine. Season to taste with kosher salt and lime juice.

Wrap tortillas in foil, and warm in the oven for 5 minutes while the Queso Fundido is cooking. As soon as the Queso Fundido comes out of the oven, top with several spoonfuls of the puree and a scattering of cilantro leaves. Serve immediately with warm tortillas.
Tried this recipe?
Tag @brandiego on Instagram so I can check it out!
This Roasted Poblano Queso Fundido would be perfect for Cinco de Mayo!  Enjoy with warm tortillas and cold beers as an appetizer.  Also check out these other Cinco de Mayo recipes found on Kitchen Konfidence: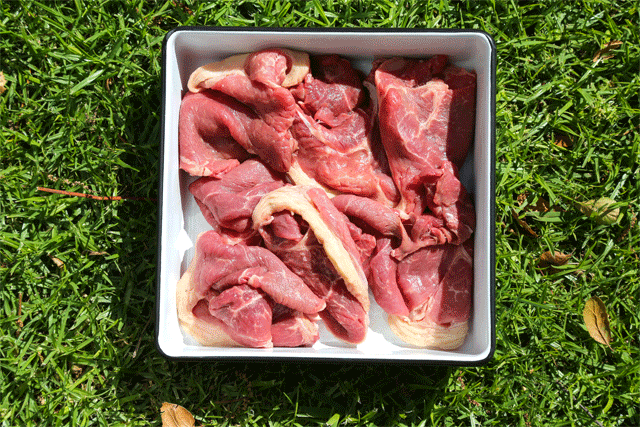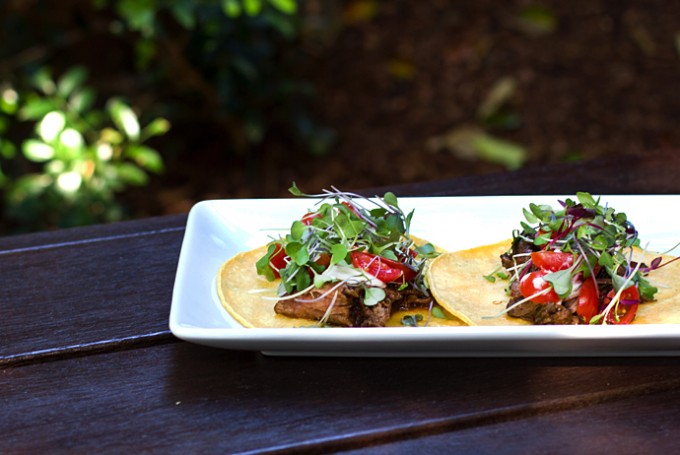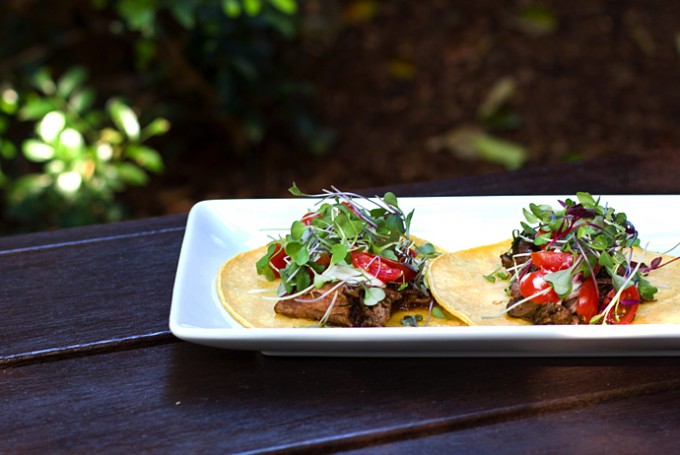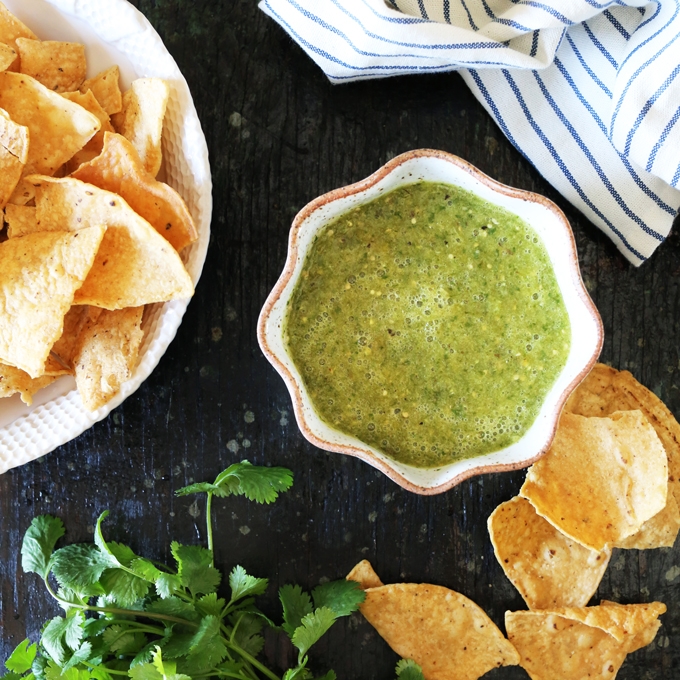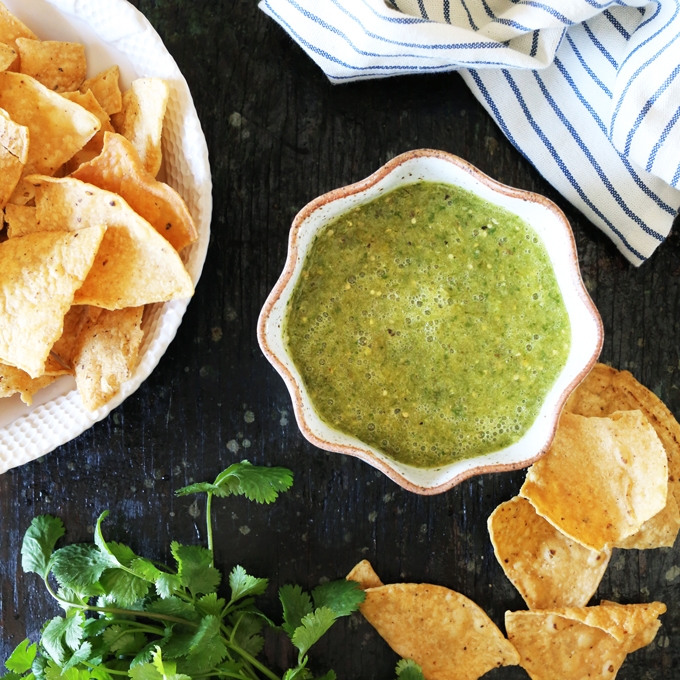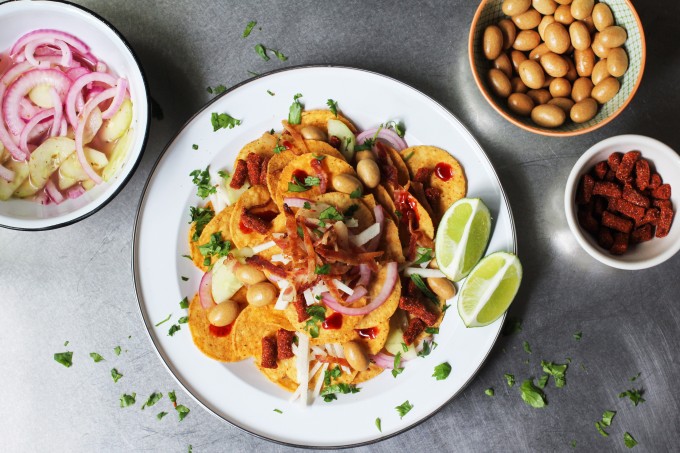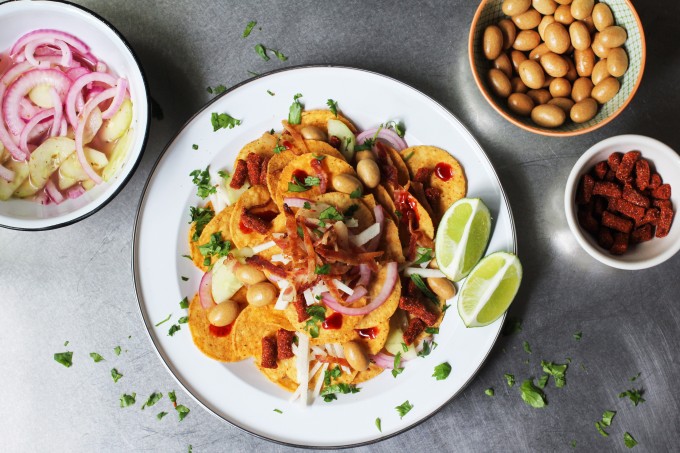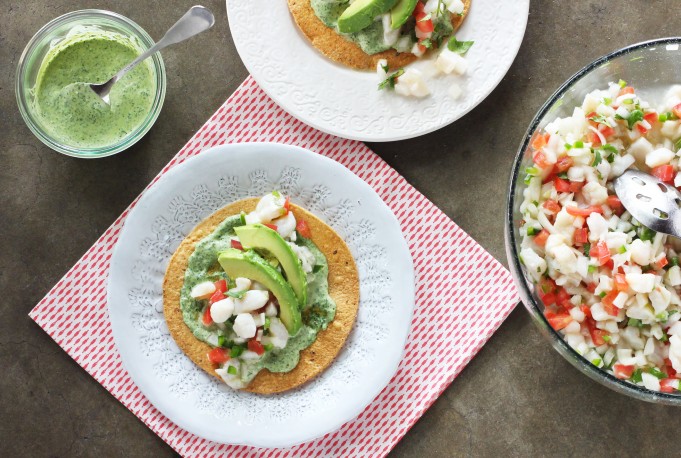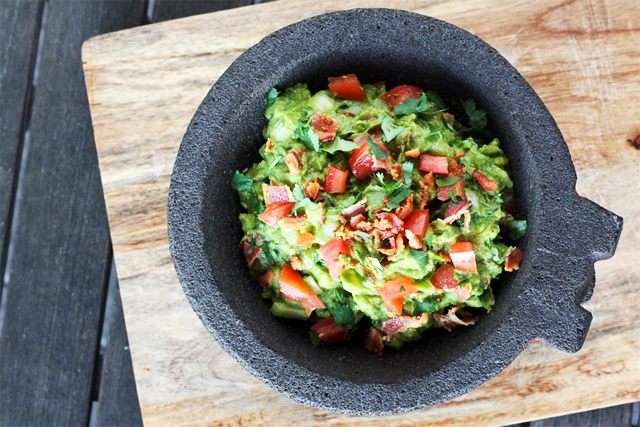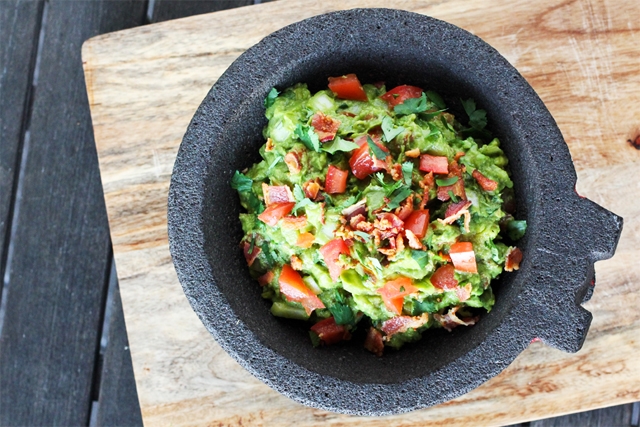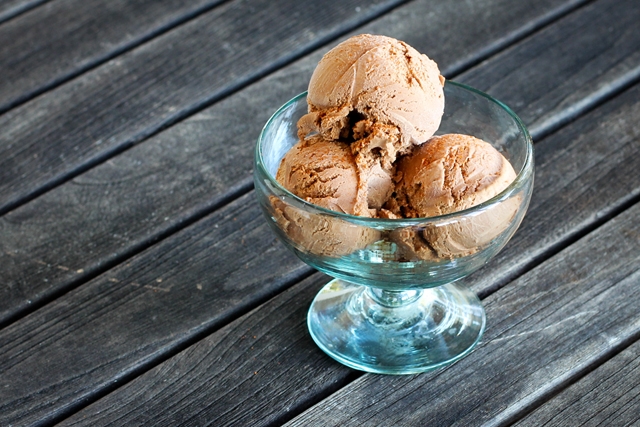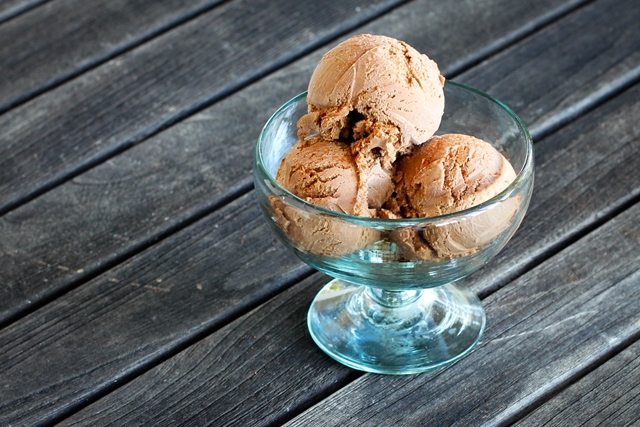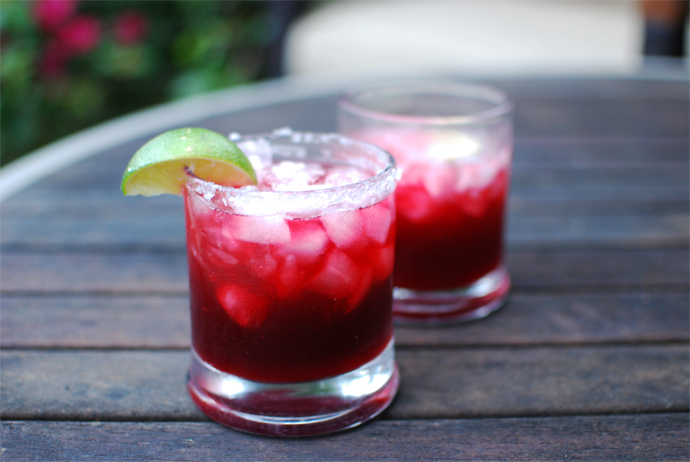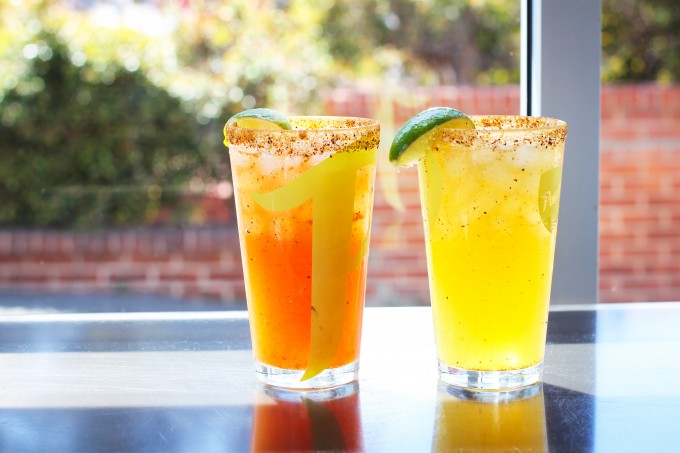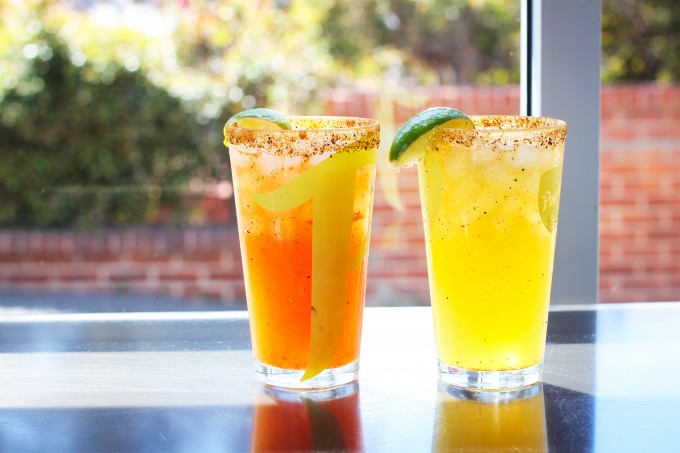 55