Hello friends and happy Thanksgiving Eve Day!!  I've been busy since the weekend with preparations, and I'm documenting the journey on Instagram Stories here.
This post may contain affiliate links.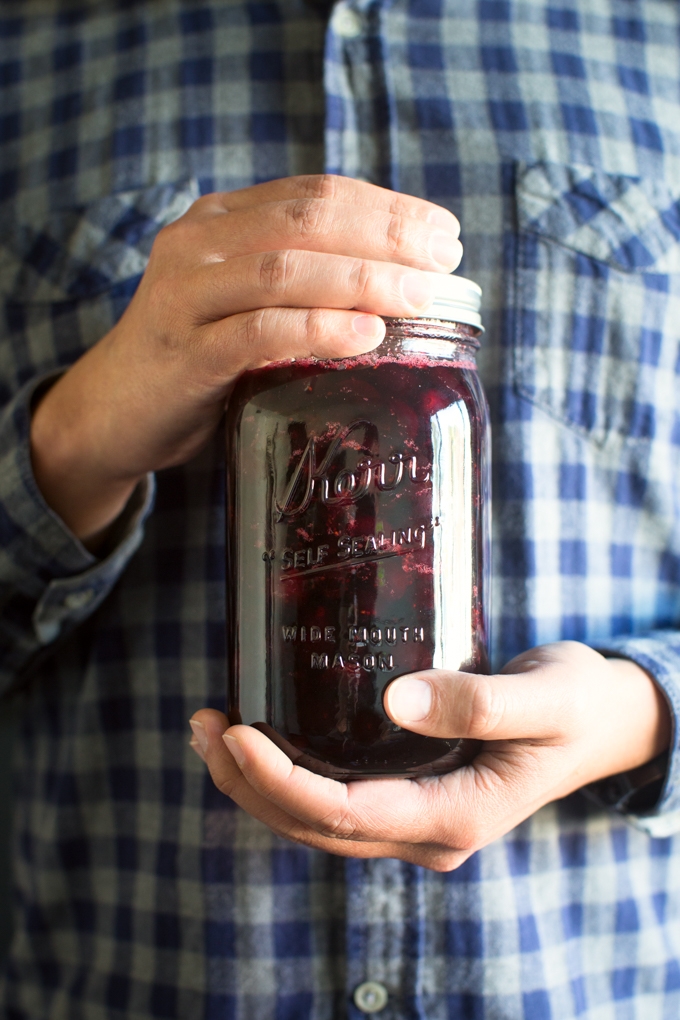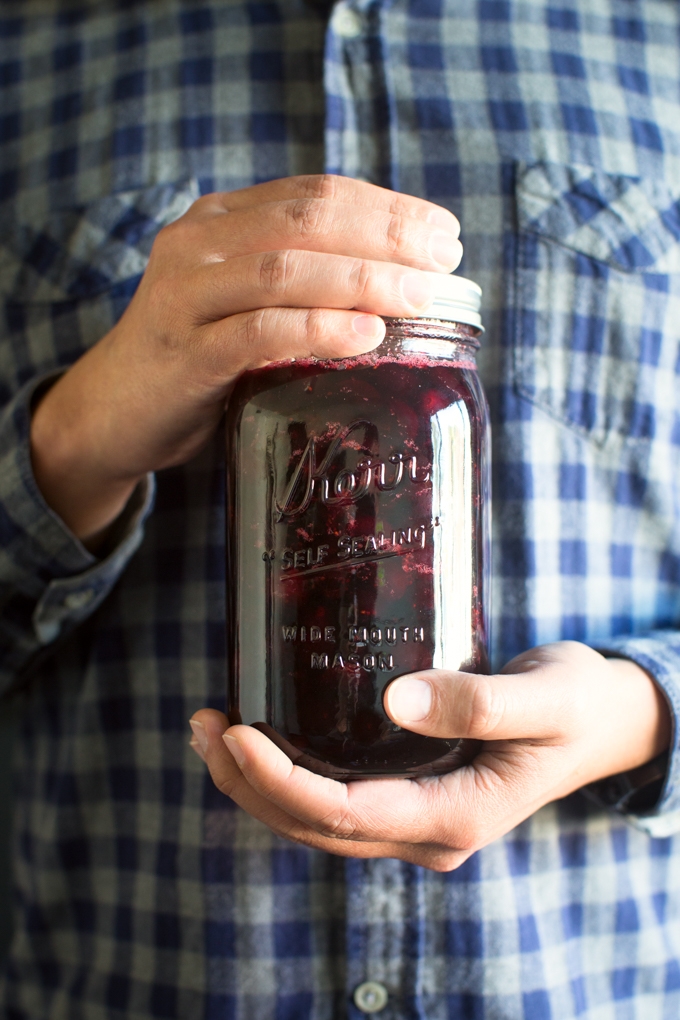 I'm going to keep this short today, because I've got pies and sides to get to along with a little last minute food shopping!  This Spiced Cranberry Sauce recipe is one I've been making for years.  An old co-worker gave me the recipe, and described it as the cranberry sauce for people who hate cranberry sauce.  At the time, I  hated cranberry sauce.  I grew up with the canned stuff, and I'm pretty sure I never even once tried it.  The look of it alone was enough to scare me off.  I was never a very picky eater as child, but for some reason, I would not give canned cranberry sauce a chance!  This hatred for cranberry sauce continued on through most of my 20's until I finally made this recipe.  Now, it's one of my favorite things at the buffet.
Luckily too, the recipe is quite simple.  Start by simmering sugar, orange peel, cloves, allspice, cinnamon and black pepper in a healthy amount of red wine.  Once the mixture reduces a bit and the spices have had some time to release their flavor, the wine syrup is strained.  A bag of fresh cranberries is then simmered in the rich syrup until they burst and soften.  And that's it!  You've got homemade cranberry sauce.  It's sweet.  It's spiced.  It's tangy.  And it's an absolute dream on slices of gravied turkey.  I like to make this sauce at least a day in advance to let the flavors marry even more in the fridge.  Continue reading for the cranberry sauce recipe plus my Thanksgiving 2016 menu!!
Here's my Thanksgiving 2016 menu:
Appetizers
Quince Jam
Smoked Salmon Deviled Eggs with Everything Bagel-Spiced Breadcrumbs
Spicy Pumpkin Soup with Toasted Cumin Crema
Signature Cocktail
Buffet
Gravy
Italian Sausage and Tuscan Kale Stuffing
Spiced Cranberry Sauce
Brussels Sprouts and Caramelized Shallot Gratin
Sweet Potato Crunch
Mashed Sweet Potatoes with Rice Krispie Topping
Palate Cleanser
Grapefruit and Star Anise Granita
Dessert
Coconut Custard Pie
Bourbon Pumpkin Pie with Pecan Crumble
Limoncello Cheesecake Bars
Spiced Cranberry Sauce Recipe
Adapted slightly from
here
.
Ingredients
1 3/4

cups

good red Zinfandel

1

cup

sugar

1

cup

packed light brown sugar

6

whole cloves

8

whole allspice

6

black peppercorns

2

cinnamon sticks

2

3x1-inch strips orange zest

1

12-ounce

bag fresh cranberries
Instructions
Place wine, sugars, spices and orange zest in a medium saucepan over medium-high heat. Bring to a boil, stirring to dissolve the sugar, then reduce heat to medium-low and simmer until the mixture has reduced to 1 3/4 cups (10 - 15 minutes), stirring occasionally.

Pour the wine mixture through a strainer into a clean bowl, then pour the syrup back into the saucepan. Discard the solids. Add the cranberries to the syrup, and cook over medium heat until they burst and soften (5 - 6 minutes), stirring occasionally. Transfer to a clean jar, cover and refrigerate until ready to serve. Can be made up to 1 week in advance.
Tried this recipe?
Tag @brandiego on Instagram so I can check it out!
That's it for this year!  Happy Thanksgiving from Brandon, Jorge, TiVo and Boris.  We hope you have a safe and delicious celebration this year.  If you make any these recipes, please share and tag @Brandiego and/or #KitchenKonfidence, so I can check out the results!!
4