This is my final recipe for 2015, and it's a tasty one 🙂
This post may contain affiliate links.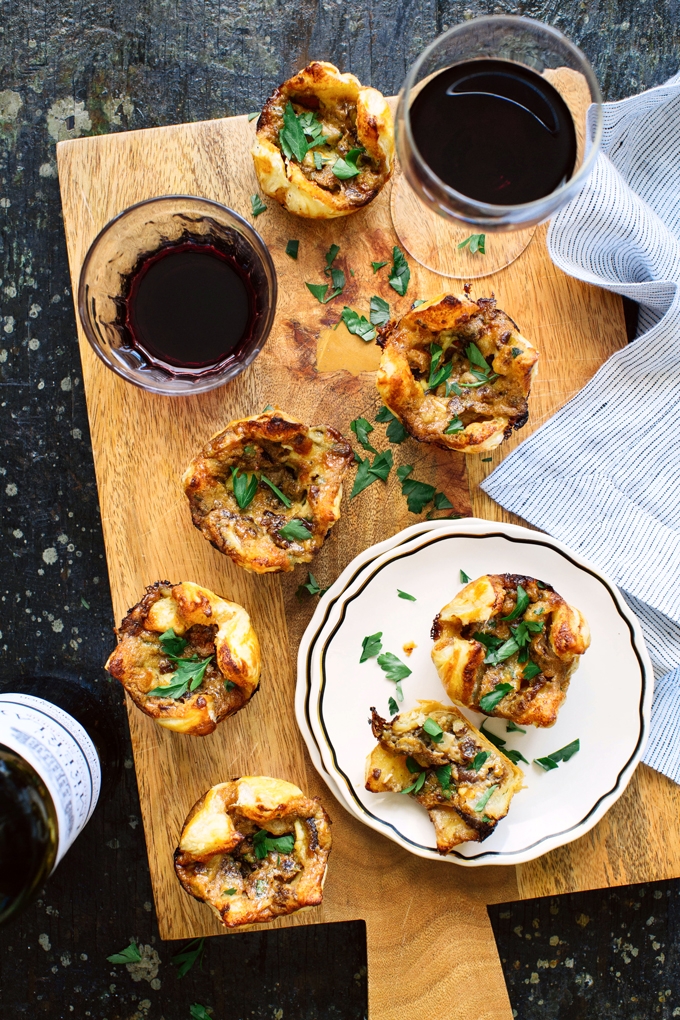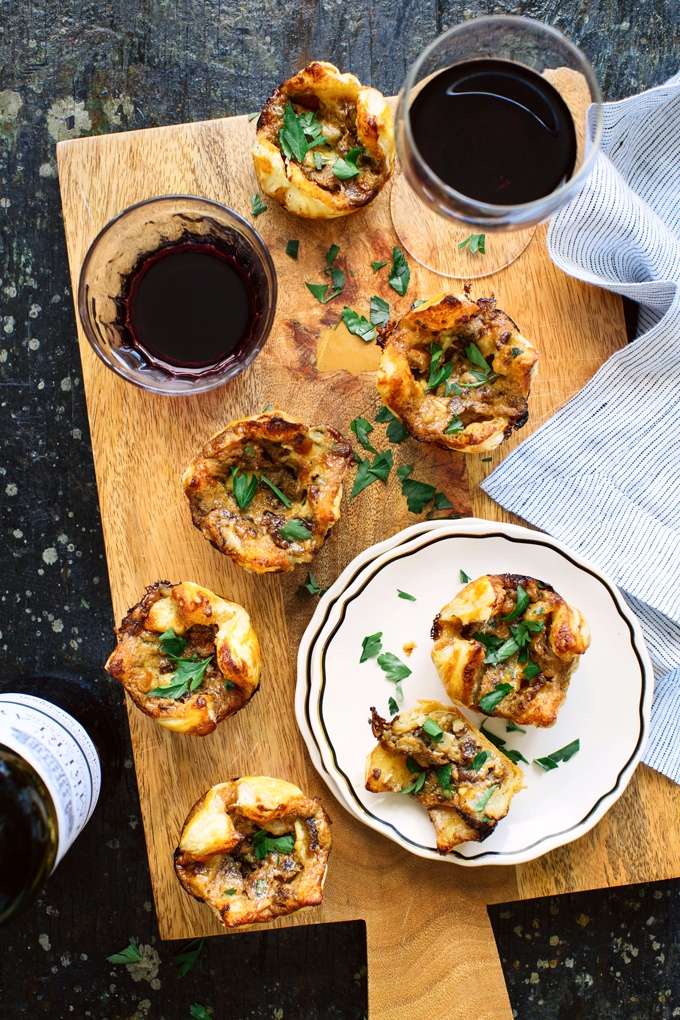 This recipe starts with frozen puff pastry, one of my fav ready-made products.  I mean what's not to love about flaky, golden pastry ready in a matter of moments?  Such a time-saver.
Said puff pastry is then rolled out, cut into squares and draped into muffin cups.  Each cup bakes up into a beautiful flower-shaped vessel.  The filling for these cups is a mixture of rich Cambozola cheese, fragrant pear and meltingly sweet caramelized onions.  Chopped parsley adds a hit of freshness.  These Blue Cheese, Caramelized Onion and Pear Puffs are a perfect New Year's Eve appetizer.  Especially when paired with some bold Bordeaux wine.  More about that plus the recipe below.
Caramelizing onions is a task that can take some time, but luckily, I developed a little trick to speed up the process.  Drop sliced onions in a large, hot, dry pan set over medium-high heat. They should sizzle immediately.  Cook onions until they're dark brown and starting to soften (about 5 minutes).  The bottom of the pan will look like hell.  Next, add fat to the pan (2 tablespoons for a medium onion) along with a big pinch of kosher salt, stirring to coat the onions.  Continue cooking until the onions are very soft and sweet (5 to 10 minutes more).  At this point, you've got caramelized onions.  Season to taste with more salt and black pepper.  For this recipe, I've deglazed the pan with some red Bordeaux wine to pull up all those good flavors off the bottom of the pan.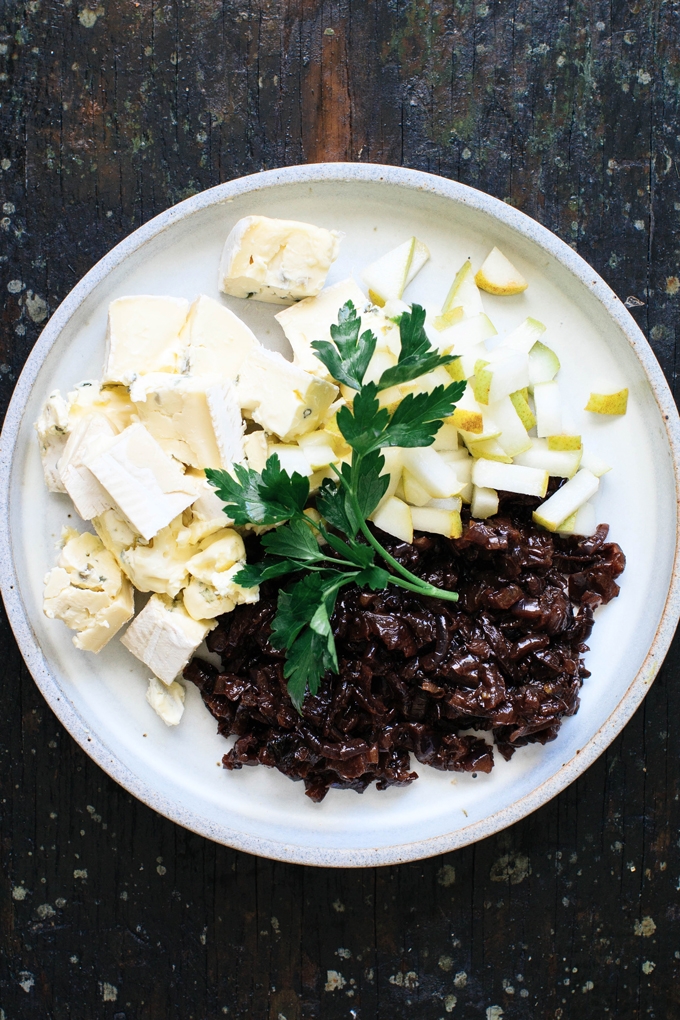 I partnered with the good folks over at Bordeaux Wines for this article.  They recently launched a video-series entitled Beyond Bordeaux where host and Sommelier Patrick Cappiello explores the people and places unique to Bordeaux.  I've watched a number of these videos, and they're super interesting:
These videos remind me of my recent adventures in Tuscany with DaVinci Wines.  You can really appreciate wine even more when you learn about the people, history and culture that surround the wine's place of origin.  Videos like these make me want to hop on a plane to France and dive right into the experience (and wine!).
Blue Cheese, Caramelized Onion and Pear Puffs
Ingredients
1

package (2 sheets frozen puff pastry)

1

medium red onion, sliced

2

tablespoons

unsalted butter

Kosher salt

Freshly ground black pepper

3

tablespoons

red Bordeaux wine

7

ounces

Cambozola*

4

tablespoons

heavy cream, divided (3 for the filling, 1 for the egg wash)

1

ripe pear (core removed and diced)

1

heaping tablespoon chopped parsley, plus more for sprinkling

1

lighly beaten egg + 1 egg yolk
Serve with more red Bordeaux wine. I'm drinking a Chateau Timberlay Merlot blend here.
Instructions
Thaw puff pastry according to package instructions.

Meanwhile, heat a large skillet over medium-high heat. Once hot, drop in sliced onions, and cook, stirring occasionally, until dark brown and somewhat soft (about 5 minutes). Reduce heat to medium, and add the butter and a big pinch of kosher salt, stirring to coat the onions. Continue to cook, stirring frequently, until the onions are soft and sweet (5 to 10 minutes more). Add 3 tablespoons of wine, and using a wooden spoon, scrape up the brown bits off the bottom of the pan. Continue to cook for just 1 minute more until most of the liquid has evaporated. Season to taste with kosher salt and black pepper, then transfer onions to a cutting board to cool.

Once cool, chop up caramelized onions, then add to a medium bowl along with the Cambozola, 3 tablespoons heavy cream, diced pear and chopped parsley. Using a fork, mash together the ingredients until combined. Season to taste with kosher salt and black pepper, then stir in the beaten egg.

Preheat an oven to 400°F, and place an oven rack in the middle position. Lightly grease a 12 cup muffin tin with nonstick cooking spray.

Roll out puff pastry into a 12-inch square. Cut pastry into 9 even squares, then place a square in each muffin cup, pressing into the bottom and up the sides and leaving the corners pointing up. Repeat with remaining sheet of puff pastry, but only cut 3 additional squares. Divide filling between the cups. Fold pastry over filling, pressing corners together to meet in center. Beat egg yolk and 1 tablespoon of heavy cream together, then brush the top of each pastry evenly with the egg wash. Bake until pastry is golden brown and puffed (about 25 minutes).

Transfer the muffin tin to a cooling rack, and let the puffs cool in the tin for 10 minutes. Turn out the puffs onto the cooling rack, and let cool slightly before serving. Enjoy with a glass of red Bordeaux wine!
Notes
*Cambozola is a mix of brie and blue cheese that pairs beautifully with red Bordeaux wine. I wouldn't recommend using a stronger blue cheese, because the flavor can clash with the bold red.
Tried this recipe?
Tag @brandiego on Instagram so I can check it out!
Check out these other New Year's Eve appetizers on Kitchen Konfidence: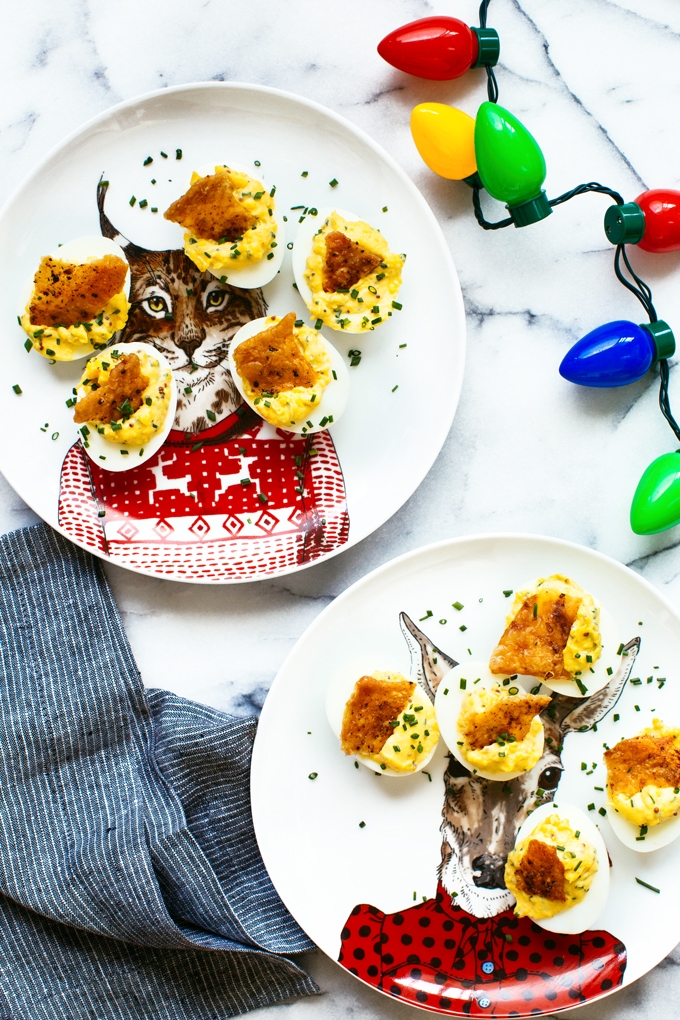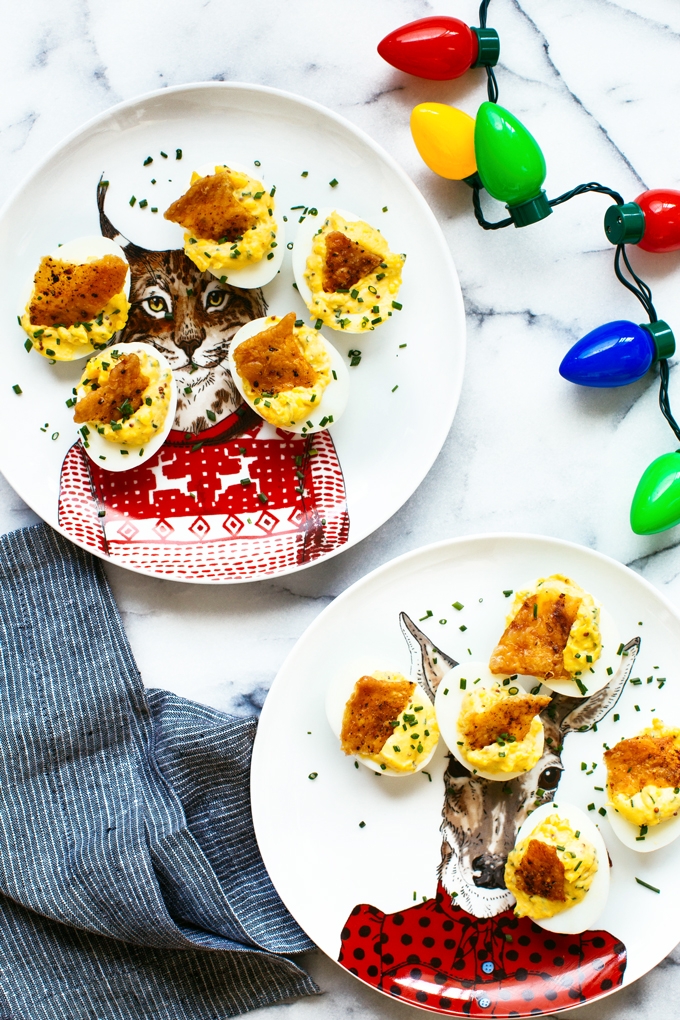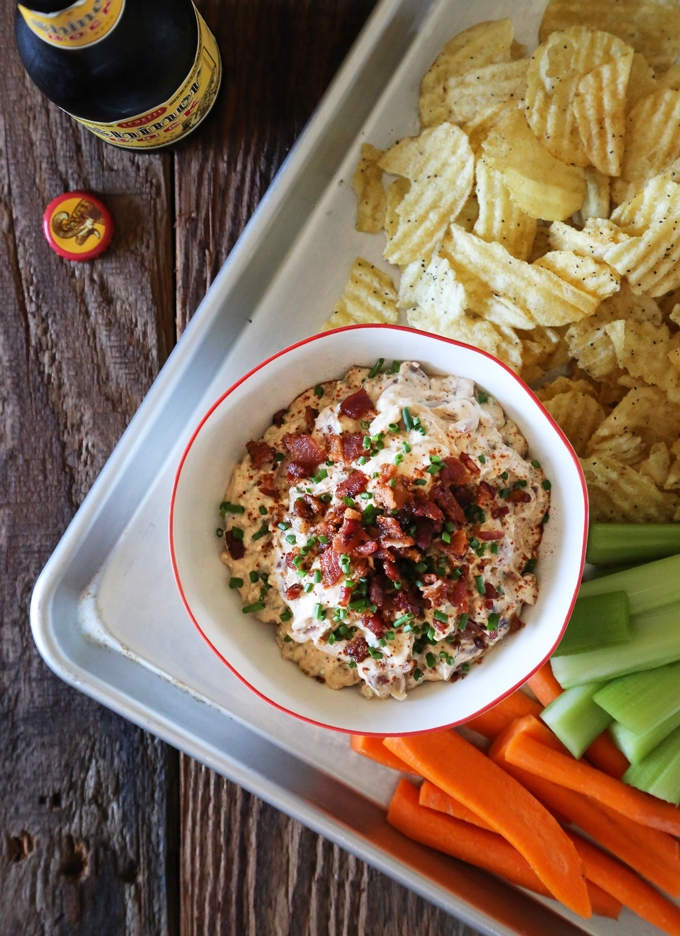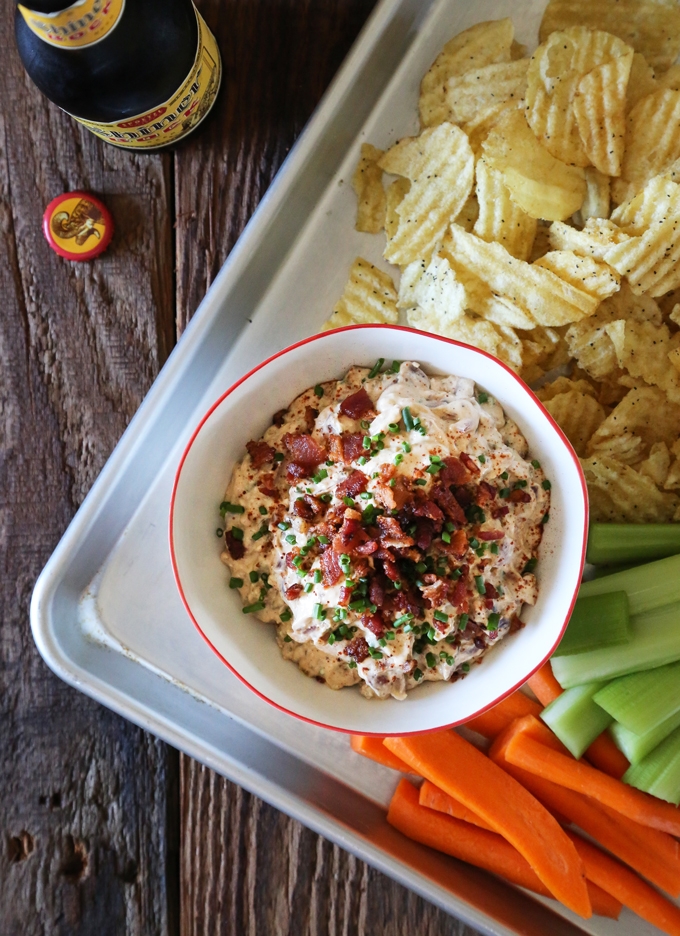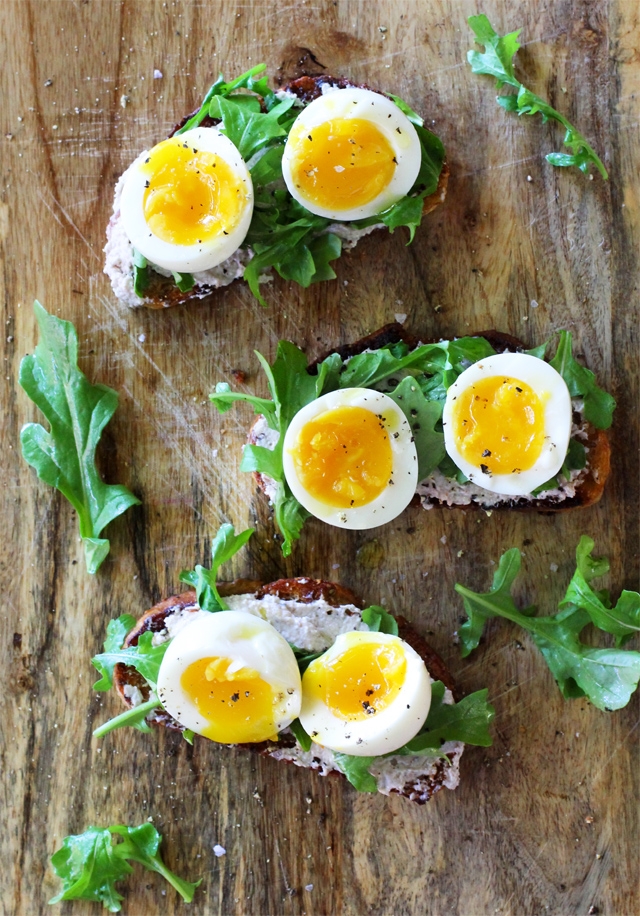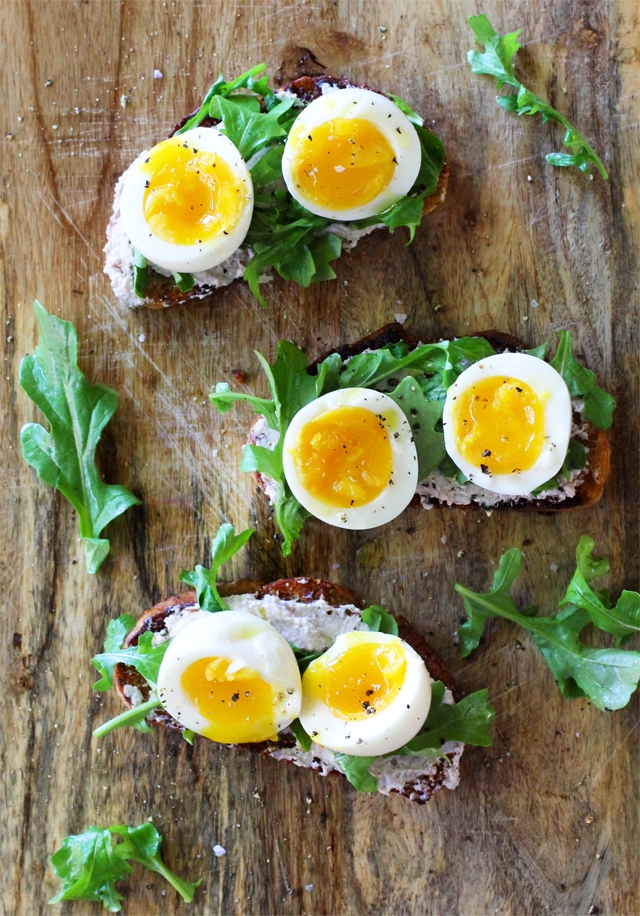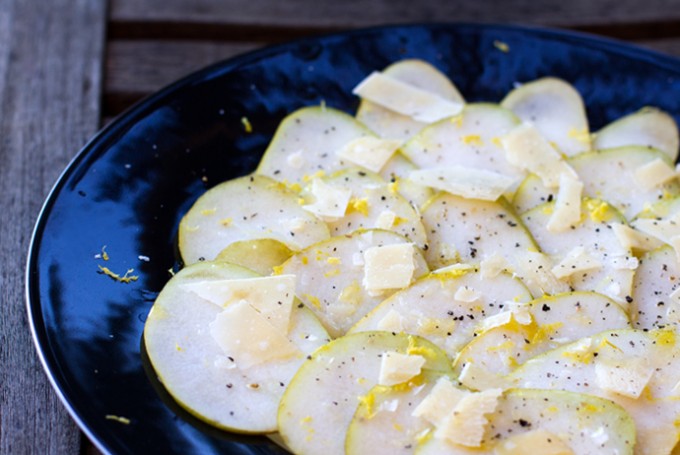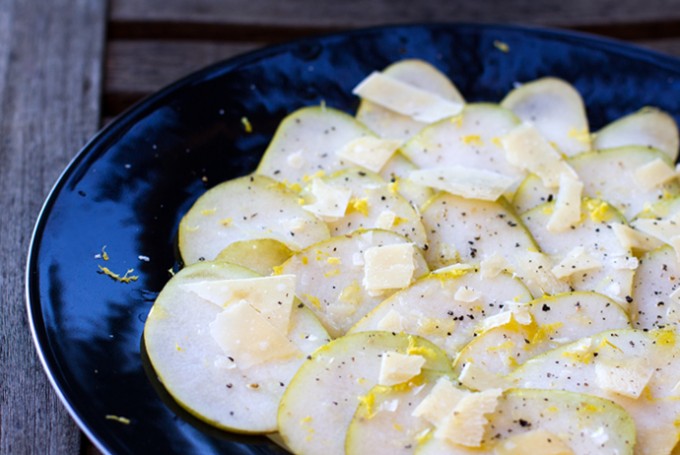 This post was written in partnership with Bordeaux Wines.  All thoughts, opinions and recipes are my own.
7