Each year for Thanksgiving, I love to come up with a new deviled egg recipe that's fun and unexpected.  This year, I'm mixing fancy with familiar.
This post may contain affiliate links.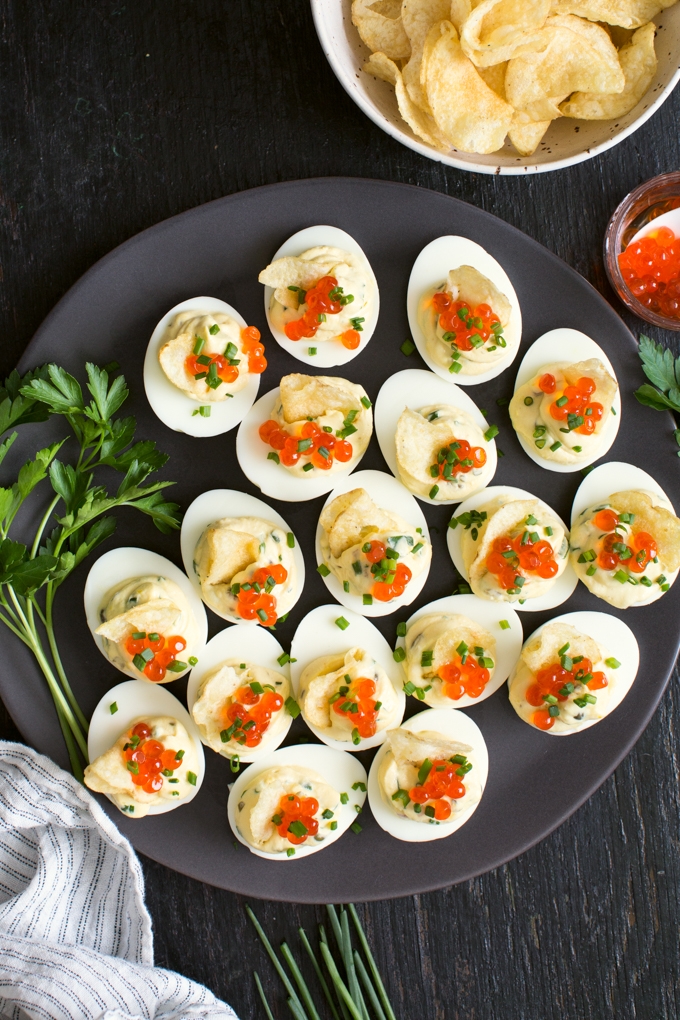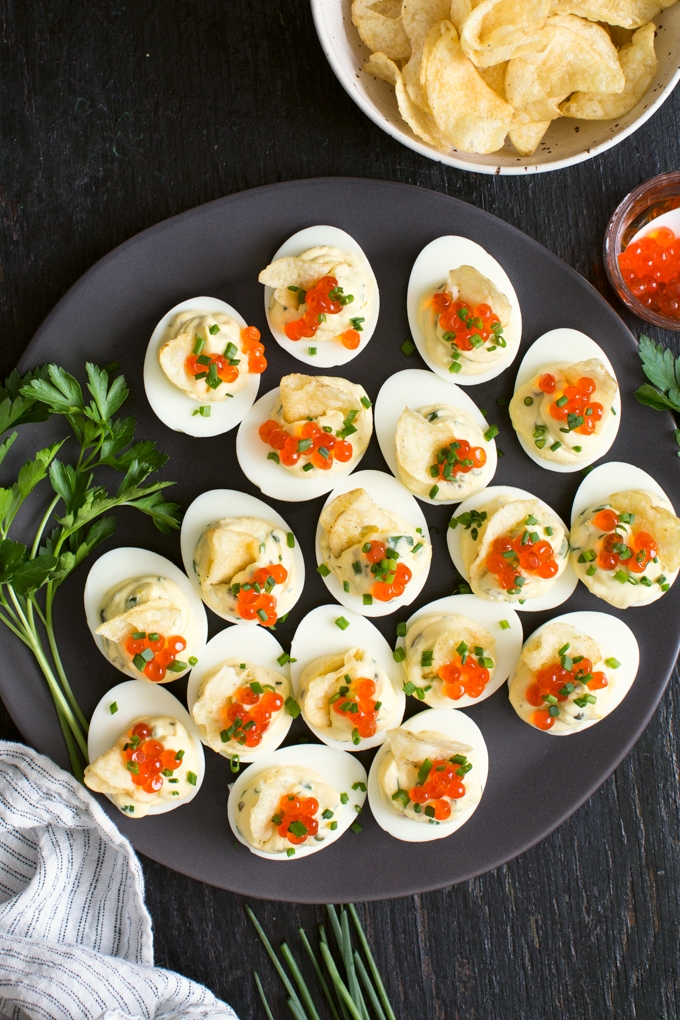 The inspiration for these eggs comes from a recent visit to Born & Raised, a swanky new steakhouse here in San Diego.  Caviar service there comes with traditional accoutrements like chopped egg yolk, egg white, shallot, chive and crème fraîche; however, instead of serving with the classic blinis (small pancakes), the waiter brings a bowl a crispy fried potato chips to the table.  I just loved the contrast of the casual, crunchy chips with the bold, rich toppings.
Today, I'm mixing all of the flavors of a traditional caviar spread into a luscious deviled egg.  Egg yolks are mixed with mayo, crème fraîche, shallot, chive, parsley, lemon juice and capers until silky smooth.  The pale golden filling is then piped into halved egg whites and topped with red caviar (salmon roe) and chopped chives.  Each egg is finished with a shard of crispy potato chip.  In particular, Kettle Brand's Wood Smoked Sea Salt Potato Chips.  More on this below along with the recipe!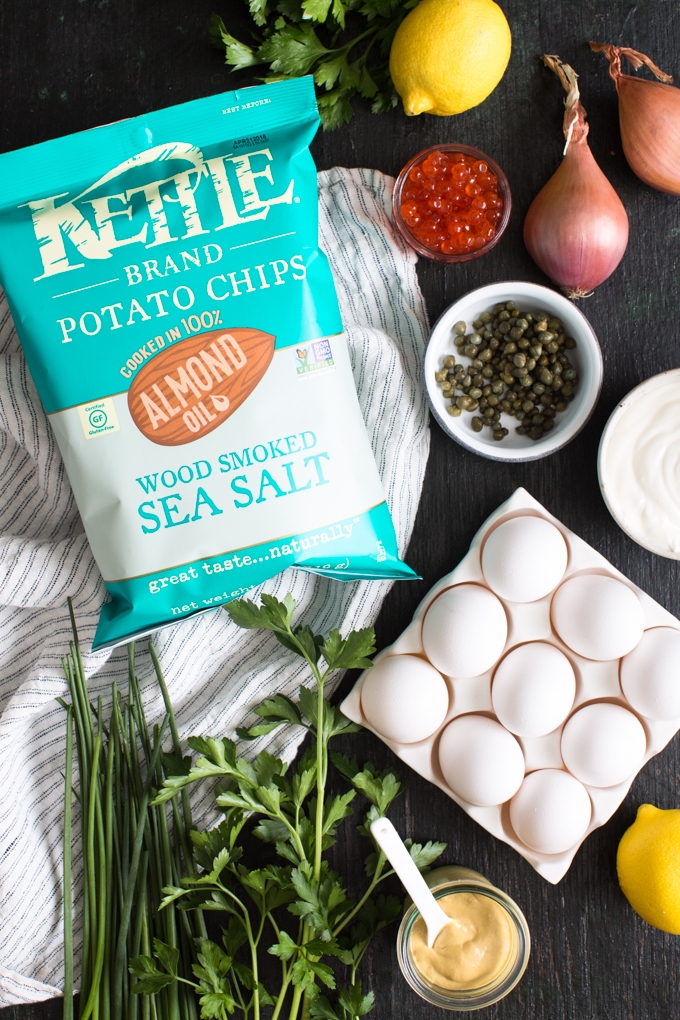 Kettle Brand Chips recently released two new flavored potato chips that are cooked in 100% almond oil, and let me just say, I am in luuuuuurv.  The Wood Smoked Sea Salt chips are salty, savory and irresistible.  In this recipe, the salt and crunch of the chips helps balance the richness of the yolk filling while the subtle smokiness pairs beautifully with the briny caviar.
They also released Fiery Thai chips that have this great sweet-spicy thing going on.  You should definitely give both a try!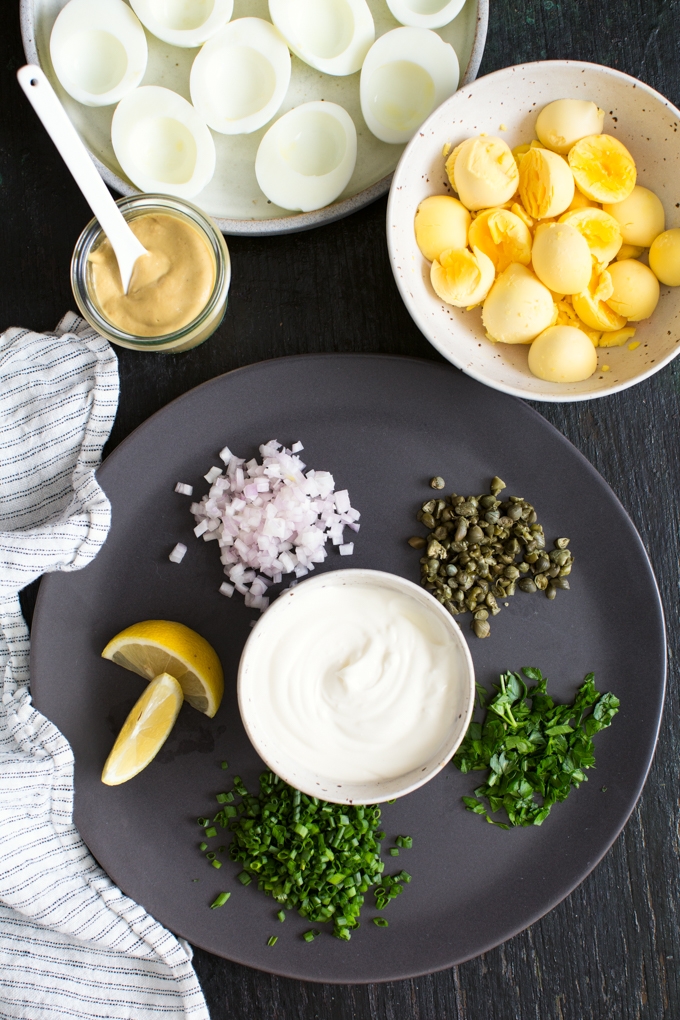 Black caviar can be quite expensive, so instead, I'm using red caviar (salmon roe) here.  I found a small jar of red caviar at Whole Foods for just $13.99!  The little red pearls look so pretty perched atop the eggs, and they provide pops of briny ocean with each bite.
Here are my other deviled egg recipes on Kitchen Konfidence: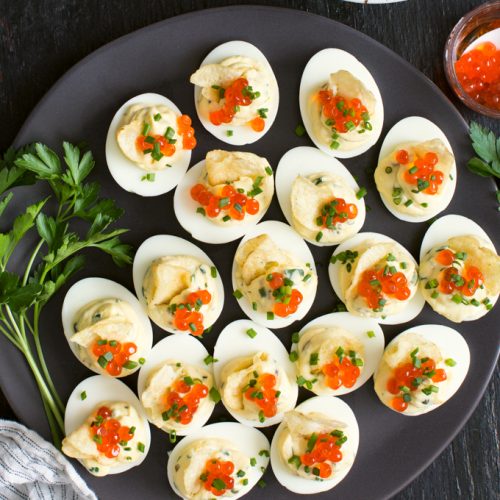 Deviled Eggs with Caviar and Potato Chips
Ingredients
6

tablespoons

mayo

6

tablespoons

crème fraîche

2

tablespoons

Dijon mustard

1

teaspoon

freshly squeezed lemon juice, plus more to taste

2

tablespoons

minced chives, plus extra for garnish

2

tablespoons

finely chopped shallot

1

tablespoon

finely chopped parsley

1

tablespoon

capers, finely chopped

Kosher salt
Kettle Brand Wood Smoked Sea Salt Chips, for topping
Instructions
Cut each hard-boiled egg in half, and place the yolks in a medium bowl. Set the egg whites on a serving plate, cut side up.

Add mayo, crème fraîche, mustard and lemon juice to the egg yolks, and using a fork, mash and mix to combine. Add chives, shallots, parsley and capers, mixing until smooth. Season to taste with salt and additional lemon juice if needed.

Transfer yolk mixture to a small zip top bag. Seal the bag, then cut off one of the bottom tips. Pipe the yolk mixture into the wells of each egg white. Insert a piece of Wood Smoked Sea Salt chip into each egg, then top with caviar and a sprinkling of chopped chives. Enjoy immediately!
Tried this recipe?
Tag @brandiego on Instagram so I can check it out!
This post was written in partnership with Kettle Brand Chips. All thoughts, opinions and recipes are my own. Connect with Kettle Brand Chips on Facebook, Instagram and Twitter.
7