I'm sure you are all well aware that I love me some deviled eggs.  For the past several years, I've served kimchi deviled eggs for Thanksgiving, but this year, I'm switching things up.
This post may contain affiliate links.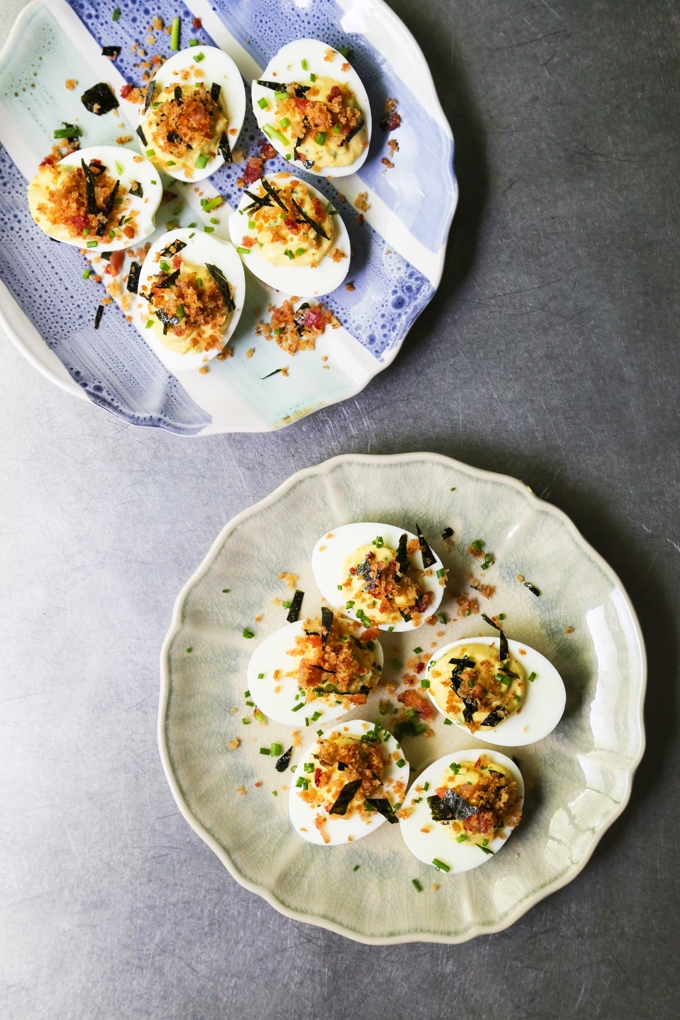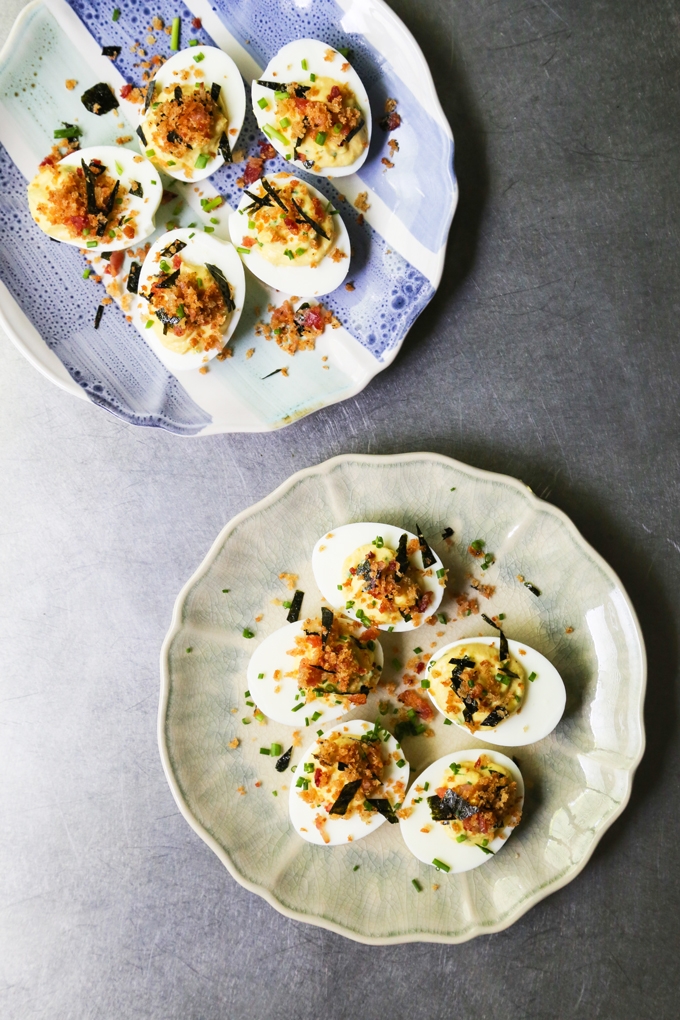 Miso Deviled Eggs start with a standard base of egg yolks and mayonnaise.  To this, I add yellow miso, dijon mustard, chive and lemon juice, a combination of flavors that just jumps in your mouth.  These deviled eggs are finished with a Japanese-inspired bread crumb topping of golden panko, toasted nori, and crispy chopped bacon.  The crunch of the topping balances the creaminess of the yolk mixture, and the bacon-nori-miso umami bomb is down right addicting.
You may think it's strange to serve a kimchi or miso-centric dish at Thanksgiving dinner, but these global flavors provide an intriguing contrast to more traditional appetizers.  Fill your table with baked brie, mixed nuts, red pepper jelly, crackers, dips, and plenty of meats and cheese.  But also serve something unexpected like these Miso Deviled Eggs.  They can spark both excitement and conversation around the appetizer table.  Continue reading for the recipe (plus 5 other Thanksgiving app ideas!).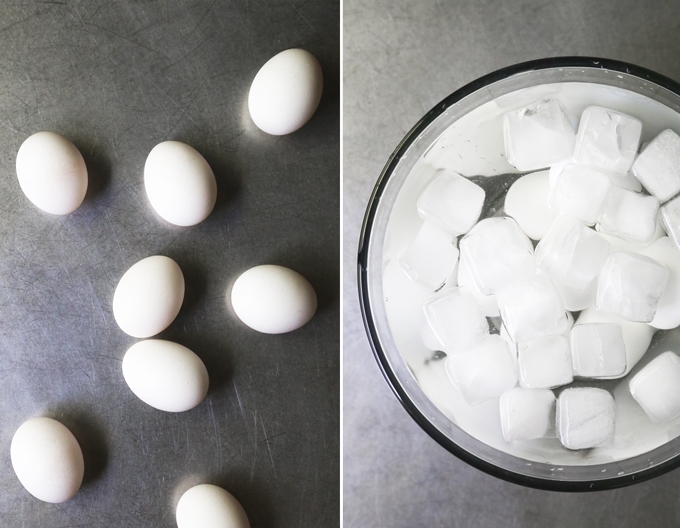 Thanksgiving Pro Tip: Don't make all your appetizers from scratch.  Pair one, two or three homemade appetizers with plenty of good quality store-bought items to create a bountiful app spread.  I usually make something pickled several weeks in advance.  Homemade pickles are a good contrast to rich meats and cheeses.  The week of Thanksgiving, I'll prepare a batch of mixed nuts (3 days in advance) and deviled eggs.  Deviled eggs are best assembled right before serving; however, you can prep the eggs several days in advance (hard-boil, peel and store submerged in water).  Along with these homemade items, I'll serve four cheeses (manchego, brie, goat and cheddar), one meat product (salami), crackers, crostini, and a variety of seasonal fruit (pears, persimmons, grapes).  With this appetizer plan, you can have a full spread available when your guests arrive with minimal effort.  Here's a photo of last year's app table.
I'd definitely recommend using white or yellow miso here.  Both are milder than red miso.  Miso is a fermented soybean paste that adds awesome saltiness and umami.  Keep this in mind when seasoning you yolk mixture.  Don't go overboard with extra salt!
Miso Deviled Eggs
Ingredients
4

strips of bacon, cut into 1/2-inch slices

2/3

cup

panko bread crumbs

Kosher salt

Freshly ground black pepper

1

sheet nori

3

tablespoons

mayonnaise

1

tablespoon

miso, white or yellow here

1

teaspoon

dijon mustard

1

tablespoon

chopped chive, plus more for sprinkling

1 1/2

teaspoons

freshly squeezed lemon juice
Instructions
Start by making the topping. Cook bacon in a large skillet over medium heat until just crisp. Scoop the cooked bacon from the pan to a paper towel-lined plate. Pour off some of the bacon fat, leaving about 2 tablespoons in the skillet. Add the panko bread crumbs to the pan, and cook, stirring occasionally, until golden brown and crisp (about 5 minutes). Season with a pinch of kosher salt and a few turns of black pepper, then transfer bread crumbs to a bowl. Mince the cooked bacon, and add it to the bowl with the bread crumbs.

Toast the nori quickly over an open flame until brittle (but not burnt). Use tongs here to avoid burning yourself! Fold the nori so it cracks into 4 squares, stack the squares, and cut into small pieces. Measure out 1/3 cup of nori bits, and add them to the bowl with the bacon and bread crumbs. Toss to combine, and add additional salt to taste. This bread crumb topping can be made several hours in advance, and stored covered at room temperature.

Cut each hard-boiled egg in half, and place the yolks in a medium bowl. Set the egg whites on a serving plate, cut side up.

In a small bowl, whisk together mayo, miso, and mustard. Add this mixture to the egg yolks along with chopped chive and lemon juice. Using a fork, mash and mix to combine. You don't want any big chunks of yolk remaining. Season to taste with additional kosher salt.

Transfer yolk mixture to a small zip top bag. Seal the bag, then cut off one of the bottom tips. Pipe the yolk mixture into the wells of each egg white. Finish with a sprinkling of bacon-nori bread crumb topping and chopped chive.
Tried this recipe?
Tag @brandiego on Instagram so I can check it out!
Here are 5 other Thanksgiving appetizer ideas: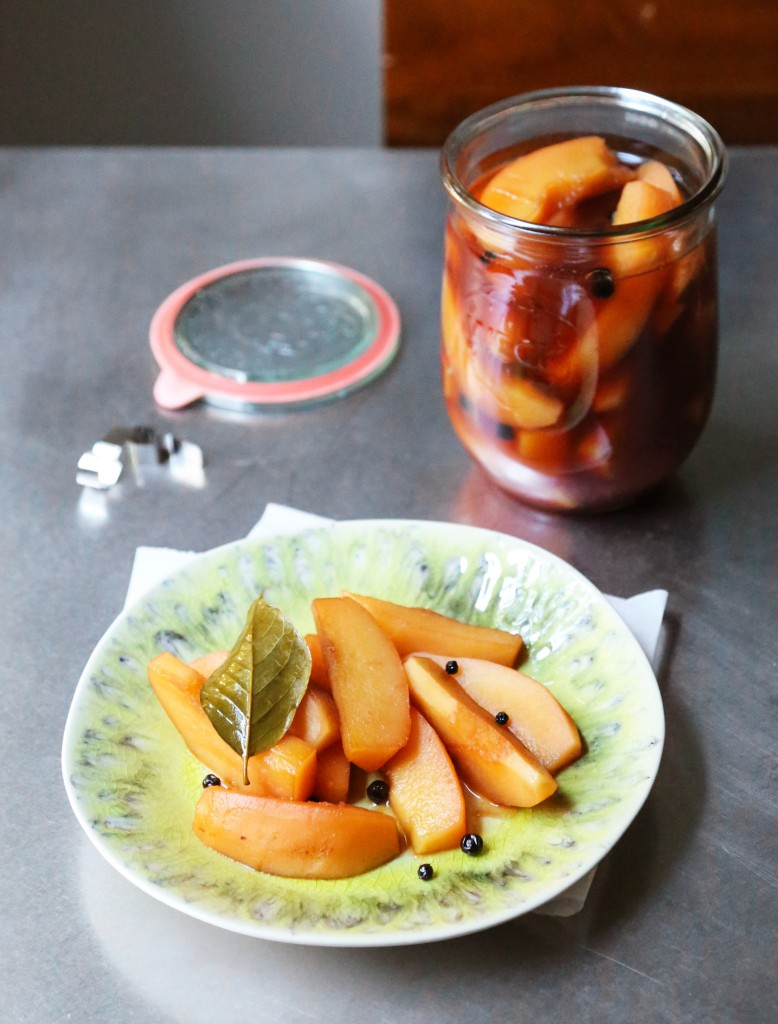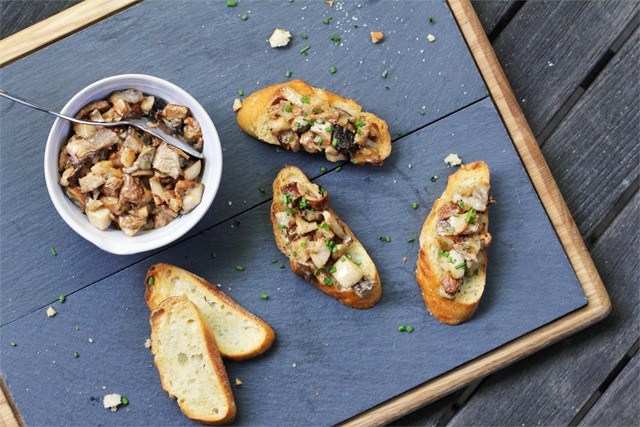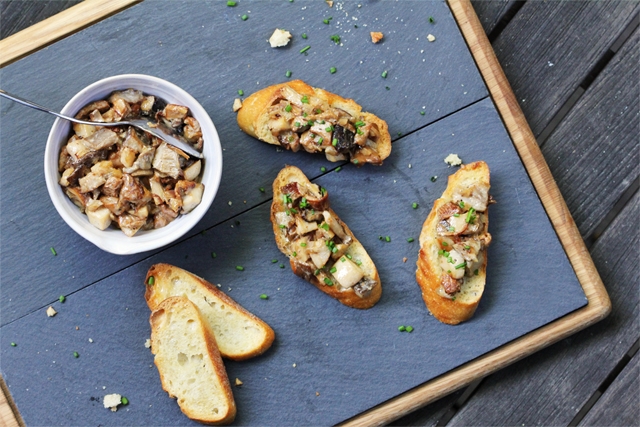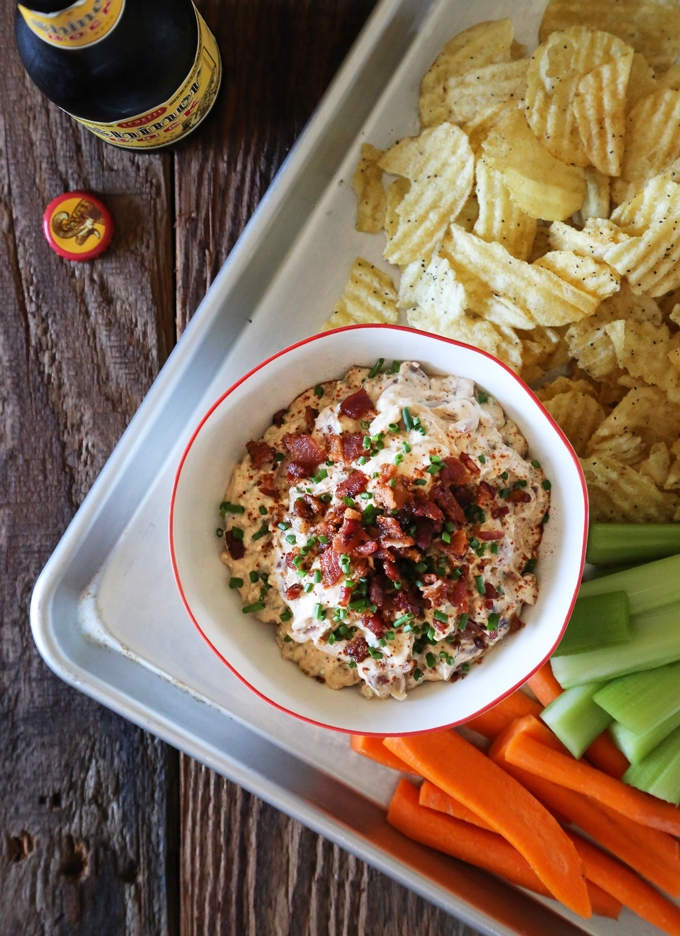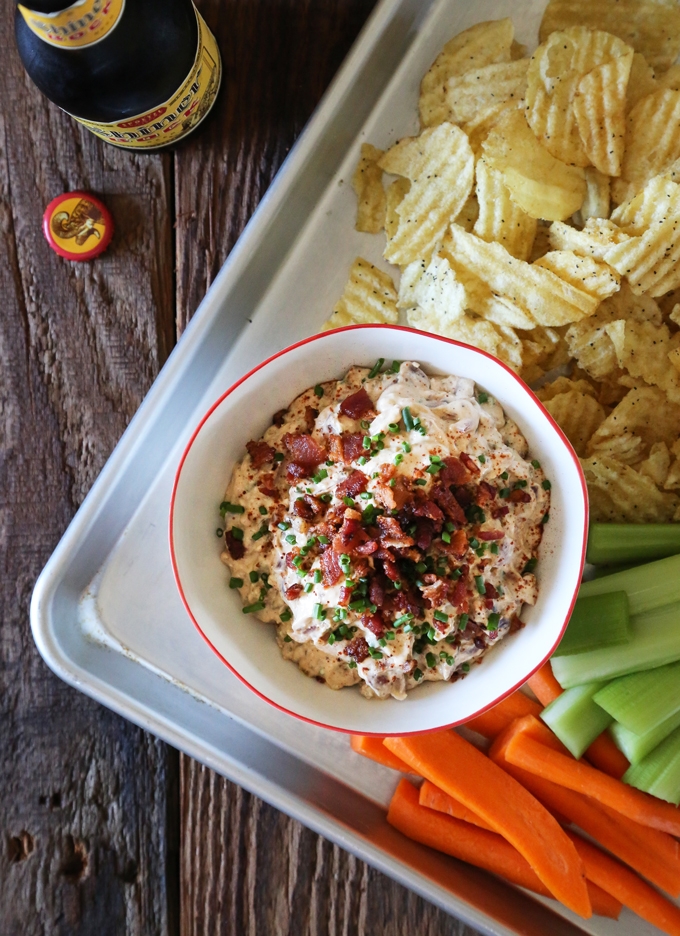 What are your favorite Thanksgiving appetizers?
5