With just a few simple ingredients, you can up your margarita game at the next backyard BBQ, fiesta with friends or late-night bonfire.
This post may contain affiliate links.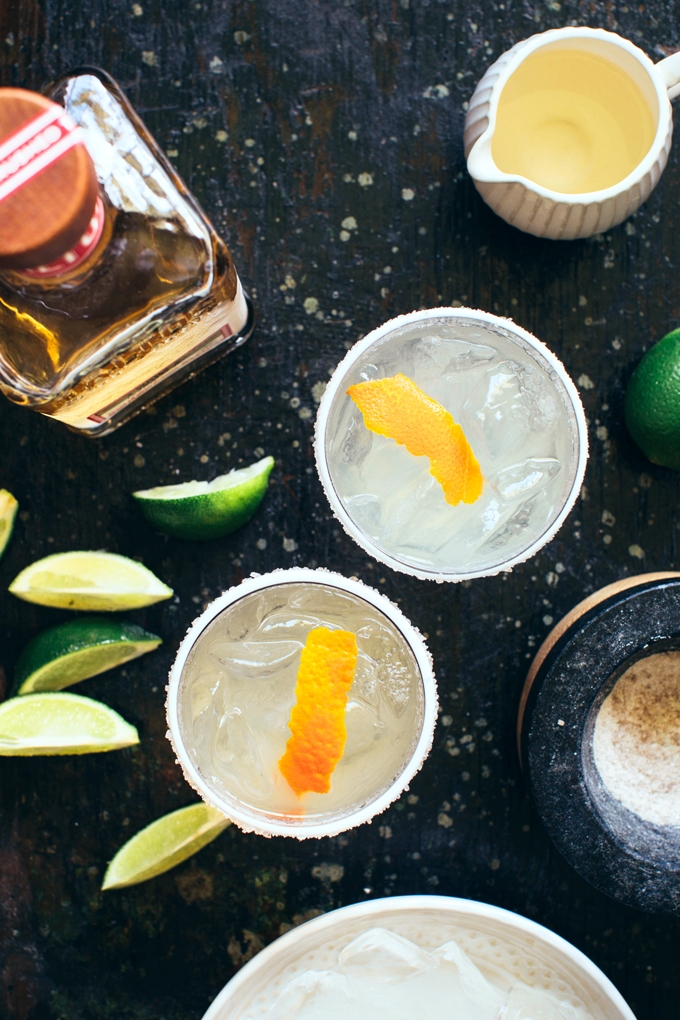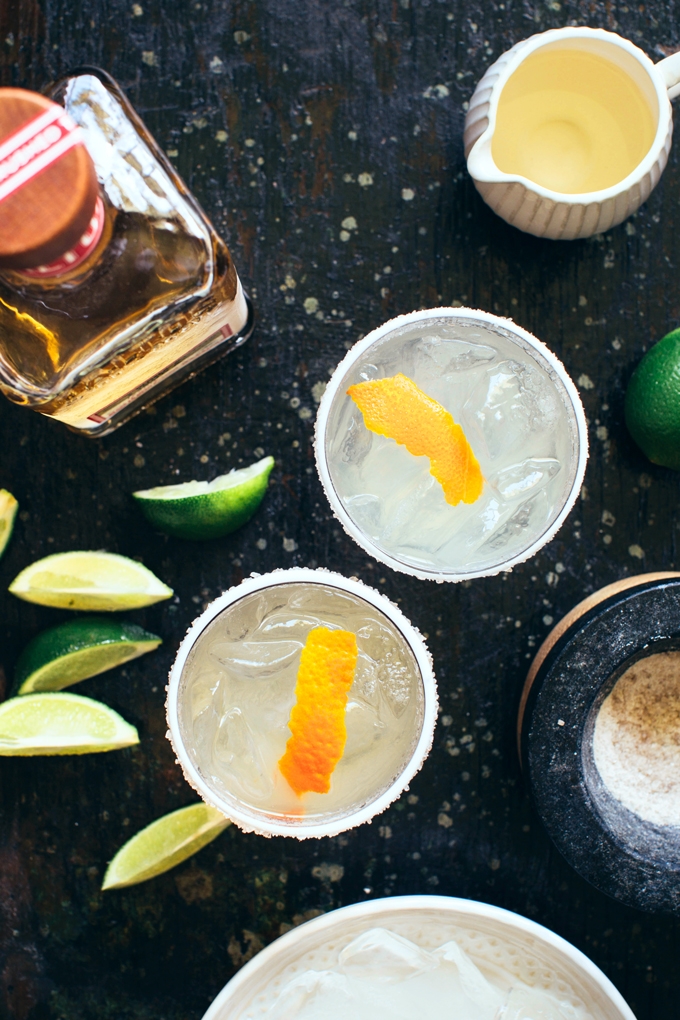 First, let's talk about the classic margarita recipe.  In its most basic form, a margarita is a mix of tequila, orange liquor and lime juice.  A margarita can be made on the rocks or blended with ice, and you have the option to add salt to the rim or not.
With this Bonfire Margarita, I've kept flavors similar to a classic margarita while adding some smoky depth of flavor.  The base liquor is bourbon barrel-aged Olmeca Altos Reposado Tequila.  Rich with notes of vanilla and oak, this amber tequila lends a robust complexity to the cocktail.  The reposado tequila is mixed with a little mezcal for smokiness, lime juice for freshness and simple syrup for balance.  Drops of orange bitters compliment the tequila while a smoked salt rim echoes the toasty notes of the mezcal.  This refreshing cocktail is finished with an aromatic strip of fresh orange zest.  Continue reading for the recipe.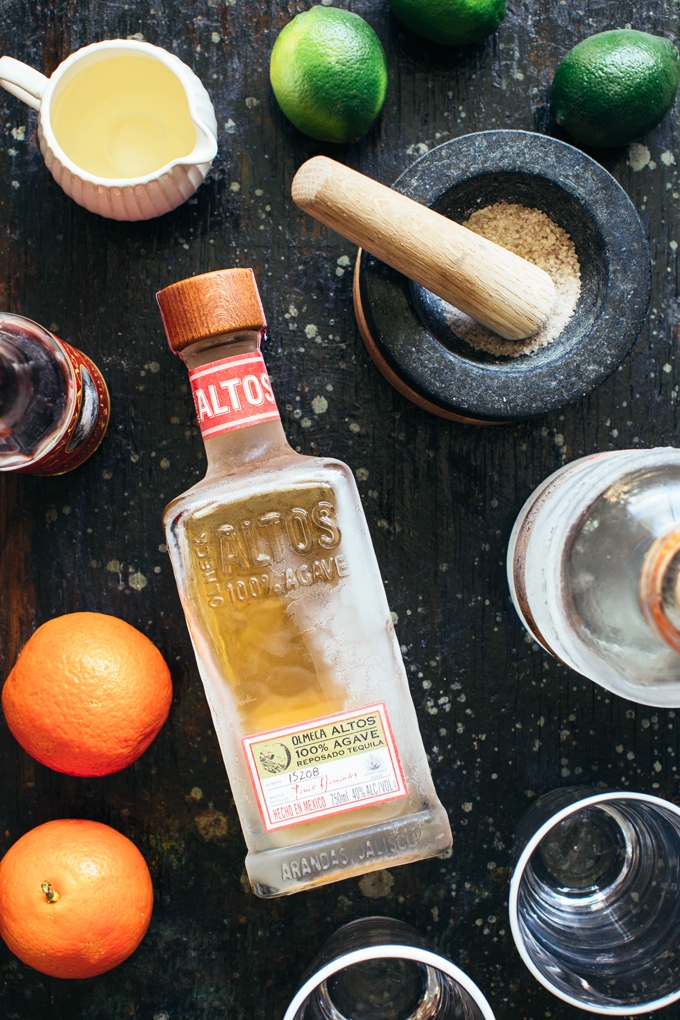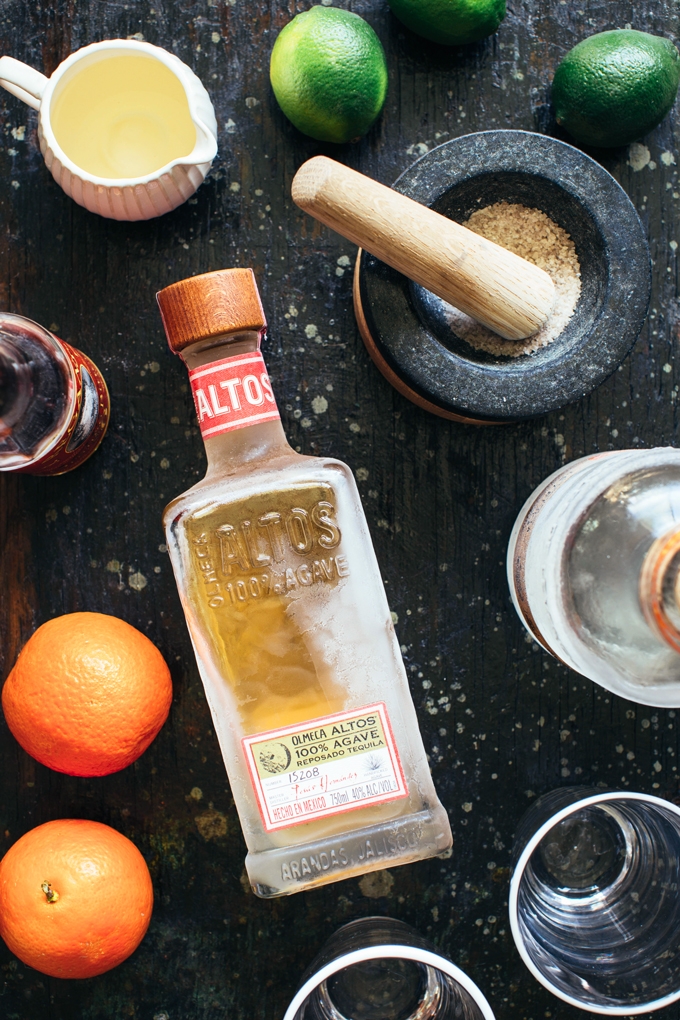 The ratio of 1.5 oz. tequila to .5 oz. mezcal  (thanks for the tip @justinbonnema!) creates a slight smoky flavor that doesn't overwhelm the nuanced notes of the Reposado and orange bitters.  This cocktail can also be made with silver tequila, but you'll lose a little complexity.
Smoked sea salt is a fun ingredient to keep in your pantry.  It can add a slight smokiness to cocktails, salads, pasta dishes, roasted vegetables and even desserts! It can also be used as a finishing salt for grilled or roasted meats.  If your smoked sea salt is really coarse, crush it up a bit to achieve a finer texture for this cocktail.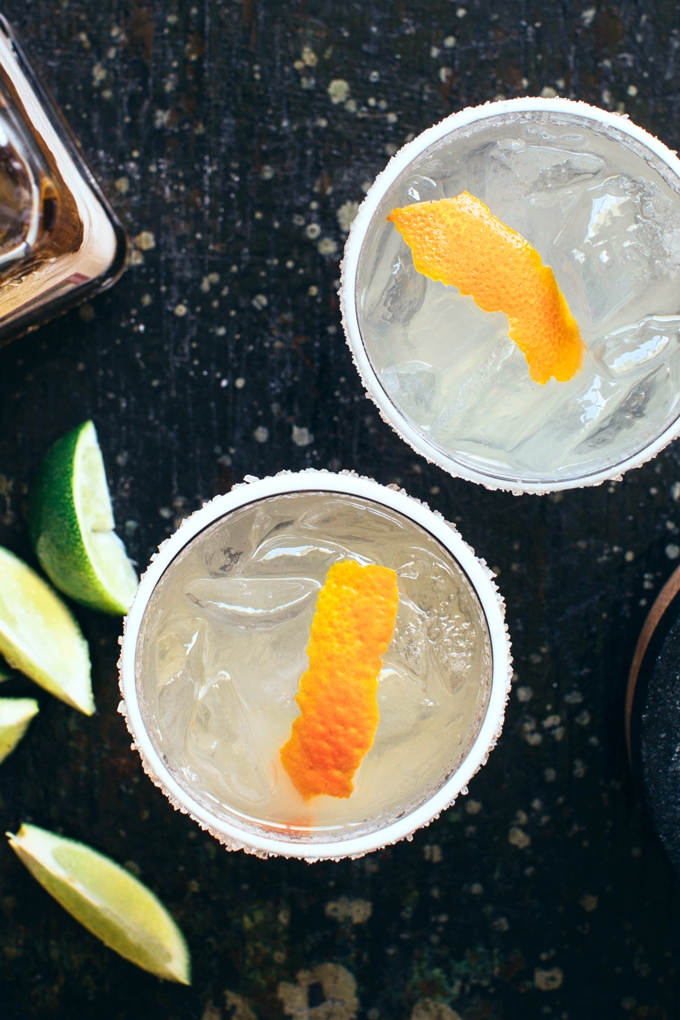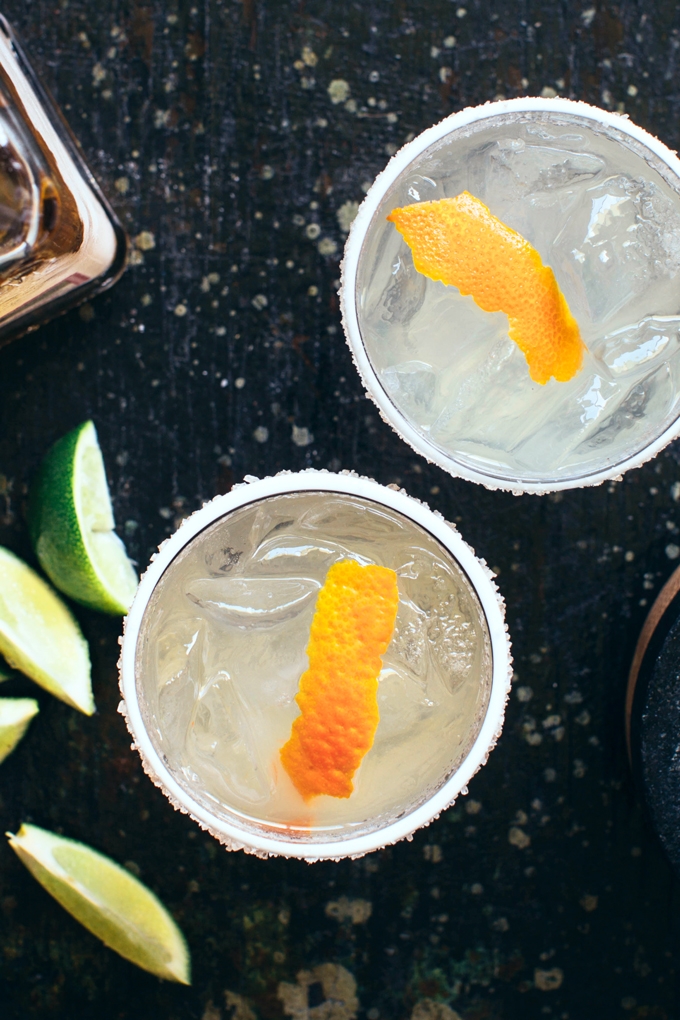 This Bonfire Margarita would be a perfect addition to any Cinco de Mayo bash.  Prepare plenty of simple syrup in advance, and keep all ingredients well chilled.  Lime juice should be squeezed fresh.  Also, don't forget ice!!
Serves these margaritas with a recipe from each of the following categories:
Appetizers: Queso Fundido, Salsa Verde, Bacon Tostilocos
Mains: Pork & Hominy Stew, Crispy Fish Tacos, Carne Asada Tacos
Desserts: Vanilla Mezcal Ice Cream, Pineapple Tequila Sorbet, Dark Chocolate Chile Ice Cream
Enjoy!!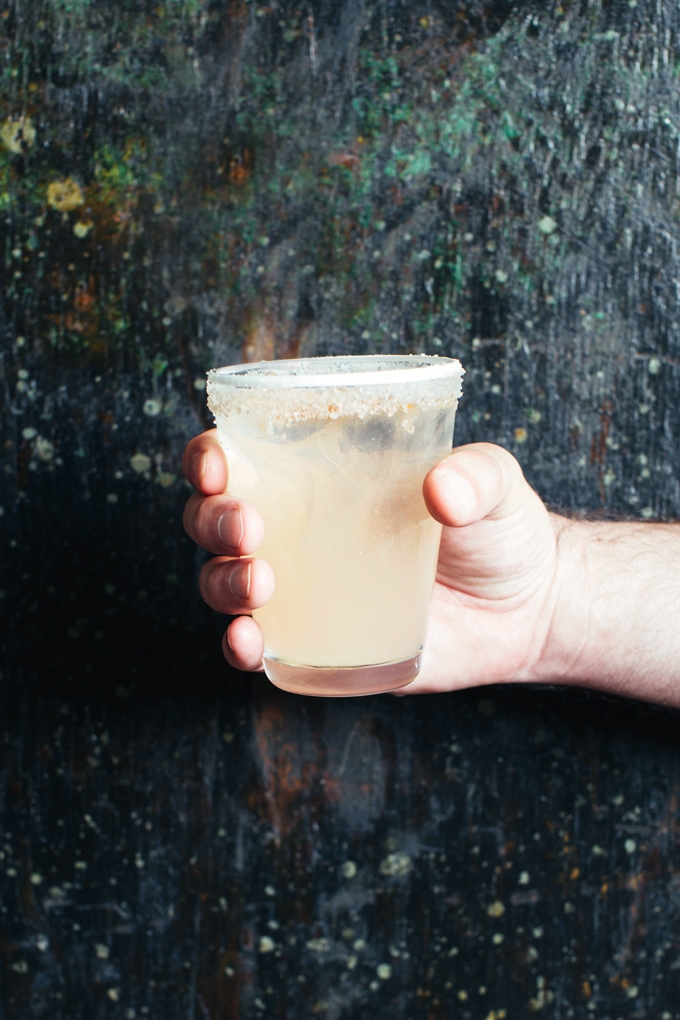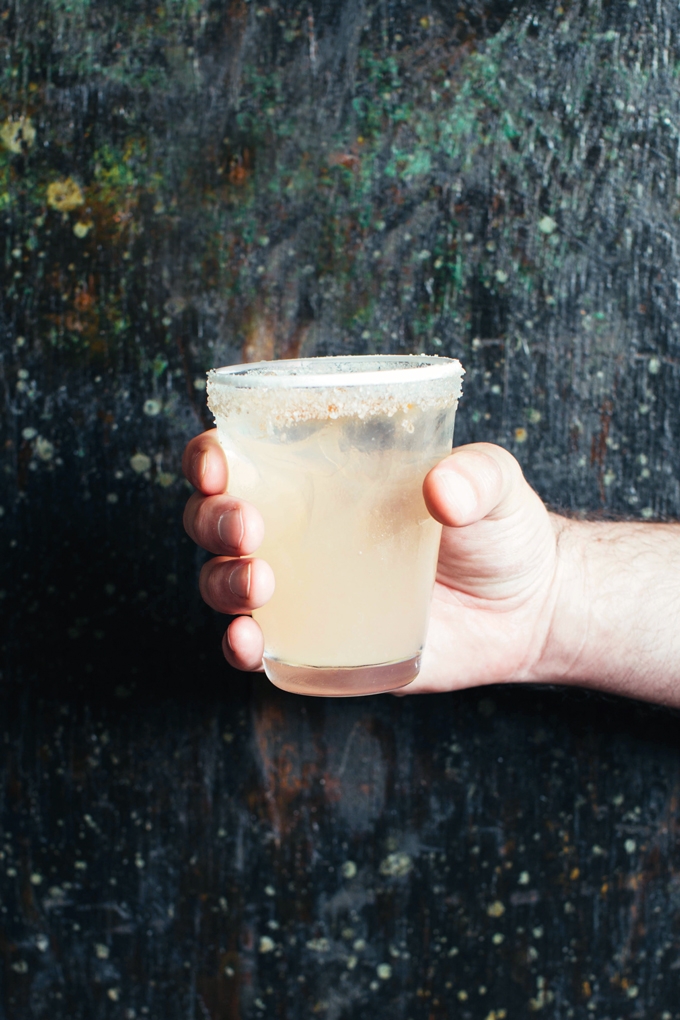 Bonfire Margarita Recipe
Ingredients
1 1/2

ounces

Olmeca Altos Reposado Tequila

1/2

ounce

mezcal

1

ounce

fresh lime juice, from about 1 lime

1/2

ounce

simple syrup*

5

dashes orange bitters
Smoked sea salt, for garnish**
1 slice orange zest, for garnish
Instructions
Start by preparing the glass. Moisten the edge of a glass with lime juice, then dip into smoked sea salt. The salt will stick to the rim of the glass.

Add ice to the prepared glass along with tequila, mezcal, lime juice, simple syrup and orange bitters, stirring to chill and combine. Garnish with a slice of orange zest.
Notes
* Simple syrup is made by warming up equal parts sugar and water, and stirring until the sugar is dissolved. Recently I've been making this in the microwave! But you can also easily prepare on the stovetop.
** If your smoked sea salt is on the coarse side, grind it up a bit in a mortar and pestle, or place in a plastic bag and crush with a rolling pin.
Tried this recipe?
Tag @brandiego on Instagram so I can check it out!
This post was written in partnership with Olmeca Altos Tequila.  All thoughts, opinions and recipes are my own.  Connect with Olmeca Altos Tequila on Facebook, Instagram and Twitter.
5