White beans and bitter greens are a classic Italian pairing, and today, I'm bringing them together as an irresistible pizza topping.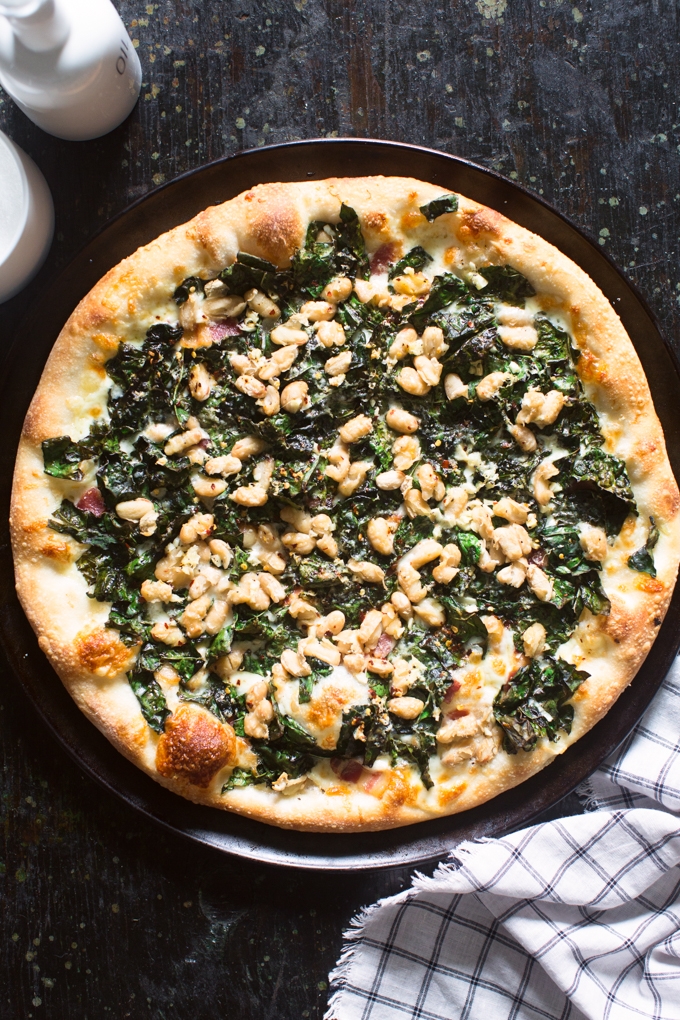 This pizza recipe starts with a mound of Tuscan kale drizzled with olive oil and lemon juice.  A brief massage breaks down the hearty leaves, helping to improve texture and absorb flavor.  Creamy white beans are then tossed with olive oil, chopped garlic, salt and pepper.  Both kale and beans rest for 15 minutes, creating some time to preheat the oven and prep other toppings.  Once the beans and greens are ready, the pizza stacks up as follows:
Pizza dough (from a local pizzeria) drizzled with olive oil and sprinkled with salt
A shredded mix of low-moisture mozzarella and nutty Fontina cheese
Crispy bacon
Massaged kale leaves
Marinated white beans
Red pepper flakes, salt and freshly grated Parmesan cheese
The finished pizza is rustic, comforting and so delicious.  The tangy, bitter kale is a perfect counter to the rich beans, melty cheese and pops of smoked pork.  As the kale cooks in the oven, any exposed edges will go brown and brittle, taking on a flavor similar to kale chips.  Concealed under a blanket of greens, the bacon plays a supporting role here, adding some meaty depth of flavor.  Finally, the white beans turn golden and crispy on the outside while maintaining a creaminess within.  All the toppings just work together, making for one damn tasty pizza!  Continue reading for the recipe.