Each year for Thanksgiving, I love to come up with a new deviled egg recipe that's fun and unexpected.  This year, I'm mixing fancy with familiar.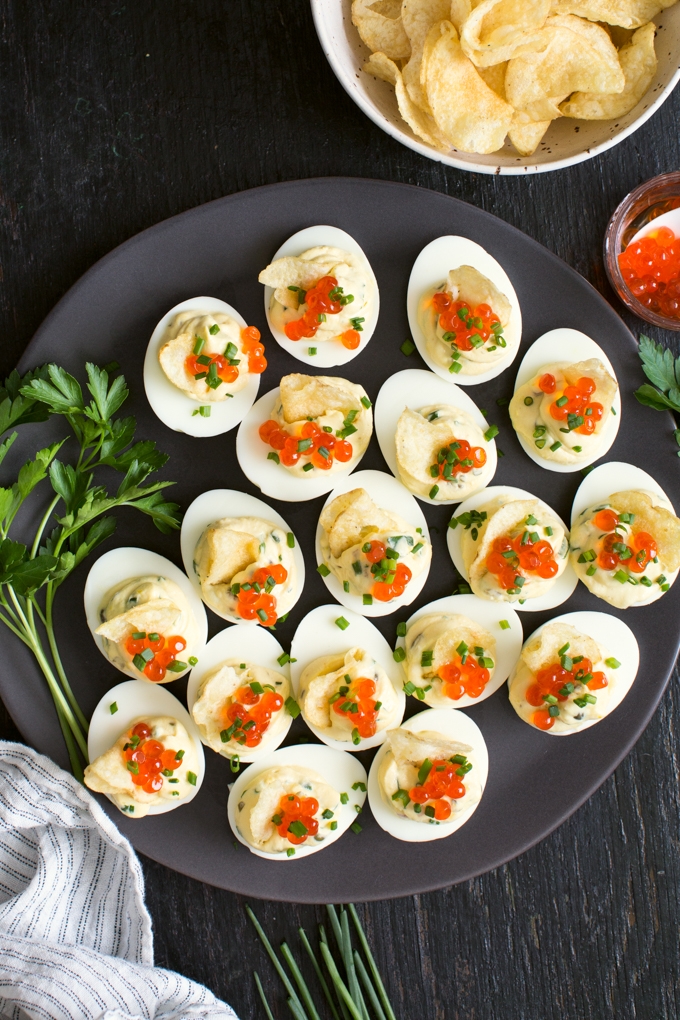 The inspiration for these eggs comes from a recent visit to Born & Raised, a swanky new steakhouse here in San Diego.  Caviar service there comes with traditional accoutrements like chopped egg yolk, egg white, shallot, chive and crème fraîche; however, instead of serving with the classic blinis (small pancakes), the waiter brings a bowl a crispy fried potato chips to the table.  I just loved the contrast of the casual, crunchy chips with the bold, rich toppings.
Today, I'm mixing all of the flavors of a traditional caviar spread into a luscious deviled egg.  Egg yolks are mixed with mayo, crème fraîche, shallot, chive, parsley, lemon juice and capers until silky smooth.  The pale golden filling is then piped into halved egg whites and topped with red caviar (salmon roe) and chopped chives.  Each egg is finished with a shard of crispy potato chip.  In particular, Kettle Brand's Wood Smoked Sea Salt Potato Chips.  More on this below along with the recipe!